HARRISBURG — Until a few months ago, a patient having a serious neurological event in Harrisburg had to rely on emergency room staff to relay information to a neurologist in another location.
A doctor or nurse would describe symptoms to the neurologist and together they would make a plan. They still make that plan together, but today the neurologist can examine the patient himself.
Pretend patient Danielle Barker Short, an SIH stroke coordinator, and Dr. Alejandro Hornik, a stroke specialist, demonstrated the new technology Tuesday at Southern Illinois Telemedicine Initiative sites at Harrisburg Medical Center and Memorial Hospital of Carbondale.
"Through simple commands, we can get a very good examination using this very remarkable technology," Hornik said.
He asked the emergency room nurse in Harrisburg to test Short's visual fields. The nurse held up fingers for Short to count. Hornik gave some simple commands, like "hold your arms up." He could observe drift in one arm, a common stroke symptom.
"Patients who have a stroke only have a few hours to get therapy," Hornik said.
SIH Stroke Coordinator Danielle Barker Short said one important part of telemedicine is educ…
Hornik said it is the same as being in the room with the patient, with a super zoom that allows the doctor to see the size of pupils.
"The ease of use I think is amazing," said Catherine Hungate, SI Telemedicine Initiative coordinator.
Hornik carries a laptop equipped with the technology and can use it wherever he happens to be. He has examined patients from as far away as Chicago.
"We're seconds away from the bedside," he said. "We are trying to compensate for travel times when covering a large geographical area."
Hornik answered a code stroke alert while traveling from Herrin Hospital to Memorial Hospital of Carbondale for a patient having an ischemic stroke. Clot busting medicine was administered and the patient did very well.
"We are not trying to replace bedside care — we are just trying to compliment it," Hornik said.
Southern Illinois Telemedicine Initiative was formed in August 2014 and received $488,000 grant from the U.S. Department of Agriculture. Other partners included SIU School of Medicine, Illinois Hospital Association, Connect SI and SIH.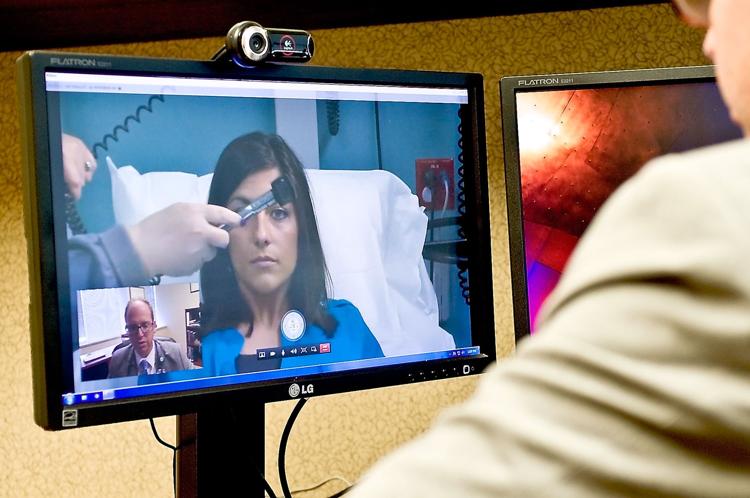 The grant was specifically for use in the emergency room to bring advanced stroke care to the outlying hospitals. The network also created a structure for additional specialties ranging from fetal ultrasound to behavioral health.
Herrin Hospital, Memorial Hospital of Carbondale and St. Joseph Memorial Hospital were the first hospitals added to the network. Harrisburg Medical Center went live with the technology in the spring. Marshall Browning Hospital in Du Quoin was added in August. Hamilton County Hospital will be up in October, and Franklin Hospital will join in November.
"Hospitals in rural areas struggle to find specialists in any area," said Harrisburg Medical Center President and CEO Rodney Smith. "With telemedicine, we're able to do things quicker." 
Short lives in a rural area and knows the importance of telemedicine to those communities.
"This excites me because now my family and friends have access to the same care as residents of Herrin, Carbondale, St. Louis or Evansville," she said.