Jayce Turner probably couldn't have dreamed of a better senior football season than the one he had this fall.
Anna-Jonesboro's 5-foot-11, 225-pound fullback pretty much did it all this year and basically never left the field.
Turner led the Wildcats to the Class 3A state semifinals, which included a 12-game winning streak. He rushed for nearly 2,000 yards and earned a spot on the all-state team.
For his efforts, Turner is The Southern Illinoisan's Football Player of the Year.
"I don't think anybody expected us to be nearly as good as we were," Turner said. "We had a lot of strong, key players coming back from last season, but we lost 12 seniors."
As a tireless workhorse, Turner carried the football 308 times for 1,914 yards, which comes out to 6.2 yards per carry. He racked up 34 touchdowns as well.
"I didn't really keep track of it during the season," Turner said. "I just wanted to carry the ball and do my job. The offensive line is a big part of it. Without the line, none of us could really do anything. They don't really get the glory that they deserve."
On defense, Turner shined as well at linebacker. He recorded 102 solo tackles with 51 assists. He also had nine tackles for a loss and four blocked punts. His durability was basically unmatched.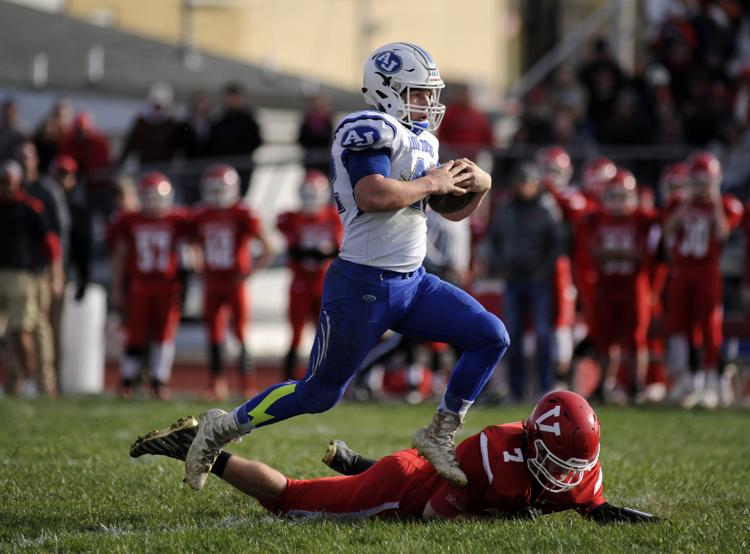 "I don't ever recall giving a kid over 300 carries in a season, and we certainly felt like he had the ability to carry that workload both on offense and defense," said Anna-Jonesboro coach Brett Detering. "There were times where he took some hits in games, and I thought there was going to be an injury. But he'd just get up and shake it off like nothing really happened. It was amazing to see his ability to take the hits and deliver the hits."
The A-J option attack was flying on all cylinders this season. The Wildcats seemed to be able to score at will in most of their games. Bryce Osman, the team's quarterback who rushed for more than 1,000 yards, played a big role in that success, too.
"Bryce doesn't have the greatest arm of any quarterback that's come out of A-J, but he's one of the smartest players," Turner said. "He knew his reads well and did his job well. When his number was called, he ran the ball well, too."
Anna-Jonesboro entered its Week 5 game against Carterville with a 4-0 record. The Lions had just beaten a tough Du Quoin team the week before. Anna-Jonesboro dominated the contest and put a running clock on the Lions in the third quarter of its 41-7 victory.
"Whenever we beat Carterville is when I kind of realized we had a pretty strong group," Turner said. "They've been in the conference for seven years now, and this was the first time we've beaten them. So, it really meant a lot to beat them."
The Wildcats went on to beat Du Quoin in Week 7 and sweep the conference. Anna-Jonesboro defeated Hillsboro, Pana and Vandalia in the playoffs.
Unfortunately, the Wildcats had a rough outing and lost in lopsided fashion at Pleasant Plains in the 3A state semifinals.
"It didn't really bother us that we had to go on the road, and we thought we were ready to play anybody anywhere," Turner said. "I can't really explain what happened that day in Pleasant Plains. I think they just had one of their best days when we had one of our worst. We were making mistakes that we hadn't made all year, and we had prepared for them to play a little different than what they did all week. It was snowy, wet and cold, and things just didn't work out for us."
It's tough for Southern Illinois players to earn a spot on the Illinois High School Football Coaches Association All-State team. It's a prestigious honor that Turner secured as well.
"Ever since my freshman year, it was my goal to get on the Wall of Fame at the high school," Turner said. "To get on there, you've got to be all-state and get the Southern Illinois Player of the Year. I tried to do my job well, and the rest kind of worked itself out."
It all started for Turner as a freshman, where he saw some varsity minutes on special teams. He became a defensive starter as a sophomore. As a junior he turned into a stud on both sides of the ball.
"He was just a complete player with great leadership," Detering said. "He was great in practice as well. He is everything you could ever want in a high school football player. I don't ever recall him missing a snap on either side of the ball for an injury. The last two years, he's played every snap on both sides of the ball."
Enjoying a 12-game winning streak, a conference championship and a trip to the state semifinals made this a season to remember for Turner and his teammates.
"I take a lot of pride in it, and it takes a team to do all that," Turner said. "We had a lot of guys step up this year."