How did Drew Stokes volleyball season go?
Read the Murphysboro Red Devils' volleyball record book and wonder no more.
Stokes, a senior, set the school record for most aces in a season – 74. She shattered that mark by 25. She also dished out 794 assists, another school record. Stokes also set the career record for assists with 1,777.
Her play led the Red Devils to a 27-10 season and earned Stokes the Southern Illinoisan Volleyball Player of the Year award. Murphysboro lost to Belleville Althoff, the eventual Class 3A state champion in sectional play at Benton.
"I think her best attribute was her floor sense and her ability to put the ball where she wanted it," said Murphysboro coach Mike Layne. "Her hands are just absolutely amazing. It is so huge. Not that we've had bad setters in the past, she's just special."
Setting is a precise skill that is honed over time.
"When I was a sophomore I decided I wanted to play club ball in St. Louis," said Stokes."I still drive up three times a week. It's just like reps, reps and reps. All that credit goes to my parents, without their support I would be nowhere near where I am today. I think coach Layne helped me out a lot too, just learning the basics, getting the ball to the right person at the right time."
Although most of the headlines, oohs and ahhs, go to the big hitters, Stokes found satisfaction in being the team's quarterback.
"I think the reason I liked it, you do get to lead a little more," she said "I'm touching the ball every play no matter what, which I enjoy. It is like a big job, but, I like the fact that they (hitters) get to shine and you can make that happen for them and see your hitters succeed. That feels really good."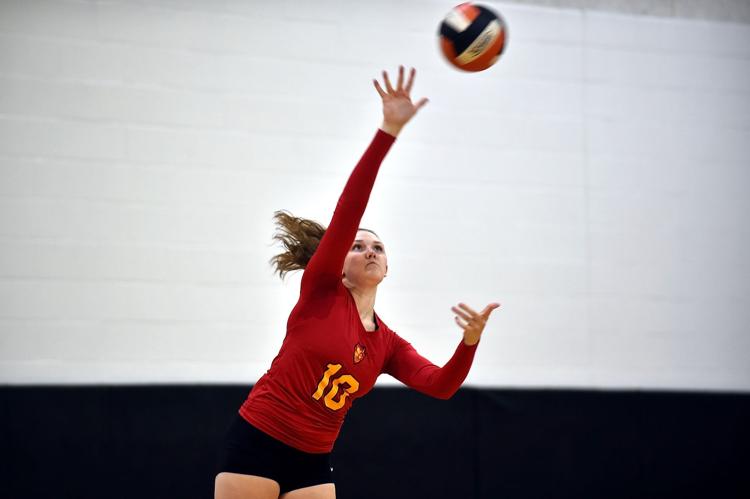 But, the 5-11 senior was more than just a setter. She finished the season with 176 kills.
"And, we didn't use her a lot as a hitter," Layne said.
As for the record books? That's just something that happened.
"It's great to set records and all, but during the season it was like, I just wanted to win," Stokes said. "That's the biggest thing you need to do as a setter and as a player in general."
The Red Devils got off to a slow start this season, then picked up momentum. It was a fitting way for Stokes to finish her prep career.
"Definitely, I wouldn't have done it any other way, even the beginning," she said. "We didn't start off very well. We kind of needed a wake-up call at the beginning of the season. I think we realized nothing was going to be given to us, especially in conference. This was by far the toughest year in conference, everyone in conference being a good team. We realized we needed to work hard in practice every day."
And, her volleyball career didn't end with the loss to Althoff. Stokes will play collegiately at the Colorado School of Mines, a team ranked in the top 16 in NCAA Division II this year.
"I think she'll fit in well there," Layne said. "She's traveled the country playing volleyball. Being away from the family, that will be ok. I think she'll flourish in that kind of atmosphere."
Stokes is looking forward to the next challenge.
"The tempo is faster, everyone hits harder, serves harder," she said. "People get more digs. I'm looking forward to it. It's going to be intense."