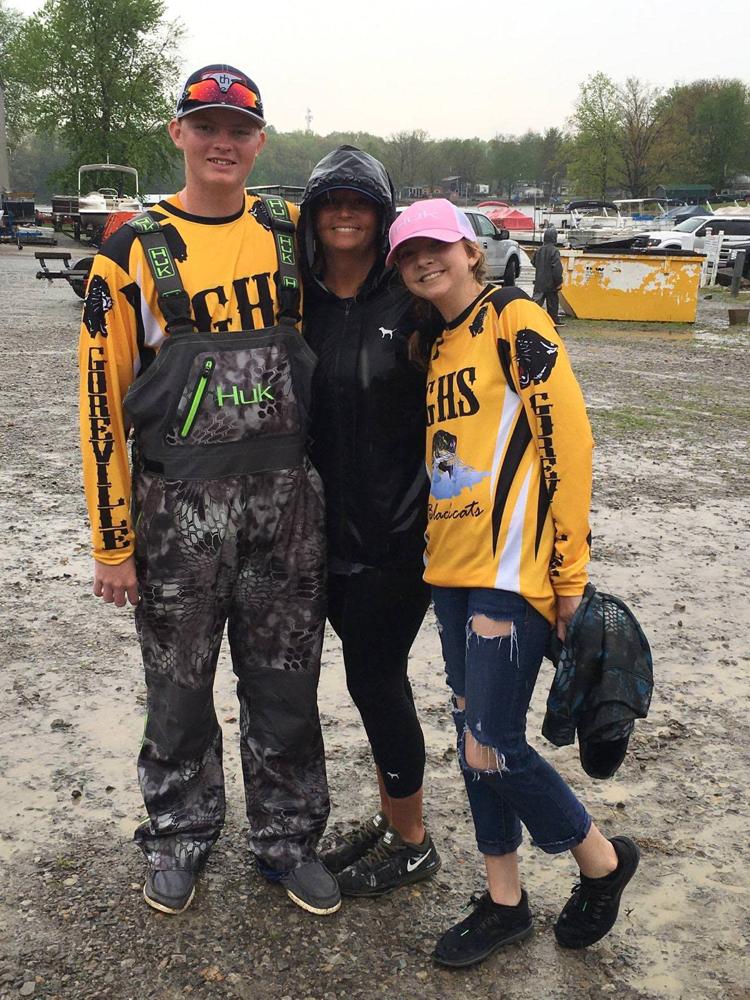 The state fishing tournament is a family affair for the Albrights of Goreville.
The brother-sister team of Landon and Kaeden Albright qualified for the state tournament, to be held Friday and Saturday at Carlyle Lake by placing third in the Lake of Egypt Sectional. But, there is more to the story, their mother, Jamie, served as boat captain.
"They work together," Jamie Albright said. "It's teamwork. They get excited if the other catches a bigger fish. It's always competition. They do work really well together. They really wanted to go to state, that was their goal all year long. In sectionals when it was storming and raining, I could see it in their eyes, 'Let this go through.'"
This is the first trip to state for the duo – Landon is a sophomore and Kaeden a freshman. Goreville has advanced teams to the state tournament five times and Kaeden is the first girl to make her way to state.
"The kids get out there on the lake and practice and work on it," said Goreville fishing coach Eric Messmer. "A lot of it is getting out there and learning the lake. It's like any other sport really. We've had really good boat captains and volunteers. That's been as much as anything."
The Albrights, there are five children, spend a lot of time together in the outdoors. However, Jamie said there are other people in the community who share in the success.
"My husband and I fish for fun, not really for competition," she said. "My son has really picked it up. He's had a few people show him things he needs to know. They watch videos. I'm not sure it's natural talent from myself or their dad.
"Jeremy Hudson graduated a few years ago, he went to state. He's a good family friend. He's spent a lot of time with Kaeden and Landon teaching them a lot about fishing. He put a lot of time and effort into it."
For the state tournament, Jamie will step aside, allowing Messmer to be boat captain.
"Eric is more familiar with that lake," she said. "I figured the kids would have a better chance because he's more familiar with the lake."
Fishing Carlyle's 19,000 acres can be challenging under the best of conditions.
"I think it's a little different than here on Egypt," Messmer said. "Up there you have to focus at least half your time or more on the rip rap. I think they'll adjust. There will be a lot of crank baits thrown. I think they'll do well."
Also advancing to state from the Lake of Egypt Sectional are Chase Arnold and Bailey Whitehead of Crab Orchard. They won the Lake of Egypt Sectional with 15 pounds, 2 ounces. Mitch and Gunter Gosha and Matthew Brandon of Herrin placed second at 14 pounds, 6 ounces. The Albrights finished an ounce behind Herrin.
Arnold and Whitehead advanced to the state tournament last year, finishing 23rd.
Teams from Mount Vernon and Pinckneyville will also represent Southern Illinois at Carlyle this weekend.
The Mount Vernon team of Austin Capps and Zander McMahon won the Rend Lake Sectional. They caught 7 pounds, 13 ounces.
Red Bud placed second at Rend Lake, but the Pinckneyville team of Kyle Kreger and Dalton Pyatt placed third to earn a spot in the state tournament.
State competition begins Friday. Weigh-ins will be held at the Dam West parking lot at 3 p.m. each day.