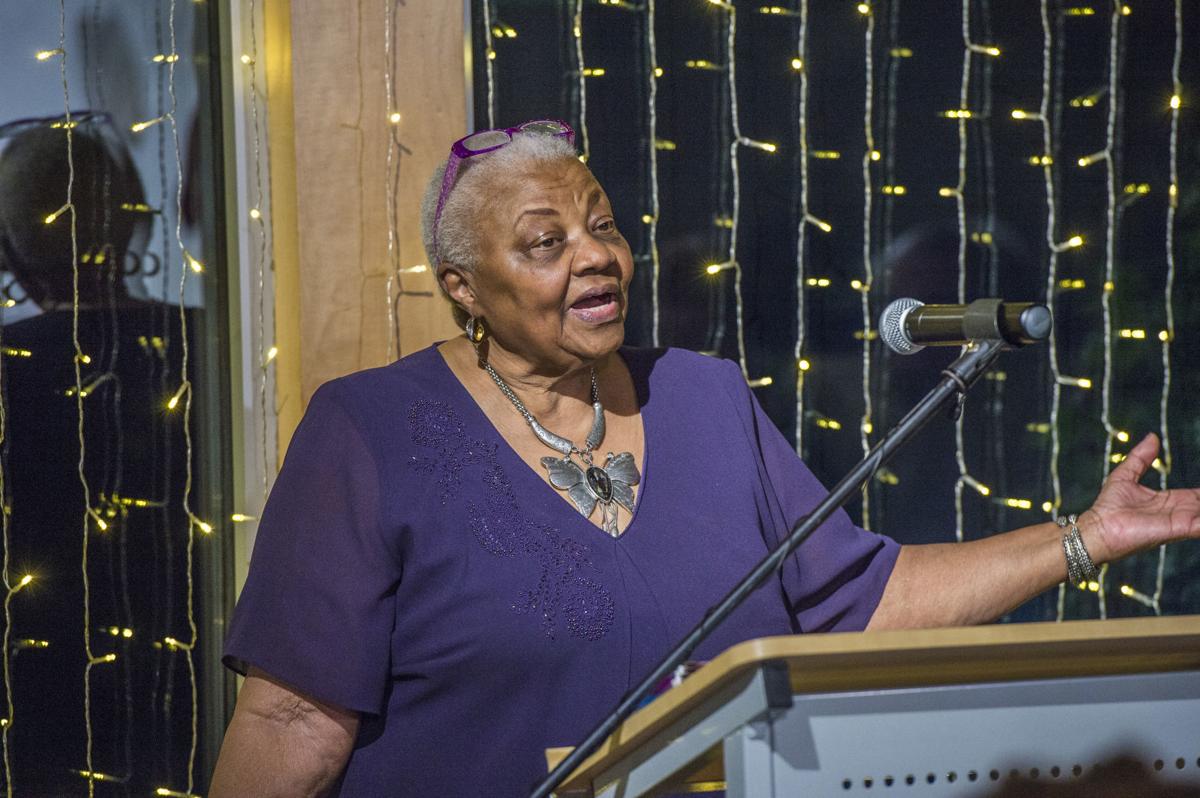 More than 100 guests gathered in downtown Carbondale at 6 p.m. Saturday, Jan. 26, 2019, to celebrate Ann Marie Shepherd's 80th birthday.
Ann Marie resides in Makanda and was born Jan. 29, 1939, in Jackson, Mississippi. 
Quite appropriately, the celebration event was held at Artspace 304, home of Carbondale Community Arts (CCA), where she served on the board for four, four-year terms. She departed with great joy in 2013 when her term expired, knowing that after nearly 25 years CCA had finally acquired a permanent home.
Her husband, Ben; children, "Tiger" of Chicago, and "Shelly" of Aiken, South Carolina, and only grandchild, Olivia Bendrea Shepherd  of Carbondale hosted the affair, themed Ann Marie's Favorite Things. Every minute detail of the evening was carefully crafted with this in mind – most notably, the event logo featured a purple butterfly and matching feather pen, yellow roses and one of her signature sign-offs, "As ever, Ann Marie." Other favorite things included curtain lighting cascading an accent wall, and lush tropical foliage and live florals, with yellow roses and purple accents. Additionally, the program incorporated children, with a special tribute that included a poem and two presentations. Instrumental and acapella jazz-infused song selections were a welcomed addition, with a full range of speakers that reflected on Ann Marie's life and legacy. She received a plethora of greeting cards, gifts, love tokens and monetary donations to some of her favorite causes, including Alpha Kappa Alpha Sorority, Incorporated, Rock Hill Missionary Baptist Church and her beloved alma mater, Tougaloo College.
A special video tribute was presented during the program, chronicling her life, and two exhibits were displayed at the event, which highlighted her rich legacy through two distinct lenses: her undying devotion to her faith and family, and her disinterested benevolence to her fellow man. A good time was had by all, and both sides of the family were fully represented. The highlight of the evening for Ann Marie was receiving a wall plaque, hand-crafted by her four-year old granddaughter, Olivia.
Be the first to know
Get local news delivered to your inbox!