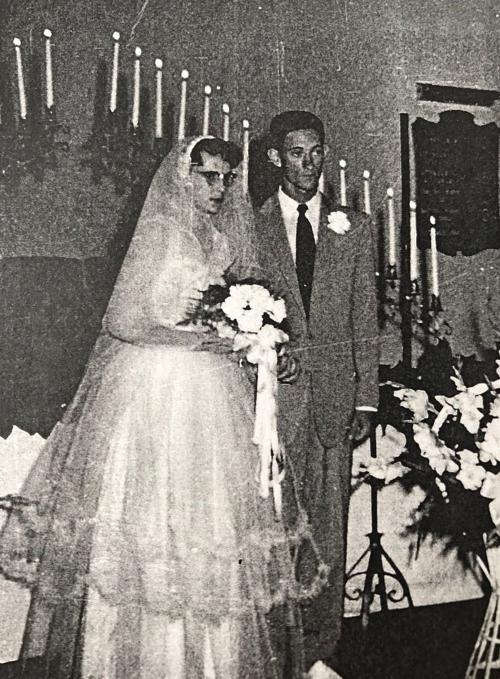 An invitation is being extended to friends, neighbors, and relatives honoring Mr. Kenneth Eugene Mize and Carol Jean (Clark) Mize of Villa Ridge, who will celebrate their 65th wedding anniversary at a reception. The celebration is  from 2 to 4 p.m. Saturday, June 29, at the Smiles building at 412 S. Blanche St., on Old U.S. 51 in Mounds.
Kenneth and Carol Jean were married June 21, 1954, in First Baptist Church in Mounds, where they still attend. The Rev. C.O. Hardy performed the ceremony.
The couple had three children, two sons, Kevin Eugene, Timothy Drew (who tragically died in an accident in 1979); and one daughter, Linden Gay. Kenneth is the son of the late Albert Mize and the late Blanche (Gully) Mize. Carol Jean is the daughter of the late Arthur Clark and the late Erma (Newell) Clark.
Kenneth is a lifetime farmer, first farming with his dad and both sons and now he farms with his son Kevin, his grandson Tim and nephew Rodney Pfaff. Carol Jean was hired by the Meridian School District in 1970 and she remained at Meridian until she retired in 2018 with 48 years of service to the school district.
Kenneth and Carol Jean have enjoyed their 65 years of marriage while raising their children, spending time with their grandsons, Tim and Aaron Mize of Villa Ridge, and Chance Ziegler of Cape Girardeau, family, friends, and loving and serving their Lord Jesus Christ.
The family hopes you can come and celebrate the 65th wedding anniversary of this special couple.
Be the first to know
Get local news delivered to your inbox!