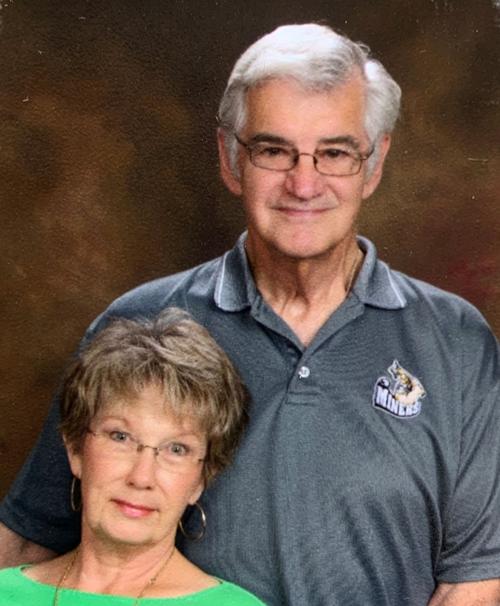 Becky and Mike Estel of Anna are celebrating their 50th wedding anniversary this month. They were sweethearts while attending SIU Carbondale.
The couple married Sept. 12, 1970, in Carbondale.
After graduation, Becky taught at Anna-Jonesboro CHS for more than 30 years. She loved the challenges of being a teacher and gave individual attention to meet each student's needs, always referring to them as "my kids." Though solidly less than 5 feet tall she was known for having command of her busy classrooms while fostering a learning environment that was caring. Since retiring, she has volunteered at Hospice Care, community events, and at Trinity Lutheran Church in Anna. Mike worked for The Southern Illinoisan, later the Anna Gazette, and for a time River Country Outdoors writing local sports and outdoors columns. He's also known for writing memorial columns to honor local community members who passed. For a time he worked at Choate Mental Health Center and his kind nature was recognized by those living there. At Christmas, he would return to hand out small gifts, candy and sodas to the residents.
In retirement, this history major is pursuing his lifelong dream of writing historical fiction and has published 17 books.
Becky and Mike are both huge advocates for children and spread their love out widely to their own and the community's kids. They were foster parents for many years and always kept a place in their hearts for those children. Mike founded girls intermural sports in Union County by starting two girls' softball teams in 1972 and "his girls" still visit him. Later he was instrumental in launching little league football in Anna, and that eventually led to many winning teams at AJCHS.
Becky and Mike are longtime members of Trinity Lutheran Church and raised five children, Bridgett (Gary) Costanzo of Virginia, Jeff (Monica) Estel of Texas, David (April) Estel of Indiana, Gretchen (Andy) Johnson of Carbondale, and Charles (Lisa, deceased) Estel of Cobden. They have 10 grandchildren and one great-grandchild.
Be the first to know
Get local news delivered to your inbox!