NBA salaries and contracts: The good, the meh and the ugly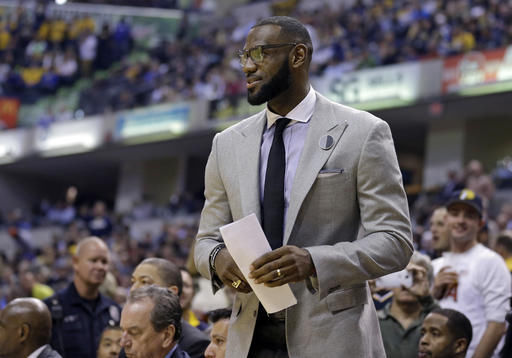 If you read my previous blog, you're welcome — you got to watch, unencumbered, the greatest sporting event of my lifetime.
The Cleveland Cavaliers have won an NBA title, the Chicago Cubs a World Series ... and, well, the Browns are 0-10. So much for an ultimate sports heartache sweep in 2016.
As we try to figure out whether our nation is about to enter a period of "yuge" prosperity or descend into a Hunger Games-style hellscape, I thought a good overreaction piece might be in order.
The explosion in player salaries was due to an exponential increase in television revenues. The salary cap went from $70 million for 2015-16 to nearly $95 million this year, with the *floor* at $85 million.
Now, the "floor" — the minimum a team must spend — seemed like a good idea when it was conceived — that it would discourage teams from tanking to get better draft picks. But, aside from the 76ers, no one's done so in such an egregious fashion.
So, part of the offseason spree is skewed by the fact that teams had to get to a salary cap floor that was $14 million higher than the old cap. Still, that didn't mean some deals weren't just baffling. Established, solid-if-not-great veterans like D.J. Augustine (four years, $29 milllion) and Jeremy Lin (three years, $36 million) had their deals eclipsed by, well, you'll see at the bottom.
Still, some teams are getting a pretty decent bang for their buck. Here's some highlights — and lowlights — so far:
The Good
Kevin Durant (2 years, $54.5 million) — After a 29-point opening night walloping from the Spurs, the Warriors won 9 of their next 10 games. The biggest prize of the offseason has looked the part, with efficiency numbers off the charts — namely, his 56 percent overall shooting percentage — more than 7 points higher than his career numbers. Two major problems — points allowed, and shooting troubles of now-third option Klay Thompson — need to resolve themselves in order to make this situation work in the long haul.
LeBron James (3 years, $100 million) — Just about any number is justified for the player with the greatest singular impact on the game. LBJ is averaging nearly a triple double and the Big 3 of he, Kyrie Irving and Kevin Love are all surpassing 20 ppg. One troubling factor is his minutes — one expected him to be playing fewer than the 37 per night he's now averaging. The non-retirement of Richard Jefferson and the acquisition of Mike Dunleavy haven't exactly panned out, with both averaging just 4 ppg.
James Harden (Rockets, 4 years, $118 million) — Harden's got the weird reputation as being both an extremely high-usage guy and a terrific passer, and he's pulling off both so far. You might have expected 28.5 points per game, but nearly 13 assists? That's something special. The Rockets are only 7-5, but they're the type of team no one would want to face in a playoff series, and Harden's the engine that makes them go ... the problem is, no other player on the team's averaging more than two assists per night.
DeMar DeRozan (Raptors, 5 years, $145 million) — I've never been especially sold on DeRozan, but you can't argue with the results right now: 33.3 points per game, (up nearly 10) and a shooting percentage of 51 percent. Most impressive is that he's figured out he can't shoot from the perimeter, and is attacking the basket even more, getting to the foul line nearly 11 times a night. Granted, this is another top heavy team, and Kyle Lowry has been struggling with his shot early on, but DeRozan has surpassed his billing, so far.
Russell Westbrook (Thunder, 3 years, $85 million) — After Durant's departure, many expected Westbrook to follow suit either via trade or eventual free agency. No dice, and it left me with Westbrook as a main MVP candidate. He's lived up to it, averaging nearly 32 points and just a shade under 10 assists and rebounds per night, bidding to become only the second player ever to average a triple double for a season. He's also playing just 34 minutes a game, making those numbers even more remarkable. The Thunder, at 7-5, are about where they should be, though, considering the lack of knock-down shooters on the roster, and this is the dilemma: How would the team have survived in a small market without Westbrook or Durant ... yet ... how will they add the pieces to truly contend?
The Meh
Dwyane Wade (Bulls, 2 years, $47.5 million) — This is kind of like a slightly less ridiculous, slightly twisted version of Kobe Bryant's last few paychecks with the Lakers, in that the Bulls seem to be paying for previous services, which in Wade's case, were served with Miami. With the Bulls' core blowing up (Noah, Rose to Knicks, etc), Wade returned to his hometown, and while the Bulls have been better than I expected (8-4), they've already regressed some after their hot start. Wade's part of an historically terrible long-range shooting backcourt, and that just doesn't work, even in today's NBA, and especially with no inside scoring presence.
Harrison Barnes (4 years, $94 million) — Barnes is about the only thing panning out for the Mavericks. He's averaging nearly 23 points per night and shooting 48 percent from the floor, which tells you how bad everyone else must be shooting to rank them 29th in field goal percentage out of 30 teams, a key to their 2-8 start. Barnes ostensibly got what he wanted — being a featured player after playing fifth wheel with the Warriors — but there's not much talent surrounding him, and Mark Cuban has whiffed on several big free agent attempts in the past few seasons. Once Dirk Nowitzki is gone (which maybe he should've been after last year), things look pretty bleak.
Dwight Howard (Hawks, 3 years, $70 million) — He's been a clubhouse cancer at several stops, his salary seemed quite the price to pay for both that and a player with an enormous injury history, but Howard's been rock-solid so far, averaging nearly 15 points and over 12 rebounds a game in fewer than 30 minutes per contest for the 9-2 Hawks, whose defense ranks second in the NBA in points allowed. Were this any other player historically, this would be one of the top moves of the season.
Mike Conley (Grizzlies, 5 years, $153 million) — It seemed patently ridiculous that Conley would reap the biggest total dollar amount contract in NBA history. Yet he's done more than I expected, currently averaging career highs in points, assists, overall shooting percentage and three-point percentage. In a less flashy, fan-friendly and talented version of Westbrook, though, to what end? The Grizz linger around .500, and any team giving 40-year-old Vince Carter nearly 30 minutes a night doesn't appear to be going places.
Hassan Whiteside (4 years, $98 million) — There's not a lot left in the cupboard for the Heat after letting Dwyane Wade go in the offseason and Chris Bosh's blood-clot issues, but Whiteside is doing his part, leading the team in scoring (17.6) while pulling down 16 rebounds a night and blocking nearly 3 shots a contest. Were he surrounded by more capable perimeter shooters, he'd be even more dangerous.
The Ugly
Joakim Noah (Knicks, 4 years, $72 million) — Noah had a noted drop-off last year as Bulls coach Fred Hoiberg took him out of the starting lineup, and he's basically in the same position right now for the Knicks, or headed that way. The remarkable transition of Kristaps Porzingis from draft day gamble to all-Rookie to near all-star status has speculation that New York may effectively replace Noah at center with the 7-3 Latvian sensation. So, this is more about Porzingis' emergence as some crazy hybrid that allows him to be a "small-ball" center at 7-3, but again, why the Knicks' brass didn't see that coming instead of wasting $18 million annually on a downward-track Noah is mystifying. They're getting 8.9 rebounds and 3.5 assists a night out of Noah, but just 4.3 points.
Timofey Mozgov (Lakers, 4 years, $64 million) — Just as mystifying as Noah except for so much less of a track record. Mozgov had some moments after his trade to the Cavaliers in 2015, including a huge finals game, but became dormant and nearly nonexistent in that series as the Warriors went small. Now that the whole NBA is going that way, the Lakers decide to throw money at Mozgov, who only got 17 minutes of run per night last year with the Cavs. While Los Angeles has been surprising at 7-5, it's due to a whole host of creators and playmakers, not this guy. And what's crazier is that he's 30 years old. It's not as if there's a vast reservoir of untapped potential here. His old Cleveland-area awkward commercials are worth a look on YouTube, but $16 mil per is crazy.
Luol Deng (Lakers, 4 years, $72 million) — This may be even crazier than Mozgov. Deng is by all measures a good guy and has had a solid career, but what was the point of this price, and with, like Noah, all the Tom Thibodeau miles on him, Deng's an old 31 on a team full of youngsters. His 31 percent shooting is likely to turn around, but probably not an $18 million turnaround.
Chandler Parsons (Grizzlies, 4 years, $94 million) — He'd missed more than 15 games in three of his five NBA seasons, never cracked 17 points a night, and though serviceable last season with the Mavericks, his stats had seen a considerable downward trend over the past two years. Already having unloaded for Conley, the Grizz backed up the Brinks truck for Parsons as well. Battling a knee injury and already having missed 6 games, Memphis wasn't really *missing* him due to his 36% shooting and grand average of 6.8 points per night in the five contests he made.