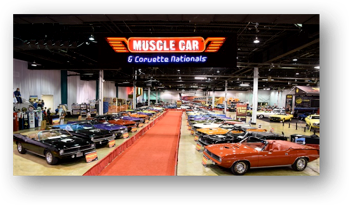 The eighth annual Muscle Car & Corvette Nationals show takes place tomorrow and Sunday at the Donald E. Stephens Convention Center in Rosemont.
The show will feature over 550 of the world's rarest muscle cars and Corvettes. Attendees have a rare chance to experience an extensive collection of museum-quality vehicles under one roof.
You have free articles remaining.
The show will feature Cobras, GT40s, a significant gathering of Shelby Mustangs, as well as the Triple Diamond Corvette Gallery and Competition, featuring Corvettes with Bloomington Gold and NCRS Top Flight status.
In addition, this year's show will feature weekend appearances by car legends Bobby Unser, Dennis Pittsenbarger, Jim Mattison, Peter Klutt, Linda Vaughn, and Spike TV's Courtney Hansen.
The show runs Saturday from 9 a.m. to 9 p.m. and Sunday from 9 a.m. to 5 p.m., tickets are $25 online and $30 at the door. Children under 12 receive free admission.