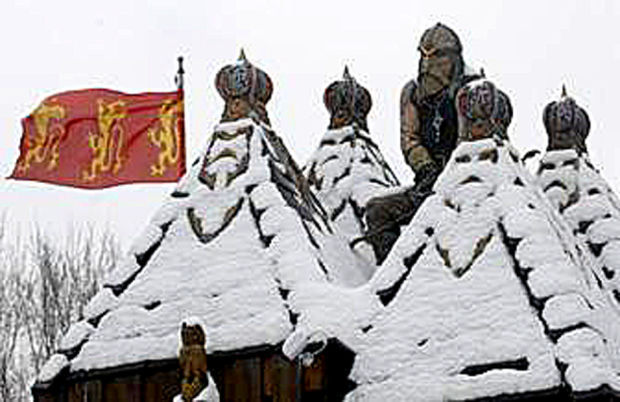 CARBONDALE -- Years ago, my children were instantly transported to a fantasy world upon entering Jeremy "Boo" Rochman Memorial Park, also called "Castle Park." The idea for the park came about after Jeremy died at the age of 19, in a car accident Aug. 22, 1993. The Tolkien-themed park is modeled after a role playing game Jeremy enjoyed and opened to the public in 2005. Adults will be mesmerized by the life-size art of varying mediums.
So many sights greet you it's difficult to decide where to turn first but a good start is the reason for the park's nickname, a stalwart, irresistible castle of wood and stone in the center. Children can climb the stairs and peer out the windows, of the elaborate jungle gym of tunnels and bridges with hidden doors and passageways. An ogre with a spiked club stands atop its iron-grated portcullis.
Amid the trees are wizards, a fallen knight's monument, Pegasus and a unicorn. Human archers take aim at goblins peering ominously from the trees. A three-headed dragon crouches on a picnic gazebo, while a single-headed beast sits atop a fountain of wizard heads spitting water. It's the perfect place to take children with the perfect setting to let their imaginations run wild. Another favorite spot is a giant, sleepy dragon where children often pose to get their photo taken.
Jeremy Rochman's father, Barrett Rochman, hired sculptors, carvers, painters as well as SIU art students to help create the fantasy park including stairs and parapets which are defensive walls. Marilyn Rochman, Jeremy's mother, said of the park, "I'm happy it's been so well received."
In the center of the park stands a metal trellis sheltering a dedication plaque and portrait of Jeremy Rochman, as well as a donation box for the park's upkeep.
It's a great place for families and friends to create lasting memories. Young and old alike can enjoy it. It's a magical place.
The park is at 31 Homewood Drive in Carbondale. Travel south on Giant City Road, also Illinois 12, from Illinois 13 in Carbondale. Drive 3.5 miles and turn left on No Name Road where a new parking area is on the east side of the park. Because parking is limited it's best to carpool.
The park is a non-smoking area, and there is no grilling.