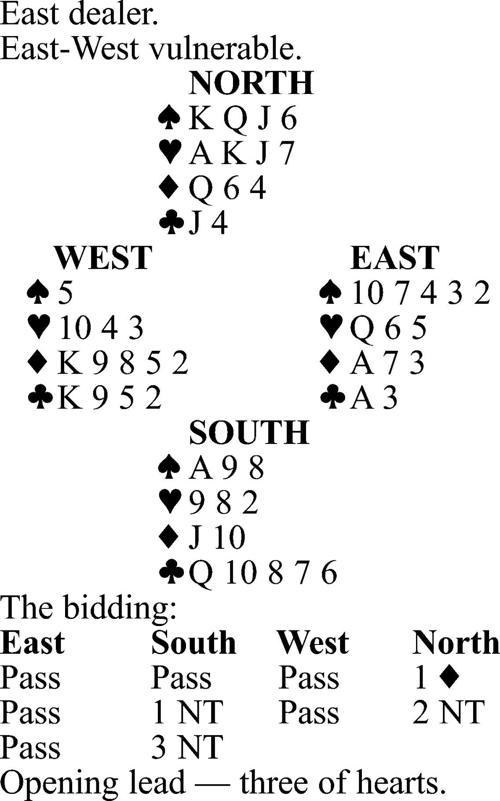 The player who has perhaps been mentioned most in this column over the past four decades is the charismatic Pakistani internationalist Zia Mahmood. There are two good reasons for this: Zia's impressive record in world and national events during that period has kept him in the spotlight, and his flair for conjuring up bids and plays almost no one else would think of makes for good press.
Today's example occurred in the 1999 International Team Trials. When Zia and his partner, Michael Rosenberg, held the North-South cards, they bid aggressively to reach three notrump as shown. The pair were playing weak notrumps, which accounts for Rosenberg's one-diamond opening and subsequent raise to two notrump. In characteristically aggressive fashion, Zia then carried on to game.
West, Michael Becker (this writer's brother), led a low heart, dummy's jack losing to the queen. East, Mike Kamil, then returned a low spade, taken in dummy.
Zia's only real chance was to try to develop the club suit, but he no doubt felt that if he attacked that suit, it would leave the opponents no choice but to switch to diamonds. So Zia did the sort of thing that has become his hallmark -- he led a diamond himself!
Becker won the jack with the king and, convinced that Zia had the diamond ace, concluded that the only hope for the defense was to score at least three club tricks. So he shifted to a club, and when Kamil took the ace and returned a club to Becker's king, Zia had enough tricks for his contract.
At the other table, North-South rested quietly in one notrump, just making after the defenders collected four diamonds and two clubs. The 310-point net gain gave Zia's team a 7-IMP pickup on the deal.
Be the first to know
Get local news delivered to your inbox!