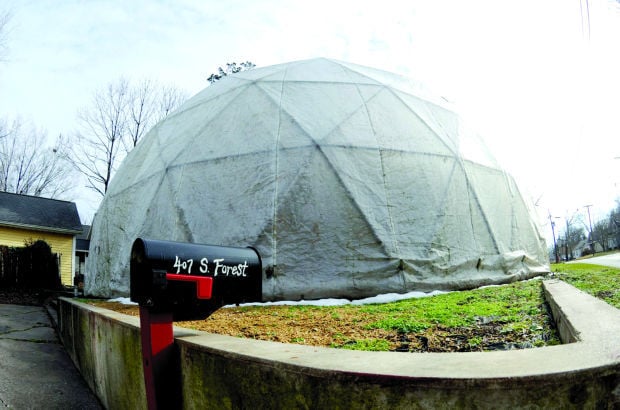 It's affectionately known as The Bucky Dome.
The structure is the former residence of the late R. Buckminster Fuller and Anne Hewlett-Fuller and is located at 407 S. Forest Ave. in Carbondale.
Fuller was a professor at SIU from 1959 to 1972. While at SIU, he was on the cover of Time Magazine and also nominated for the Nobel Peace Prize.
He has been called the grandfather of the green movement.
The residence in Carbondale is said to be the only dome in which Fuller lived.
Fuller had the dome home built in Southern Illinois in April 1960 and he lived there with his wife, Anne, until 1971.
He patented the geodesic dome in 1954, saying the dome could be safe, affordable and accessible housing.
In later years, the home was rented out and the dome fell into disrepair in recent years.
Bill Perk, a colleague of Buckminster Fuller, purchased the Fuller Dome Home and donated the property to the RBF Dome NFP in September of 2002.
The RBF Dome Board is a non-profit group and is dedicated to "a complete restoration of the Fuller Dome Home. This will ensure not only an additional educational-tourist resource to Southern Illinois, but a physical space where we can embrace, share, and express our unique cultural and intellectual heritage."
The group also hopes to create a living museum and learning center in the home.
The Dome group is currently raising funds to fully restore the home.
Fuller's Dome Home was added to the National Registry of Historic Places in 2006.
The Fuller Dome in Carbondale has been called the most important Buckminster Fuller artifact remaining in the world today.