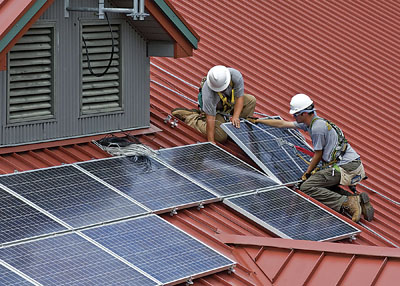 Life and Style takes an in-depth look at all of the different aspects of an eco-friendly build, from the ground up. We give you a detailed breakdown of what to consider if a build or remodel is in your future. Our sources include expert builders, designers and retailers who paint a helpful picture for you in your journey of building a beautiful, sustainable home. 
A home featuring all of the energy-efficient bells and whistles on the inside can only go so far without proper protection from the elements outside. "We really push on people that heating and cooling is not an area to skimp on," said Butch Dunn, owner of Ecological Construction in Carbondale.
Dunn installs insulated concrete forms (ICF) and cellulose insulation in most of the projects he takes on. Here's a quick breakdown of each.
Insulated Concrete Forms: According to the Insulating Concrete Form Association, houses built with ICF exterior walls typically require 44 percent less energy to heat and 32 percent less energy to cool than comparable frame houses.
The forms are interlocking units of foam or wood fiber that are dry-stacked and filled with concrete. They allow no air leakage and can have a substantial impact on heating and cooling bills. They also have a high resale value and serve as a solid building block in basements and walls.
Cellulose Insulation: Cellulose insulation is comprised of plant fiber and is more dense than fiberglass insulation, producing a solid thermal and acoustic barrier between the inside and outside of homes.
"It just super-insulates the house," Dunn said. "It seals all possible air leaks and doesn't let any air move in or out of the house."
"It's the highest-rated insulation you can get outside of NASA. It's a little more expensive but it is amazing stuff. Once you have this insulation put into your house you never go back."
---
One word consistently resurfaces when you talk with eco-friendly builders: geothermal.
And it's for good reason. Installing geothermal systems that use the natural heat from the earth's consistent temperature to heat and cool a home is almost a uniform practice across today's green-building industry. Geothermal systems can also provide water heating in the place of traditional hot-water tanks.
The geothermal pump that maintains the flow of water and energy through the system is installed securely indoors, usually in a basement or utility room. There is no unsightly, bulky unit to install in your yard, scoring major style points for the outside of your home.
---
Volatile organic chemicals (VOC) reside within thousands of household items. They are emitted as gases from certain solids or liquids, including some chemicals that, according to the United States Environmental Protection Agency, can cause shortand long-term adverse health effects.
VOCs can be emitted from paints, varnishes, cleaning supplies, solvents and cosmetic products. An EPA study found levels of about 12 common organic pollutants to be two to five times higher inside homes than outside, regardless of whether the homes were located in rural or highly industrial areas.
So why should we be concerned about VOCs? According to the EPA, key signs and symptoms associated with exposure to VOCs include nose and throat irritation, headaches, allergic skin reaction, nausea, fatigue and dizziness.
So the next time you're painting a wall or decorating a room, do so with the goal of decreasing the amount of dangerous VOCs in your home.
Paint: The wall in your home painted with your favorite color can actually release low levels of toxic emissions years after the initial application of paint. Visit your local home improvement center to find low-VOC options in primers and paints that are also rust-preventative, durable and corrosion-resistant.
Finishes: Make that furniture shine without making your health decline. Local hardware stores have lowor no-VOC finishing products on their shelves. Find the water-based, solvent-free kind made from natural oils that will beautifully adhere to your furniture.
Blinds: Your window blinds may not be the first place you suspect high levels of VOC, but the paint and finish they contain can actually be a prime source. Splurge a little on some bamboo Venetian blinds or blinds made from natural fibers to cut down on the amount of toxins in your home.
---
Eco-friendly floors come in many different stylish materials and can be coated with unique natural finishes. Materials range from bamboo to natural linoleum, and finishes can be applied in the factory or on-site. As anyone who has looked into ordering sustainable flooring already knows, the list of options is endless. Here is a brief guide to get you started.
Choosing the right eco-friendly material for your flooring takes a creative eye and an understanding of what you want your finished room(s) to look like.
Bamboo Flooring: Durable and elegant, made with no added formaldehyde
Cork Flooring: Thermally insulated and available in large number of rich colors
Hardwood Flooring: Sustainably harvested maple, oak, ash, beach, birch, etc.
Natural Linoleum: Long-lasting, easy to maintain flooring made of linseed, cork, limestone and tree rosin
When it comes time to finish your floors, it is best to go natural. Find a finish that is plant-based and non-toxic. Not only will your floor look great, but your lungs will be saved from breathing in unsafe chemicals. Finishes are available in clear-coat and a wide variety of colors.
Many floor materials are fashioned from reclaimed wood, which is cultivated from old barns, buildings and sustainable sources of timber. Instead of destroying logs for use as mulch, firewood or even landfill, manufacturers offer the wood as beautiful flooring. And along with helping the environment, you can have an interesting story of your floor's heritage when showing it off to your guests.
---
Many Southern Illinoisans have left the grid, eliminating their dependence on public utilities. And they're doing so with the help of photovoltaic systems.
"People expect to get lower energy bills with the systems and that's what they get," said Aur Beck, owner and chief technician of Advanced Energy Solutions Group in Carbondale. "Once someone has a zero-dollar energy bill or actually sees their meter turn backwards, it just becomes a point of obsession. Then they become advocates and try to get other people to live the same way."
Photovoltaic systems use one or more solar panels to convert sunlight into electricity. "A lot of the most effective technology has been around since the 1950s," Beck said. "Now it's just about making the systems more efficient and using less area to make the same amount of electricity."
Beck has been an active advocate for solar energy for more than a decade. He installs solar systems and consults with people interested in going solar.
"Usually what I'll do is sit down with somebody and talk about their home plans and ways to reduce their energy," Beck said. "Usually, they still end up buying the solar systems. If they're energy-efficient enough, they can go really low on their bills with solar energy."
Beck started Advanced Energy Solutions Group in 1999. His business installs solar systems in eight states. He has also made a point of teaching continuing education classes at John A. Logan College, Southern Illinois University Carbondale and a handful of other colleges across the Midwest.
"The Midwest is about 10 years behind on solar," Beck said. "There really wasn't that large of a market in the Midwest, but that has changed in the last three years tremendously."
Beck said people can expect solar systems to pay for themselves after about seven years. Government rebates offer added incentives for homeowners.
"There are a lot of benefits to getting a system installed, which has really helped business," Beck said. "When I started in 1999, most solar businesses were in it because of their passion. Now it's a strong business." 
---
Metal roofs have become a popular option for people looking for more durability and less dependence on asphalt shingles. Many metal roofing options are made of recycled materials such as copper, steel or aluminum from cans.
Durability: Metal roofs are made to last. You won't have to worry about damage from the elements like hail or snow. In fact, metal roofs allow snow to simply slide off their surface instead of allowing buildup and the potential for damage. They are also fire-resistant. Their longer life spans make roof replacements less frequent, ultimately producing less waste.
Rain-friendly: For people interested in collecting rainwater from their roofs to water their gardens or for use in their households, a metal roof is an ideal option. Metal roofs also eliminate the chemical runoff that may occur from conventional asphalt shingles.
Beauty: You can find metal roofs in all colors and textures. Some of the recycled metal shingles can be made to look like wood. Sleek-looking metal roofs are all the more beautiful at the end of their lives because you can recycle them.
Ideal for solar panel systems: The seams in metal roofs make them a perfect fit for photovoltaic panels that comprise solar systems. Combining an eco-friendly metal roof with a highly efficient solar system would earn you double points with the environment.
Other options: If a metal roof doesn't fit your fancy, other eco-friendly roofing options include the use of shingles recycled from rubber, plastic or wood fiber. Wood shingles reclaimed fromforests and old structures also provide a beautiful-looking roof with an eco-friendly touch.
When it comes to windows, there are conflicting strategies to keeping your energy costs down while also maintaining comfort in your home.
For homeowners able to build an eco-friendly home from the ground up, window orientation is a crucial step in the planning process. By positioning your main windows facing to the south, you can draw in the sun's natural solar energy and heat, even during the winter.
For homeowners who are restricted to their windows' current positioning, a specific type of window will help you in your battle with the sun. Low-emissivity (low-E) windows control heat transfer through the microscopically thin metal or metallic oxide layer glazed directly on the surface of the glass. The low-E coating reduces the window's U-factor, which is used to measure a window's rate of heat loss.
Windows manufactured with low-E coatings typically cost about 10 to 15 percent more than regular windows, but they reduce energy loss by as much as 30 to 50 percent, according to the United States Department of Energy.
Window manufacturers apply low-E coatings in either soft or hard coats, depending on the energy-performance and durability sought by the homeowner. Some low-e coatings are also available for do-it-yourselfers. The films are relatively cheap compared to window replacements and can last up to 15 years without peeling. Low-e coatings increase energy savings, boost temperature comfort within a home and reduce fabric fading of window treatments.
---
Installing new windows that look great can save you a lot of money and stress, but the real fun starts when it is time to decide how to design around your windows. There are literally thousands of design options for window treatments out there ready for you to explore.
But it's not all about look. It is important to also consider factors like insulation and solar heat control. Windows lose heat in the winter and gain heat in the summer. High-quality window treatments can control that flow of heat and go a long way in lowering your energy usage and carbon emissions.
Angela Rowe, owner of Decorating Den in Harrisburg, is one of many helpful local designers who can help you pare down your wish-list and find the design that best fits your personal needs - all while keeping the environment in mind.
"Our main supplier for window treatments is Hunter Douglas," Rowe said. "They are very cognizant of staying on top of the latest green trends and telling us about what is made out of recycled materials."
Hunter Douglas has been producing natural and appealing ways to harness heat and light for more than 60 years. All of its fashions are designed and assembled in the United States, and the company is committed to lowering energy usage and implementing other changes that will eventually reduce the population's carbon footprint by 20 percent.
Along with honeycomb shades, Roman shades and modern draperies, Rowe said bamboo blinds have become trendy in recent years. Customers have the opportunity to fully customize their treatments by choosing the material, specialty shapes and design options of the product. It's a good thing, Rowe said, because personal style takes many forms.
"It's different for every home and depends a lot on the privacy and light control that people are looking for," she said. "It also changes with personal style, whether someone is more traditional, modern, casual or elegant."
With so many options to choose from and factors to consider, do not be afraid to reach out to a local designer to get the best-looking results for your home.
---
The downward breeze you feel from your ceiling fan soothes your skin and circulates the air around you. And, if your fan is Energy Star-approved, its eco-friendly effect can also contribute to a cleaner environment and lower energy bills.
For a ceiling fan or light combination unit to earn the Energy Star it must meet strict efficiency guidelines set by the United State Environmental Protection Agency. The EPA requires the use of improved motors and blade designs, as well as units that are more than 50 percent more efficient than conventional ceiling fans.
Fans that use less energy provide a relief from the heat as well as from your monthly electric bill. During the winter, running a ceiling in reverse helps re-circulate the heated air trapped near the ceiling.
And if saving money and helping preserve precious natural resources aren't exciting enough for you, choosing from an unlimited amount of styles should do the trick. But before you buy, be sure to consider factors such as room size and color schemes.
Modern: A contemporary-looking fan can be the perfect accent piece in a room with furniture or artwork that features a similar look. Blades can be ordered in brushed steel, silver or bronze to complement your color scheme. The shape of the blades can also give your room a futuristic feel if you are so inclined.
Vintage: Oval-shaped blades featuring a bamboo finish can give any fan a vintage feel. Ornamental lighting and copper-brushed fixtures can also work in tandem to produce an antique-like feel that will help your fan move the air in vintage style.
Traditional: Looking for the perfect match for your rustic furniture and open space?
A country-style ceiling fan featuring washed walnut birch-finished blades should fit your taste. Customize the light fixtures and bowl to put the finishing touches on your overall design.