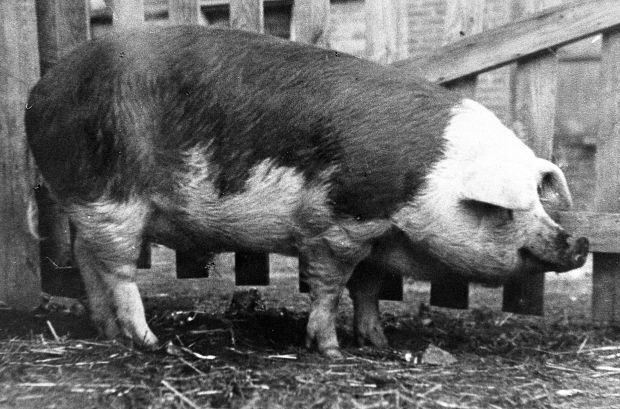 COBDEN, Illinois — In the 1940s, movie stars and other celebrities did their patriotic duty by promoting war bonds.
Most were upstaged by a pig.
Though surviving photos are black and white, the Hereford hog — a rare breed — was described as largely reddish with a white face and blue eyes, representing the colors of the American flag. His meteoric rise to fame began as a lark, when a Navy recruiter got the idea to auction off the boar to help pay for the battleship USS Illinois, under construction at the time.
"His legend has lived on," said Judy Travelstead of the Union County Historical Society. "He was promoted heavily. People were eager to contribute money to the war effort."
Every part of the animal was sold, including his hooves, his tail and even his squeal. At the end of an auction, King Neptune was returned intact to his owner and "agent," Don Lingle.
The idea of using the pig to raise money for World War II originated with Lingle, a native of the southern Illinois community of Anna who was stationed at the Navy recruiting office in nearby Marion.
Parker Neptune was born on the Sherman Boner farm in West Frankfort on May 16, 1942, to Heit No. 433 and Parker's Sensation. He had 11 siblings. Fifteen-year-old Patty Boner raised him as a 4-H project and turned him over to the Victory Pig Club to be sold along with 29 others.
According to one newspaper story, "more as a joke than a practical idea," Lingle asked a friend to buy one of the pigs and give it to the Navy office. As a result, the pig was sold for $314.60 and donated to the Navy. His name was changed to King Neptune, likely after the ancient Greek god of the sea.
Prominent auctioneer L. Oard Sitter volunteered to sell the pig at auctions held across the state. Gov. Dwight Green paid $1 million on behalf of the people of Illinois at one sale. At the same auction, King Neptune's bristles went for $500.
"It became quite the social event," Travelstead said. "Sometimes there were dances. Food was served."
Hal Bishop, a prominent mule and horse trader, helped provide transportation. Various people donated money to pay for feed and the cost of transporting the 700-pound porker to his many engagements. Someone made a blanket for the pig. He had a tiara. A jeweler gave him earrings. Sometimes his hooves would be decorated with nail polish. He even had his own checking account.
"The print off one of his feet was the signature if he cashed a check," Travelstead said.
Like most celebrities, King Neptune became acclimated to the attention he generated.
"He got used to crowds, the limelight and noise, and it didn't affect him," Travelstead said. "They would lead him up on stage for the auction and he wouldn't raise a stink, no pun intended. He was very gentle."
The swine's proverbial 15 minutes of fame came to an abrupt end in 1945.
"Once the war had ended and there was no longer need to raise money for war bonds, he was officially retired," Travelstead said. "Don Lingle took him to his farm."
The pig died in 1950 of natural causes. He was placed in a pine box and afforded a burial fit for a king. Those attending included a representative of the Navy.
But the story doesn't end there; there is a slight mystery. His burial site was in the path of Interstate 57, which runs from Sikeston, Missouri, to Chicago. His remains were apparently moved during construction of the highway, but no one is certain where he is buried today. A memorial plaque at a rest area on the interstate near Anna immortalizes King Neptune.
Ironically, despite the success of his fund-raising efforts, the USS Illinois was never completed. Its construction was canceled in August 1945 following the Japanese surrender. The ship remained at the Philadelphia Naval Shipyard until 1958, when it was dismantled for scrap.
King Neptune has achieved longer-lasting fame than the abandoned ship itself.
---