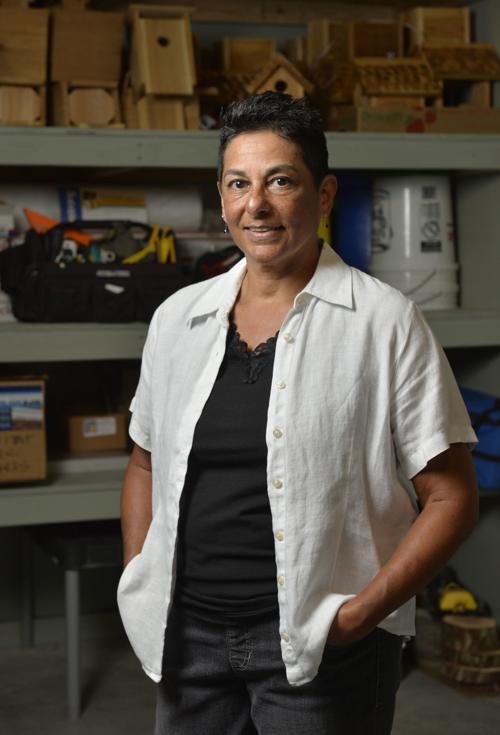 When Barb Rester first came to Southern Illinois in 1977, she knew things were different. Like many, she fell in love with the beauty of the region, especially the Shawnee National Forest. She also found the diversity and the acceptance to be refreshing.
"My dad is from Germany, my mother is from Panama," she explained. "When I came here, I loved the diversity. People finally stopped asking me what I was. I liked that a lot."
Heritage aside, what Rester is is busy and she's been that way since moving to the region more than 40 years ago. She came to attend Southern Illinois University, earning degrees in art and instructional development. She frequently volunteered in schools, worked in a variety of jobs, had two children, and, after one position ended, found herself looking for something.
"That's when I got involved with Habitat for Humanity and now, it's pretty much what I do," she explained. "I love doing Habitat for Humanity, but I am also trying not to let it take over my life."
Officially, Rester is the volunteer and web coordinator for the Jackson-Union County chapter of Habitat for Humanity, a national organization that builds homes for and with families in need.
"I've been involved for six years because this is the sixth house I've helped build," she said. "I've gotten to work with this really amazing group of people who just do so much. They're there (at the home under construction) every single Saturday, plus this year, we're working on a weekday, too, and that doesn't even begin to tap the number of hours that people put in when we're not at the job site."
Take for example, her "assigned" duties.
"I coordinate the volunteers, so I do an email, I do the website, I do the Facebook page and I went to training so that I'm a 'Competent Safety Person.' I even have a little card that says I'm competent," she said with a wide grin."
"We joke about our different skill sets. What I don't know is how to build a house, but I know a lot more than I did six houses ago. But I organized the construction trailer, so my skill sets include being able to lift heavy things and that I can find things in the trailer," she added.
Rester organizes her garage, too, because it has become a sort of de facto storage unit for Habitat projects.
"People think that we give away free houses, we don't," Rester explained. "We build a home with a family and they have to put in a certain number of hours of sweat equity, and then when that is all said and done, there's a mortgage with zero percent interest. That's how we fund other houses, but as building costs increase, it just doesn't keep up."
Enter the birdhouses. As a fundraiser during the off-season, Habitat volunteers build birdhouses and birdfeeders for sale. Those items must be stored somewhere. Rester volunteered her garage. The birdhouses are there, along with laminate flooring donated by a Rotary Club, an electric panel yet to be installed in the Habitat house and other tools and materials. Rester doesn't see the items as a burden, but rather as part of her service.
"It's just so gratifying," she said, admittedly getting a little — in her words — a little weepy. "One thing about doing Habitat is you do volunteer work, but you see the results of your work. There's a house where there used to be just ground and it's wonderful."
Rester says she also enjoys getting to know the family — not just the family that will make the Habitat their home, but also her Habitat family — the other volunteers. Many of whom, she says, are equally or more deserving of recognition.
"I love getting to know the families. That's one of my favorite things because you work with these people every single weekend for a year. It's great to see how hard they work and how you get to know them. But Habitat, too, is like a little family. It's a core group of volunteers; seriously, the most amazing people."
Rester still uses her art degree, often doing commission work designing glasses and labels for Blue Sky Winery and others. Admittedly, though, she doesn't spend as much time with art as she would like.
"I've made a resolution that even if I only do one tiny sketch a day, I'm going to do it because I have this ability and talent and I don't want to waste it."
Rester really should have used the plural version of 'talent,' because her Habitat family will tell you that she has multiple talents and she's putting them to good use, changing the world one family at a time.
"I like the slogan that 'we're not a hand-out, we're a hand up,'" she said. "My parents came here from other countries and they had a definite hand up. I see what it did and I want to just give somebody else the same chance."