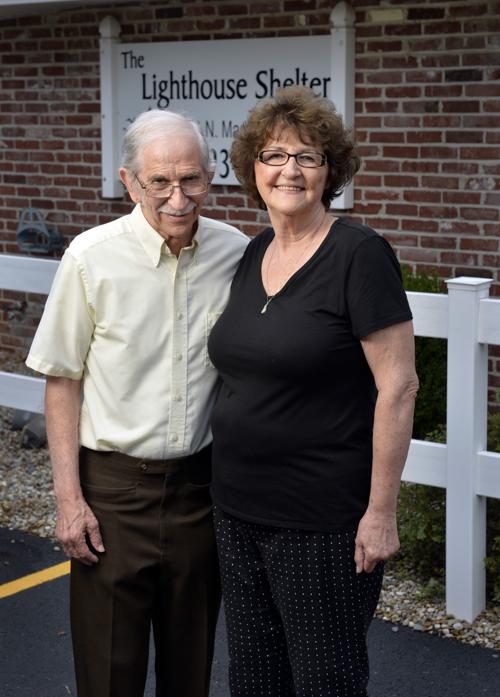 It's funny how a chance encounter can alter the course of a life. Even if that encounter is someone else's.
Take, for example, the story of Ivan and Wanda Zwick of Marion. Their lives were impacted by a Sunday afternoon experience of Wanda's daughter.
"My daughter and her family came across some homeless one day after church," Wanda recalled. "They asked for money or food and so my daughter bought them something to eat. She told them that she'd be back the next week, too."
Turns out that two or three in need turned into ten or more whom the family began feeding every weekend. They shared what they were doing with Ivan and Wanda who felt that they needed to help, too.
The couple had helped to buy blankets, gloves and coats for them for cold weather, but felt that a shelter was truly what was needed. They began to look for a building. Wanda delights at telling the story of how they found the structure — a former nursing home — which eventually would become The Lighthouse Shelter.
"I was going to pick up lunch one day at Dairy Queen," she recalled. "I usually would go down Market Street, but I came back down Madison this time. I saw this building. It was all grown up around it and I didn't even know it was empty."
She says it was during dinner a couple of days later that the idea of a building — that very building — came up again.
"At dinner, Ivan told me, 'I went down Madison Street today,' and then he asked, 'What do you think of trying to buy that old nursing home and start a homeless shelter?' I thought God had shown me, but he gave the idea to Ivan to share with me. So that's what we did."
Ivan says that the building had been empty for five years and it needed complete renovation. He says Zeller Construction of Marion donated much of the work on the building which the Zwicks bought with personal savings.
"Neither of us knew anything about running a homeless shelter, but we knew that we were going to get a building and we were going to do it," Wanda said.
Ivan, now 78, had owned a number of shoe stores in Illinois and Indiana, including one in Marion and one in Carbondale. Wanda, 72, worked in advertising for the Marion Daily Republican. They met when she tried to sell him advertising space. With the purchase of the building, she found herself responsible for much more space.
The Lighthouse Shelter opened in January 2007.
"The first night we had 15 people, the second night I think we had 30," Ivan said.
Today, the shelter can host 60 and it is routinely running at 60 percent capacity or more.
"We've been open 11 and a half years now, we've served more than 6,000 people," he added.
Funding for the shelter comes from individual donations, contributions from churches and clubs and fundraisers. More than 50 volunteers (including the Zwicks who continue to oversee daily operations) give tirelessly to keep the doors open and serve those who need it most.
"We don't take a dime," Ivan explained. "Actually, we put money in."
The Zwicks say that the shelter and their role in it are what they are called to do.
"I took some risks in my life," he said, "and they went the right way and I've been blessed. God had his plan and we felt we should give back and do this. We live in the richest country in the history of mankind. There is no reason people should not be helped."
Wanda added, "God is the center of all of this. He showed us the location and He gave us everything to run it. When you get something like this put on your heart, you just do it."
The couple says they will operate the shelter for as long as they can.
"I'd like to say that our long-term goal is for the shelter to not be needed anymore, but I don't think that will be the case," Ivan stated. "Our goal has been and always will be to break the cycle of homelessness."
The shelter has two caseworkers who help adults with getting on their feet through employment or schooling.
"It's great to go into a restaurant and see folks who were homeless who are now working and they'll wave to you. It makes us feel great."
The couple shares the story of a letter they received from a couple who stayed at the shelter for a while and were helped in finding employment and housing.
"About a year after they were out, we got a letter telling us how much they appreciated the help in getting on their feet and inside of that letter was a check for $200. They said to take the money and help others like we helped them. We still have that letter," Ivan said.
The choice of words Ivan used to describe how he and Wanda felt in receiving that letter is ironic, considering how they have given a home to so many.
"That letter," he said, keeping back tears, "really hit home with us."