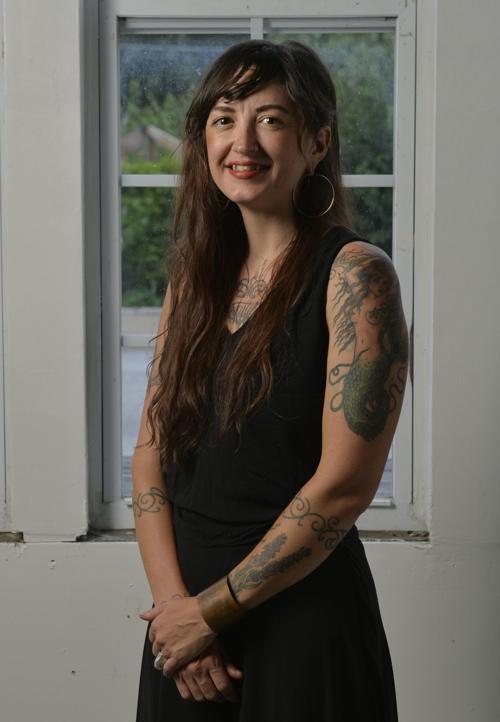 On a delightful summer morning, Jessica Lynn, 35, finds herself surrounded by girls of all ages. Some are picking out notes on a guitar, others are trying to beat out a rhythm for the very first time while a few are collaborating on lyrics to a song. They all are immersing themselves in music and discovering themselves at the same time.
Lynn is the driving force behind Girls Rock Carbondale, an annual summer program that introduces adolescents to the world of rock music. It's a program she first began working on in 2014.
"The goal of the program is, on one hand, to close up the major gender gap in the music industry while providing a liberating and open space where youth can be themselves," the Carbondale resident explained.
The weeklong camp not only introduces music, but encourages participants to explore the world around them.
"We do social justice workshops, for example," she outlined. "Things like media literacy which asks them to look at the media and ask critical questions."
Of course, there is music, too.
"Music helps so much," she said. "So many of us discover ourselves, whether we're playing music or listening to it. It's a universal language and touches your emotions. It allows you to connect with experiences and feelings."
While Lynn coordinates the camp, she says a growing group of board members and volunteers are allowing her to focus more on the music.
"I pop in and out of the practice rooms and teach bass. We're beginning to really hone our curriculum with music," she added.
Lynn is a Southern Illinois native who earned a degree in history at Southern Illinois University and says she's been involved in the local music scene most of her life, playing guitar and singing.
"I really cut my teeth in the basements of Carbondale, wherever shows happened and know a ton of people playing music in Carbondale, so it was sort of a no-brainer to start Girls Rock," she said.
A former staff member of Carbondale Community Arts, Lynn was able to develop a network of volunteers to make the camp, well, rock.
"One of the things that we say we do is to demystify the experience of being in a band. We have people who have never touched an instrument before and before long they're playing riffs in class and it is amazing," she said. "We're giving people tools to know themselves and showing them how to make a difference for people."
This year, more than 30 campers ranging in age from 8 to 17 formed themselves into eight bands, working and rehearsing together leading up to a camp-finale showcase performance and recording session. The camp also recruits former campers who serve as teachers and mentors.
"We're giving them experience in teaching and being in positions of leadership. It's really good for them," Lynn said, adding that the volunteers — herself included — often gain as much from the camp as the participants. "I feel like it is pushing me to want to become a more professional musician and to really push myself. I just want to push myself and continue to give back to the youth."
But, she says, the camp will remain focused on the campers.
"They come away with so much," she explained. "It is an extremely emotional experience to watch the youth go from completely closed-off with walls up to completely expressing themselves by the last day of camp. My goal is that if it's not music, this experience will lead them to find something else that will allow them to express themselves."
Lynn says it's that ability that will make a difference.
"It's important that they understand the connection between being able to articulate for themselves their emotions and feelings and being able to connect with other people in that way because it is when we connect with our experiences that we are brought closer tougher and that's what the world needs right now."
Thanks to Girls Rock, Lynn is helping to make those connections one note and one chord at a time.