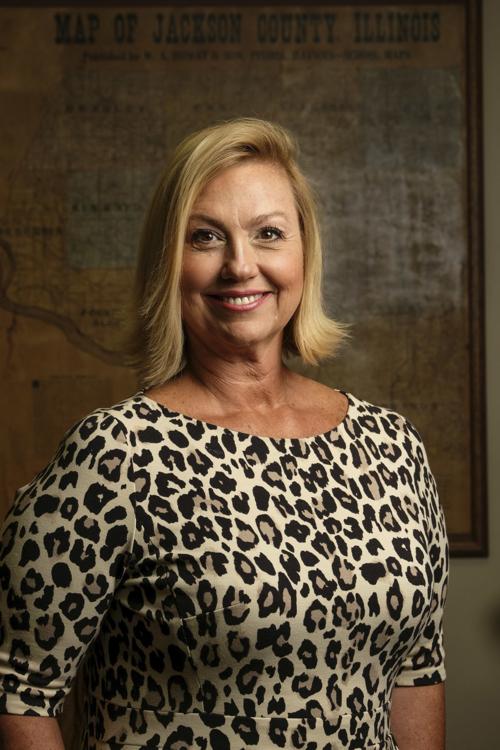 Paula Maloney of Murphysboro has a hard time sitting still. In fact, she says even the thought of sitting and doing nothing doesn't sit well with her.
"Resting makes me tired and if I'm tired, I go to sleep," she says. "So I don't lay around much."
It's not that she doesn't relax, however. The 56-year-old Murphysboro resident says she relaxes by doing things — especially projects where she can tap into her artistic side.
"Creativity relaxes me," she explains. "It keeps me going."
And go she does, always looking for ways to do something, particularly things that make a difference. It leads others to question where she finds the time to do everything.
"I feel that you make time for what you want to make time for," she says. "I am very project-driven. I like to make a difference."
For more than two decades, Maloney has been making a difference in her community.
A resident of the Jackson County seat since she was 2, Maloney grew up the eldest of six children in the Voss family, learning the importance of community involvement and hard work in a family-owned business. After earning a degree in mass communications from Southeastern Missouri State University, she returned home, going to work for the Murphysboro American newspaper.
"I wore a lot of hats there; I was a newspaper reporter — I had news beats, the police blotter, the courthouse — I wrote a column that I loved. It was a great experience," she recalls. That experience was followed by public information roles for what is now the Southern Illinois University College of Agriculture and the university's Coal Research Center. In 1991, she married Scott Maloney, third-generation owner of Jackson County Abstract.
"When Scott's father suddenly passed away, I put on another new hat so to speak and began working in the family business," she says. "I love the idea of being part of a small hometown business in my hometown and working with family."
Working in the family business gives Maloney opportunities and freedom to pursue her passion of being active in the community, something she learned early in her career.
"One of the things I am most proud of is my involvement with the American Cancer Society of Jackson County," she says. "I first got involved as part of my experience at the Murphysboro American and that was in 1985 or 1986. I started working with them and I have never stopped."
Maloney's involvement pre-dates the establishment of the annual Relay for Life event, a program that she currently oversees as the volunteer Jackson County event coordinator.
"They do so many things for people and provide wonderful liaisons not only for friendships but benefits — physical, mental, emotional — I could go on and on about them. Plus, all of the funds that are raised locally, stay local. They are helping real people with real challenges get real remedies," she says.
Her involvement goes beyond the relay event, as she works most of the year doing fundraising and lending other support to the organization.
"We were involved with the American Cancer Society before, but when both of Scott's parents passed away from cancer within one year, it began to mean even more," she says.
Maloney is also a mainstay in activities of her community's signature event: the Murphysboro Apple Festival.
"I've been involved with the Apple Festival since 1985 and have chaired a committee since 1995," she says of her work with the Miss Apple Festival pageant scholarship. "We work with a wonderful group of ladies, raising funds and promoting the scholarship portion of the pageant."
She says the funds, which are awarded to runners-up for the title as well as the young woman crowned Miss Apple Festival, have totaled more than $70,000.
Additionally, she serves on the festival's decorating committee, doing what she calls "a lot of behind-the-scenes preparation and decoration."
Again, her creative side comes to the surface as it does every week at Immanuel Lutheran School where "Thursdays with Miss Paula" are a staple and something the nearly 100 students look forward to. Every week, she volunteers as the school's art teacher, guiding kindergarten to eighth grade students through art instruction, projects and even some history by exposing them to a variety of art mediums.
"It gives me a creative outlet," she says. "I like to paint and draw and this gives me a change to share some of my talents and learn from them as well."
She adds that she thinks she looks forward to Thursdays even more than the students do.
"You can be having the worst day ever and walk into school and come out laughing," she says. "I get so much more back than what I give."
She also teaches adults, often leading painting parties for civic groups or charities. She's even taken her artist's eye and lent it to downtown revitalization efforts.
"I also have recently joined a committee called Murphysboro Main Street. It's made up of business leaders and other people who want to make a difference in the way our town looks and provides opportunities for residents and future residents," she explains. "We spend a lot of time talking about aesthetics. It may not be the most important thing, but it is important. I feel like my interest in art can make a positive influence on the committee."
Maloney sees common threads in all that she does.
"It's about being a positive influence, stemming from my work in the Apple Festival and Main Street committee," she says. "I like to gather people together and try to bring out the best, to make a difference for positive change."