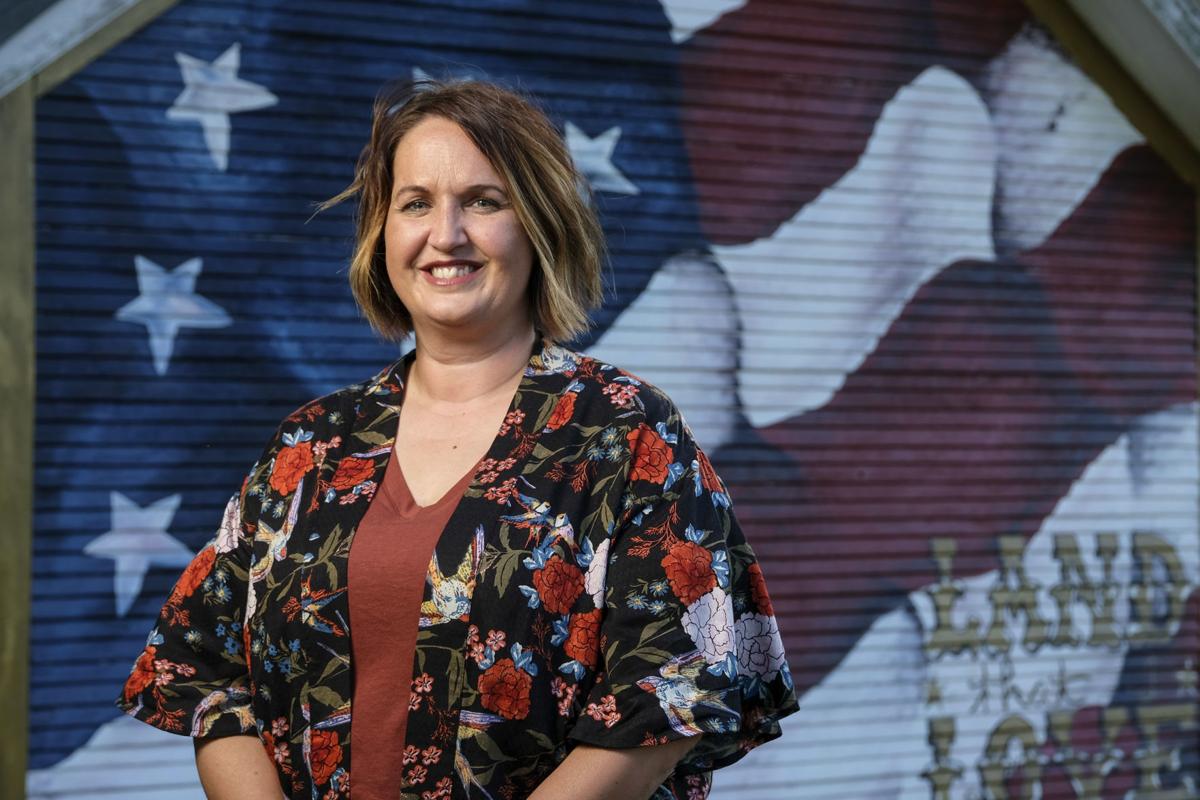 It's been said that all roads lead home. Union County Farm Bureau Manager Stephanie Rhodes would agree, although she warns that it may not always be smooth travels.
"For me, it's kind of a broken road with lots of twists and turns," she says. Yet in talking with her, one gets the impression that she wouldn't have it any other way.
Rhodes has been the leader of the agricultural organization for the past four years, working with producers and promoting agriculture in her home county. After a lifetime of travels, she has settled into her role. She has settled as well as in a traditional farmhouse just down the road from her family's farm, where she grew up among row crops and a farrow-to-finish hog operation near Wolf Lake. She says it was a very auspicious upbringing.
"I was fortunate just knowing no other thing than living far from town and helping out on the family farm and fortunate enough to be involved in a lot of things in our little school. I was fortunate to be involved in sports and leadership training and programs like FFA and 4-H," she says.
She was also fortunate to be the recipient of a tuition scholarship to the University of Illinois because her father is a veteran of the Vietnam War.
"I was interested in agricultural communications at the University of Illinois," she recalls. "That was pretty ambitious for a kid from a class of 19 students at Shawnee High School. I was a little fish in a big pond at the U of I, but because of my FFA connections, I made fast friends with other tiny fish."
Landing a job at the state offices for 4-H, a network of youth organizations coordinated by the state extension service based at the University of Illinois, Rhodes learned of an exchange program for agriculture students. Seizing the opportunity, she spent six months living with several farm families in the German countryside. She says she not only learned about farming in Europe, but also gained a better understanding of herself and her world.
"Today, when I am invited to talk with high school kids, no matter what they've asked me to speak about, I always find a pathway to tell them that they need to get out of Southern Illinois, out of the country, out of their bubble and see the world," she says, all while understanding that a more worldly exposure will also change perceptions of home.
"It was a wonderful experience," she continues. "I really didn't know how special Southern Illinois was until I went somewhere else. It changed me because at the time I was going to get my degree and get as far away as possible, but instead I became the boomerang that came back."
Rhodes didn't come back right away. In fact, her chosen path kept leading away from home. Combining an artistic mind with a Midwestern work ethic and organizational skills learned from Extension, she landed a post-graduation job with AGCO Corporation, a worldwide manufacturer of agricultural equipment. Working from Atlanta, she was part of the company's in-house advertising agency.
One of her primary assignments was in planning and coordinating the company's participation and displays at agricultural expos and shows around the country, including some of the nation's largest farm-related events.
"There I was, working 60 or 70-plus hours a week and traveling nine or 10 months of the year," she says.
It was work she enjoyed, and she began advancing through the company. Still, longing for home was frequent.
"I had some thoughts about coming to the Midwest and my family whenever I thought that nieces and nephews were beginning to come along and grandmas and grandpas were getting older," she recalls.
A new position found her closer to home, this time in Batavia, Illinois, but another promotion found her back in Atlanta serving as the North American communications manager for Massey Ferguson, one of AGCO's divisions. From meeting with dealers in Brazil to coordinating photo shoots in Germany, the new role was perfect for her, and she enjoyed Atlanta.
"Even though I'm not a sweet tea drinker, I really prefer to be south of the sweet-tea line," she says. "I love the charm of the South."
Home, however, kept calling.
"My work was fun and it was full of wonderful experiences, but I came to a realization that I was in my late 20s and missing all of the fun stuff with nieces and nephews while the grandmas were still getting older. When you are going at the pace I was and at that distance from home, you have to pick and choose, so for me, I just knew I wanted to be back in the Midwest. I put in my notice and came home on a wing and a prayer."
For most of the first two years back in Southern Illinois, while she was searching for just the right thing, she found herself doing lots of things. From substitute teaching and working as an auction ring girl to cashiering at a thrift store, Rhodes was willing. She says it was a time of slowing down, enjoying being home and reinventing herself.
She found work coordinating efforts to promote agricultural tourism in the area, and while the position only lasted as long as grant funding was available, it gave her inroads to other opportunities.
"I was able to network my way through Southern Illinois and was able to reacquaint myself with what is agriculture in the region now," she says. "I was able to become reacquainted, but this time, I had a much broader perspective of my world."
Somewhere along the way, she decided she wanted to stay in Southern Illinois — in Union County, actually. It wasn't long after that choice that she applied for and was selected as the county manager for the Union County Farm Bureau.
"I had always wanted to work for Farm Bureau, but there aren't a lot of Union County Farm Bureau Jobs," she says through a grin.
At Farm Bureau, she hit the ground running, utilizing everything in what she calls "her toolbox of experiences, contacts and skills." She's expanded the programs of the organization, hiring an agriculture literacy coordinator for the group's "Ag in the Classroom" effort and strengthening communications between the organization, its members and the general population.
"I think it is using some leadership skills and knowledge I've learned from the grassroots up," she explains.
She's also taken a role in working with local high school-aged entrepreneurs, promoting women in business and helping agriculture producers find a common and unified farm voice.
"I'm doing this because I care," she says. "I'm going to stay right where I'm at and bloom where I'm planted."