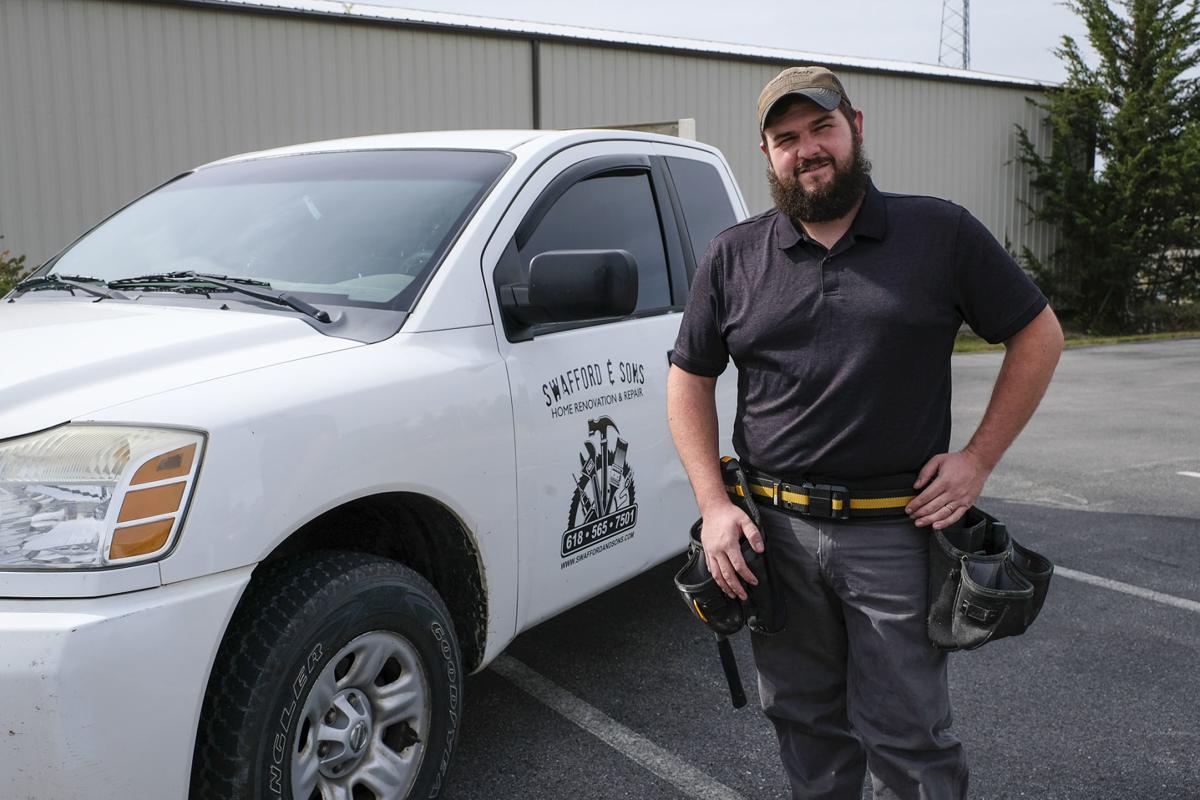 Joe Swafford was swinging a hammer before he could drive. Working with his father — whose real name was Lloyd, but called "Joe" by almost everyone — the younger Joe was one of the "sons" in Swafford & Sons, the elder's home renovation and repair business.
As the younger Swafford has taken the reins of the business, he continues to do business the way his father did: holding the concepts of loyalty, trust and hard work at the forefront.
"We stay busy because it is hard to find a reliable company that will do some of the smaller jobs," Swafford says. "We do a little bit of everything when it comes to renovations and repairs, but we really try to target the smaller jobs that bigger companies can't always do because of their overhead and other factors."
Swafford says his focus on small jobs keeps him very busy, serving much of the region from his business' home in Murphysboro, adding that he performs maintenance on homes and rental properties, does repairs on all sorts of buildings, builds porches, decks and fences as well as tackles remodeling and renovation work, too.
He says he really enjoys new construction projects ("I really like the new builds just because I can stand back and say, 'I did that,' when it's all done," he says), but also likes that every day brings about a new project and is something different.
"I like the freedom of it all," he says, admitting that he relishes being a small business. "I like being able to quickly reschedule things if necessary without having to go through layers to accomplish something."
You have free articles remaining.
Swafford says that since taking over for his father, he has learned to treat himself not only as the "boss," but also as the employee.
"I've learned to become disciplined with myself and with my scheduling," he says, adding that he's also learned the keys to working with clients. He also says he continues to learn from his dad.
"I learned all of the basics from my dad, things like how to use the tools. Those are things I learned from him a long time ago. But I also have learned a lot of little things from him, like how to make the most of a project."
He adds that he also has learned special techniques.
"Maybe I was doing something one way which was working, but he will show me another way to do it, sort of a little trick, and it would cut 15 minutes off of what I was doing," he recalls. "I'm still using those methods. Learning from him and still using his way of doing things is a source of pride for me."
Swafford says the business fulfills a lifelong dream.
"Whenever I started working with my dad, I always told myself that I was going to do it one day — run the business and take care of customers," he says. "I love what I do and am having fun."