The morning of Thursday, Feb. 27, started innocently enough at Marion Chevrolet-Buick-GMC-Cadillac. With a little downtime, Sales Consultants Ed Bowen and Nick Boles walked out to the lot to take some photos for social media. A half hour or so later, the images were edited and posted to Ed's Facebook account.
When he checked his phone at quitting time — about four hours later — Ed had already accrued thousands of likes, shares and comments. It was only the beginning.
This is what going viral looks like.
"It was nuts," said Bowen, who graduated from Marion High School in 2007 and currently lives in Carterville. "This wasn't some orchestrated thing. It just kind of happened."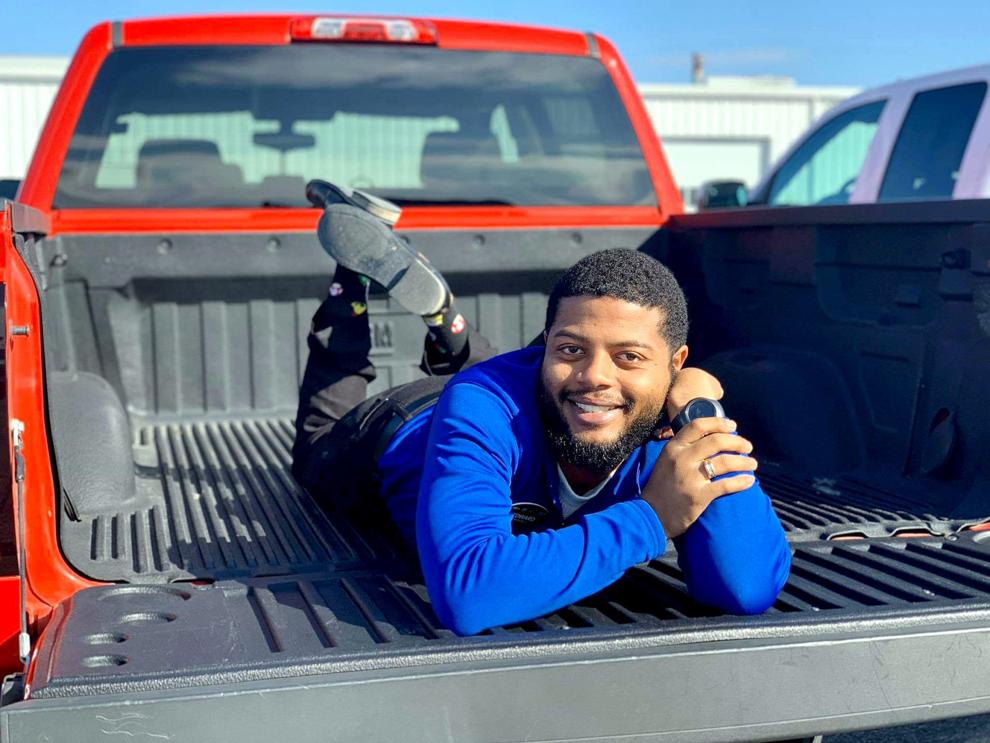 The reason for the social virality was the humor in the photos. They showed Ed sprawling out in the back of a pickup and super-model posing on the hood of a car. At the time of deadline for this article, Ed's post was up to 35,000 shares, 25,000 likes and nearly 10,000 comments — some of which have come from across the world. "I've had people from Nigeria, Egypt, Australia and South America message me," Bowen said. "You name it. They've reached out."
For Bowen, it was all about having fun. That's kind of his thing. "I've never had more fun at work," said Bowen, who before joining the dealership about six months ago worked at Staples and Walmart.
"Blake Pieroni and Trevor Lynn are all over it," Bowen said. "They have helped really build a positive culture. When you love coming into work on a daily basis, you know you have something special."
Bowen recently sat down with The Southern to chat about his newfound social media celebrity and why he loves his work in car sales so much.
What makes you so successful in car sales?
I go for the close without pushing, even though my job is 100-percent commission. I give customers as much information as possible and let them make their decision. I understand that one customer is not one customer. They have friends and family members who will come see me, too, if I treat them right. It's all about relationships.
Why do you love working with your current company?
Our dealership is No. 1 in the district in terms of dealer volume. I really believe our success comes down to attitude, atmosphere and pricing. We are not stuffy. We sing in the showroom and customers hear us. They know we're having a good time and we're here for them. Are we competitive? Yes. But we really respect each other and have a good time doing what we're doing.
The auto dealership world is highly competitive and tough to navigate. Why did you make the switch and did anyone influence you in your decision?
Honestly, I just got up and did it. I was ready for a change. My dad had always told me I'd be really good in car sales. I had actually put in a ton of applications into other companies and wasn't getting any results. It can be tough to be motivated enough to go on, especially when so many places are passing on you. When you fall the first couple of times, it's easy to get up. After so many rejections, you really start to question yourself.
Your girlfriend, Trish, and two kids — how did they help get you through these difficult times?
They were huge. I just wanted to provide a better life for my kids than what I had growing up. My mom was a single mom raising five of us. We really didn't have a lot. Now when I get home from work, my kids always ask if I sold a car that day. When I leave in the mornings, I'm in a good mood and showing them what it means to be excited to go to work. I'm trying to be a positive role model for them every single day and teach them the value of a dollar.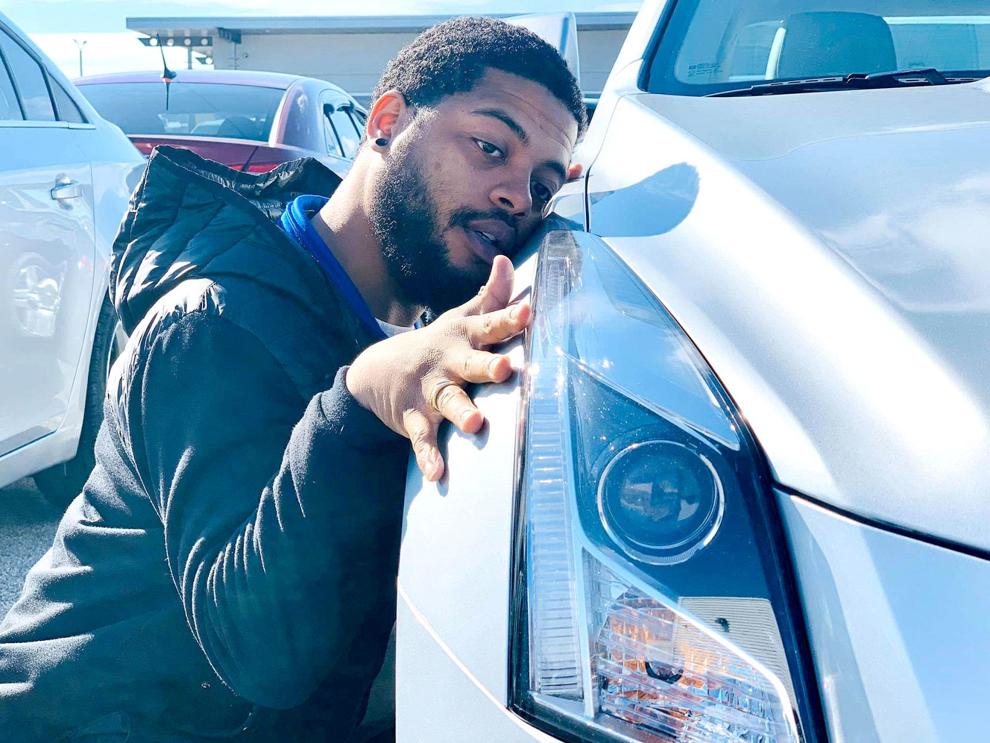 The viral post — surely everyone in Southern Illinois saw that thing. Where did the idea for those photos come from and who helped you pull them off?
Other car sales guys have been doing it for years. For some reason, ours hit. The weather was great, and we had some time to pull it off. I remember just grabbing the keys to some of the cars and Nick snapping the photos. It was supposed to be something that drew some attention, but we never expected what we got.
When you were a kid, how would you have answered the question, "What do you want to be when you grow up?"
I wanted to be a cop. I didn't really have a ton of role models. I think when you're in that situation, you look to the community for influence. You see cops and firefighters. I never really pursued it, but being a cop was my goal as a kid.
What's your advice to people who may feel like they are "stuck" in unhappy work situations?
Keep trying and keep applying. You can't find another job if you don't do something to make it happen. You've also got to lean on your friends. People like Daniel Hudson, Demetrius Duncan and Zach Lloyd have motivated me and helped me get through the tough times. I've seen a bunch of people just get complacent. You have to take steps to get a new job or to do anything to improve your situation. The hardest thing to do is to take that first step.
Joe Szynkowski is a Sr. Director for NuVinAir Global, a Dallas-based company disrupting the automotive industry. Thanks to technology, he does so happily from his home east of Marion. Email Joe@TheUpWriteGroup.com for more guidance on work happiness.