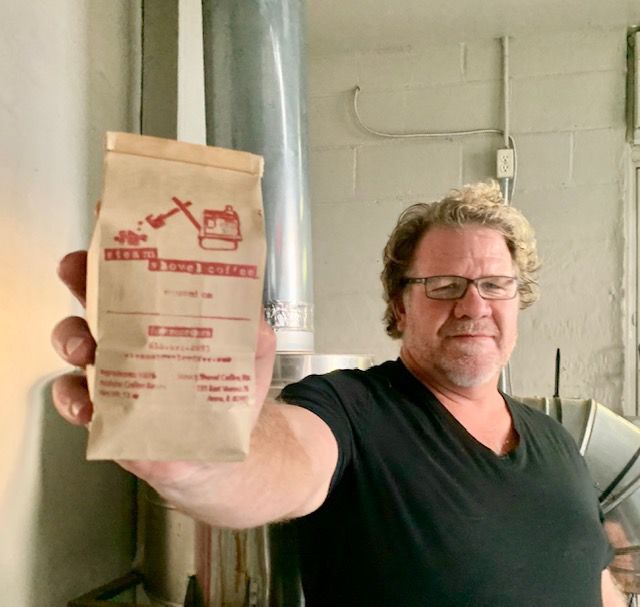 Randy Miller says it took a series of miracles to make Steam Shovel Coffee a success — and a lot of years as well as some learning experiences.
The Anna native had always dreamed of being in the coffee business. He had long been a coffee drinker, although he baulks at the term "coffee connoisseur." He had sampled coffee all around the world while on disaster relief team assignments for the Samaritan's Purse charitable organization. He also often looked at vacant retail spaces throughout Southern Illinois and wondered if they would work for a coffee shop.
Working as a painter on a large job at a commercial beverage plant 15 years ago, Miller watched bottle after bottle and case after case roll by on the way to thirsty consumers. In his mind's eye, though, he was seeing something different.
"I was imagining coffee going by and it brought me to the realization that what I needed to do was to create a brand," he recalls. "My initial goal was to become a regional roaster and to basically create a brand name out of nothing."
Like many entrepreneurs, Miller faced some obstacles.
"This was my challenge: How do I start as a small businessman and create something bigger than myself? That's one of the reasons I focused so much on getting the right name. I didn't want just to be 'Randy's Coffee.' I wanted something bigger."
Then one night, reading a classic children's book to his son, Miller found the name for his enterprise: Steam Shovel Coffee, coming from the title of that evening's selection, "Mike Mulligan and His Steam Shovel."
With a name, Miller had to develop a process.
"I did some research and figured out which roaster I wanted. It was a specific sort of air roaster," he says. "I wanted that roaster because no one else in the region was using one."
Trouble was, the roaster was expensive.
"I could never work up the money that I needed, so I was praying about that," he says.
Those prayers were answered by "a guy roasting coffee" at a Whole Foods store near St. Louis, where Miller's son was undergoing treatment for severe allergies. Miller says he mentioned to the staff member that he was interested in getting a roaster and which model he wanted.
"He said, 'Really?' and he wrote down his email address and told me to get in touch with him. Being the smart guy that I am, I didn't do it," Miller recalls with a self-deprecative tone.
Another trip to Whole Foods and again, the "roaster guy" encourages Miller to call him.
"I still didn't do it," Miller admits.
One more visit and finally, he tells Miller, "Look, I have that exact roaster you want and I'm not using it anymore."
Miller, who confesses he should have called the man earlier, says the odds of finding a used roaster are slim, but finding someone with a used roaster who would offer it on a rent-to-own basis was unbelievable.
"It was nothing but a miracle on the roaster," he says.
Installing the roaster in what was basically a detached garage in Anna, Miller went to work.
"It was very much a leap of faith because here I was, a guy with a roaster with no product yet, and no distribution system," he says.
In 2012, he began experimenting with roasting, getting all of the necessary permits and licenses to become a commercial venture and started sampling a lot of coffee.
"My first batch was terrible. I mean it was disgusting, but I started figuring out how to roast coffee," he says, adding after lots of bad coffee, another prayer was answered when he had an idea to try a slightly different process. It worked, leading Miller to a roasted coffee that features what he calls "full flavor with a smooth finish."
Many of his customers would attest that Miller has successfully figured it out. Today, Steam Shovel whole-bean roasted coffee is available online and in retailers throughout much of Illinois and parts of southeast Missouri.
"My favorite orders are ones I get from the Seattle area," he boasts. "It's the coolest thing that they order from out there and a couple of customers from Washington tell me that they just can't find coffee they like in Seattle."
Miller says Steam Shovel Coffee is roasting about 300 pounds of coffee beans each week — all through the "miracle" roaster. He says he keeps busy producing and distributing the product.
"We're one of the largest selling coffee products at area grocery stores," he says, adding that he only sees the market for Steam Shovel growing because of people's affinity for coffee.
"Simply put, coffee is home. I mean, it's in everybody's kitchen. Its what people drink first thing in the morning and it's part of our daily lives. It's something that's very important."
The business news you need
With a weekly newsletter looking back at local history.