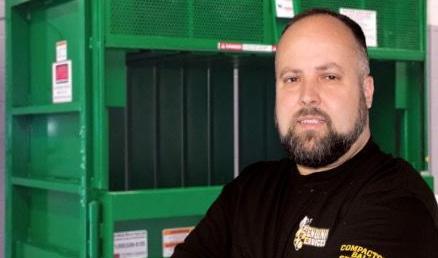 Dan Clendenin's first exposure to the commercial trash compactor business was, shall we say, less than favorable.
"I thought it stunk," Clendenin recalls.
It was 2004 and he was helping a friend of his father's install a compactor outside of a Marion restaurant. The friend, Dave Lockwood, had been working on the large compactors found outside restaurants, factories and retailers for years. Considering transitioning out of the business and into retirement, he thought Clendenin, who had experience with welding, electrical work and metal fabrication, would be an ideal successor.
"I helped him that morning and from then on, went into it with him taking me under his wing," Clendenin says.
The stench of the items in dumpster notwithstanding, Clendenin found the work to be to his liking.
"It was a bit of a natural fit," he says, adding that he often has to explain what it is he does for a living.
"We're not trash guys, we work on the systems and containers that deal with the trash and the recycling," he says. "These things are no different than the small under-the-counter trash compactors that some people have in their homes, only these work on a much, much larger scale."
The Marion resident's work now takes him to parts of six or seven states, maintaining, installing and repairing everything that makes the compactors and balers work like they are supposed to function. He says there are more commercial compactors than people realize, located at factories, malls, box stores, hospitals and schools. And, he says, when they don't work, problems arise. In fact, his work is seen as essential.
"You've never seen a store manager as happy as they are to see you when a compactor or baler has been down for several days," he says with a smile. "I've walked into back rooms that literally have been piled with cardboard, enough that it takes several hours to clear it just so I can get to work."
He continues, "When the trash backs up, they have problems."
Once onsite, Clendenin's work is all-encompassing.
"I'm working on hydraulic components and electrical components as well as sometimes doing some welding and some fabrication, especially when installing new units," he explains. "So it brings a lot of skill sets together."
The work also involves keeping touch screens, operator panels and everything else to make the equipment work like it should.
He says his natural inclination toward all things mechanical has been supplemented through specialized training offered by baler and compactor manufacturers and, having worked on the equipment for more than 15 years, experience has been a great teacher.
A growing part of the industry has been the installation of baling equipment — large machines that compress and bundle cardboard or plastic for recycling.
"The industries are going green. They are trying not to take this stuff to the landfills, whether it is cardboard or plastic. They bale it up and then recycle it," he says.
Clendenin says he hopes to continue expanding his business' geographic footprint to much of the Midwest, but most of all, he wants his clients to be satisfied.
"There's always somebody who will do the work a little cheaper, but my customers keep coming back to me," he says. "I think that's because they don't have to call me as often because we try to do it right and treat them right."
His work continues to occasionally find him in situations with aromas, but Clendenin says he doesn't mind any more.
"No, it smells a lot like money to me," he says.
The business news you need
With a weekly newsletter looking back at local history.