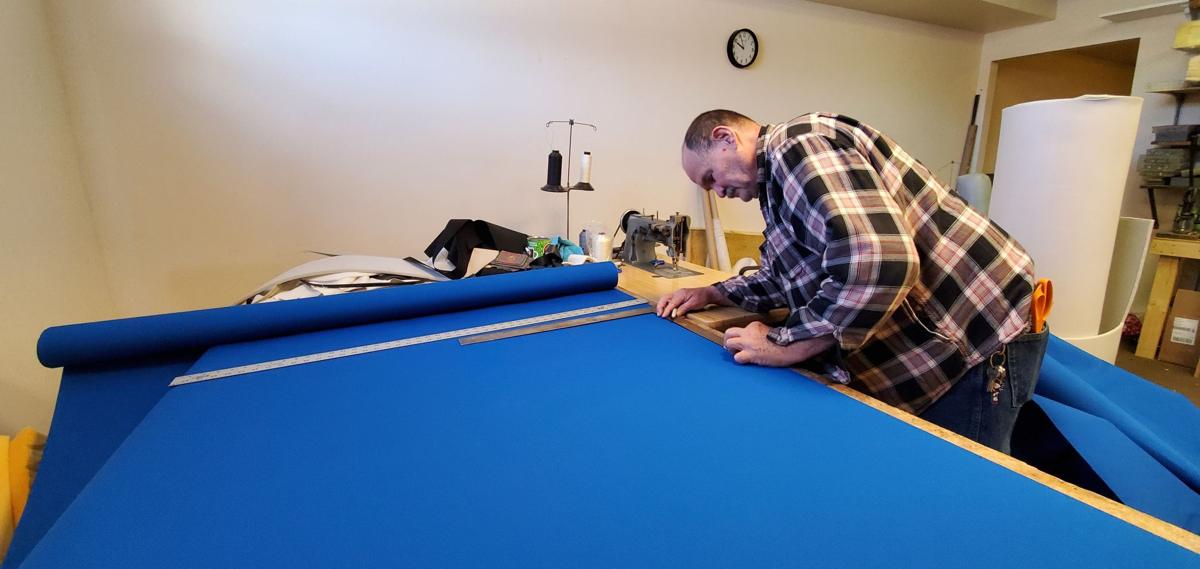 To say that Ross Page knows upholstery would be an understatement.
After all, he has been recovering seats and more for nearly three decades. A recent move to a more visible location on Park Avenue in Herrin has made his business, Upholstery by Page, more visible – and busier than ever before.
"We reupholster everything from car interiors and boats to furniture and creation of custom awnings," explains Matt Wraikat, co-owner and manager. "People have been seeing us and we now have customers who have been searching for someone to do their upholstery for years. They tell us they are glad to find us."
Wraikat says every day is different at Upholstery by Page.
The queue of projects to be completed might include new vinyl on a customer's favorite recliner to new carpet in a pontoon boat.
Repairs to a motorcycle seat, a new boat cover, recovering patio chairs, awnings, a complete custom car interior – including door panels – all might be on the list too. Oh, and new interior head liners in cars.
"Headliners; we are doing a lot of headliners right now," he says.
Business is so good currently that Wraikat says he'd love to bring on additional staff, but he is having difficulty finding the right people with a mix of customer service, attention to detail and a lot of sewing experience.
"They've got to be good with a sewing machine," he said.
He said some projects like repairing a dining room chair, for example, takes just a day or two and usually runs less than $70. Larger undertakings, like a custom leather interior for a classic car might take a few weeks and cost up to $2500.
The business is a KatzKin authorized installer, representing the nation's largest supplier of automotive leather. Wraikat says once a customer finds a KatzKin design or have an idea of their own, Upholstery by Page will work with them to make certain their project is one-of-a-kind.
"We recently completed work on a classic Ford Bronco. We did all of the seats, the door panels, the headliner, everything for the interior," Wraikat says.
He says that Upholstery by Page serves customers from throughout the Midwest and clients are always excited about completed projects.
"They are always very happy and surprised at how their items turned out so well," Wraikat explains. "They often are very positively surprised by how things turned out and how cool they are."
Wraikat says he and Page hope to continue to grow the business.
"We're hoping to someday expand to a warehouse and to hire more staff so we can have a quicker turn-around, especially on specialty projects," he says.