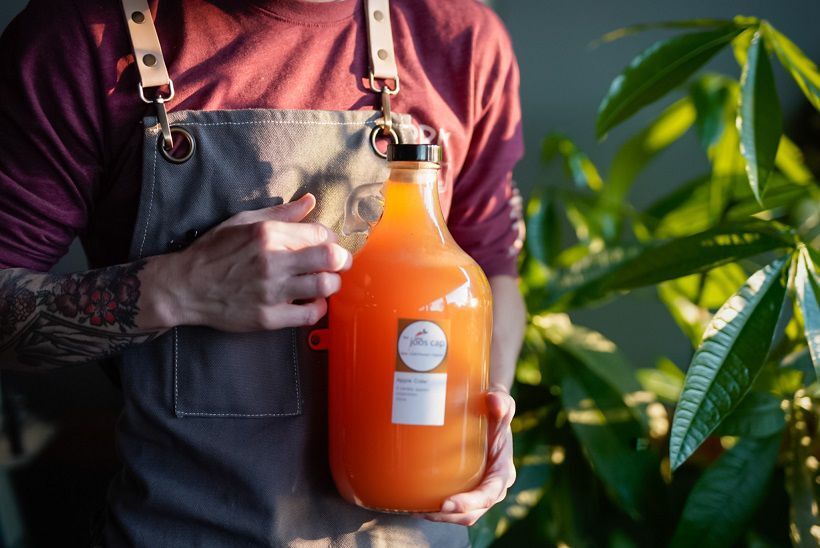 CARBONDALE — April Martinez of Carbondale has made a business out of getting the most from her fruits and vegetables. With her nutrition-focused business, The Joos Cap, Martinez, along with her husband, Antonio, creates fresh, cold-pressed juices and homemade nut milks with locally sourced organic produce.
There are a variety of juices for purchase, ranging in flavor, intensity and sweetness. Since some people new to cold-pressed juice consumption may not know where to begin, a close read of the products helps customers of all fitness levels know what to expect.
The Sasquatch consists of apple, carrots, ginger and lemon. One 12-ounce bottle of celery juice holds almost two bunches of celery. The Saluki Beet is bright maroon and is made up of beets, cucumber, ginger, rosemary and lemon. It's a strong drink with a powerful punch.
Shots are also available in varieties like wheatgrass, orange ginger, and The Snake Road, with ginger, cucumber and lemon. 
Online ordering through The Joos Cap's website gives customers a full menu and description of each item. With orders due each Thursday, the juices and milks are available for local pick-up within a few days and updates to the list of available items can be found on The Joos Cap's social media pages. The cold-press process Martinez uses to make small-batch juices and nut milks are more nutritious than other juices, she says, because the process helps preserve the nutrients of the produce whereas heated juicers may destroy some of these benefits.
For January, The New Year's Cleanse will be featured for a fresh start to 2021. A full-day juice cleanse consisting of six different drinks, customers begin the day with celery juice, followed by orange cranberry, Strong Greens, a pineapple, mint and apple juice, spirulina lemonade, and finishing with spiced almond cashew milk.  
The fruits and vegetables used at The Joos Cap are all organic, mostly purchased from The Neighborhood Co-Op in Carbondale except some items that Martinez finds at local farmer's markets. With a background in exercise and nutrition, and working currently as a full-time fitness professional, Martinez has always been aware of the importance of a balanced diet.
"When the pandemic hit I did some research while looking for ways for myself to get more nutrient-dense foods," Martinez said. "It's a good way for people to consume vegetables and fruits if they're not getting enough from what they are eating."