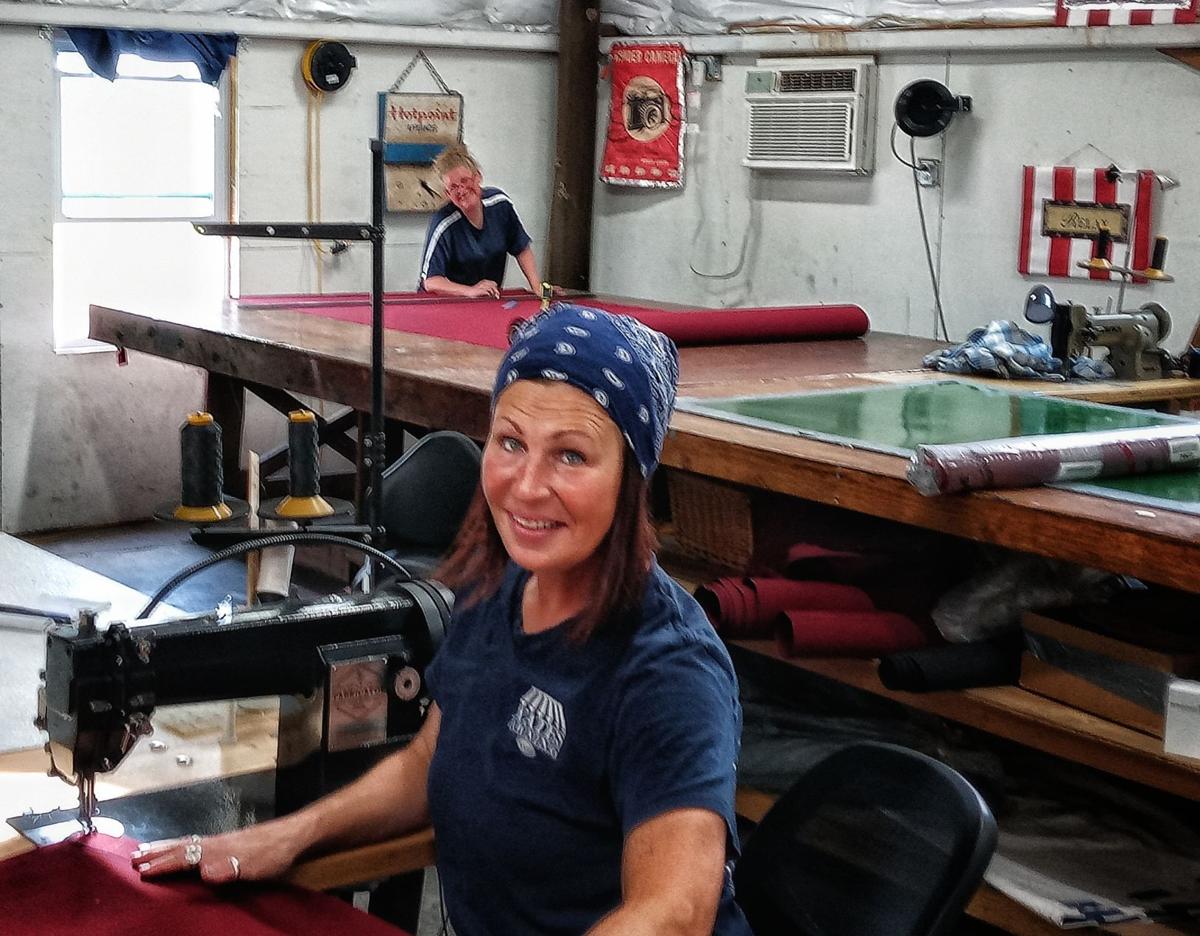 When Liz Yates describes her family's business, she makes it sound rather simple.
"We make sticks of steel and rolls of fabric into custom awnings," she says.
Technically, her description is correct, but the work Yates Awning Company is more precise and challenging than just one sentence can describe. The impact of the awnings produced and installed by the Murphysboro company is significant, too.
"Awnings can make a business stand out," Yates explains. "They can change the whole appearance of a business. It really just shouts out to the public and makes your business pop."
There are other benefits to awnings as well. The fabric coverings over windows or doors can mark and protect entrances and more.
"They can shade and cover walkways from rain and snow and protect from UV damage. They also make great signage."
Yates and her husband Jack bought the company in 2018 from another individual who had previously purchased long-time Carbondale business Haake's Awnings. Yates says Larry Haake still helps with advice and the history of awnings installed in the region decades ago.
"We talk to him all of the time," Yates says. "He is still a mentor."
Today, Yates Awning is truly a family business. Liz, Jack and their son Jack III – a senior at Carbondale Community High School – along with Liz' sister, Kristy Allen Steely, and her husband all help with sewing, fabrication and installation of awnings both for commercial and residential locations.
The company, which is located at the Southern Illinois Airport, recently received a grant from the airport authority to modernize and expand its facility. Yates says she hopes the improvements will help the business continue to grow.
"We've done so well. It's really a great feeling. We're super excited about the future and we're hoping that we can hire more people," she says.
Yates Awning has designed, built and installed awnings throughout the region, including work in the Belleville area and as far south as Metropolis. Each project is unique; everyone works on installations, the two Yates men weld the frameworks as the sisters custom sew each awning. Yates says this method is in contrast to other awning companies which attach fabric to the frames either with glue or through a process called "bumping," where material is pushed into slits in the frame. She says sew-on awnings are more secure and longer-lasting.
Yates says some customers have ideas for their awning, other projects allow her and her family to, as she says "get creative."
"It's really a collaboration among all of us. It's great to see what we come up with together," she adds.
The company also "refreshes" existing awnings by custom fabricating new fabric for existing frameworks.
"Many of our customers are this recovering and restoring work now; recovering awnings that were installed 20 years ago," she says.
Yates says her business is one that thrived during the COVID-19 pandemic. She says many residential customers—who spent more time at home than usual – saw awnings as a way of improving the look of their homes. Businesses also used the time to make improvements.
"We kind of feel bad because we have done so well when other businesses have been struggling," Yates says, adding that many area establishments have used the pandemic as an opportunity to refresh the look of their business locations, including new awnings. "As business shut down for a while, they started revamping and that worked out well for us."
Yates, who was a medical office administrator before venturing into the awning business, says she's found work she absolutely loves.
"All of us are passionate about awnings," she says. "We enjoy giving businesses in the area a facelift and helping them look their best."