CARBONDALE — The Carbondale Spring's effort to buy Fat Patties is about more than bringing back a favorite burger joint — it's about restructuring the way Carbondale thinks about business.
The social and political activist group started a GoFundMe campaign July 20 to raise $45,000 to purchase the now-shuttered local business and form the city's first worker co-op — a model of business that puts ownership of a business in the hands of its employees. The goal is to share profits more equally among those who make the business tick.
CARBONDALE — A coalition of concerned citizens are pointing out what they are calling a "public secret" in Carbondale.
But the campaign, which sits almost halfway to its fundraising goal, is about more than one business. It's about sparking a series of worker co-ops throughout the city, organizers say.
According to Carbondale Spring organizers Nick Smaligo and Clare Killman, the $45,000 used to purchase Fat Patties would be paid back to a revolving loan fund that will be used to fund other businesses in Carbondale that will adopt this ownership model.
"This is a pool of money that will be set aside specifically for the setup of or conversion of existing businesses or starting new businesses into the worker co-op model," Killman said.
There are plenty of options in town, too, as an aging population of owners put landmark businesses like The Hangar 9 and Arnold's Market up for sale.
Smaligo and Killman said this attempt to buy Fat Patties is an attempt to take the revolving loan fund and the worker co-op, both things the Carbondale Spring outlined in the organization's platform, and bring them out of the conceptual realm.
CARBONDALE — Thai Taste is not closing. But it is for sale.
"(It will) move that idea from an abstraction to something that is happening down the street," Smaligo said.
As an idea, Killman and Smaligo said, worker co-ops have a lot of benefits. Using her own life as an example, Killman said she came of age in the midst of the fallout from the financial crash of 2008 when job security was no longer a guarantee. Finding work was not easy.
"What would it have been like if my community had come together and invested in everyone having access to local ownership or ownership over their local economy," she said.
She said the effort to promote the worker co-op business model is a way to make this a reality.
"There's plenty of people who are already invested in Carbondale, and this is providing a mechanism where we can transfer that ownership to the people that really want to build a future here," she said.
Similar to her example, Killman said worker co-ops would help cushion potential job loss. If one person needed or wanted to leave the business for whatever reason, they would sell their share and move on instead of selling the entire business or closing up shop entirely, as is often the case with the current economic model.
How it would work
Smaligo and Killman said worker co-ops can be formed a variety of ways. One is to have a buy-in when a person is hired. However, Smaligo said their goal is to have workers pay off their share through labor.
You have free articles remaining.
He provided the following example: Previously, Fat Patties employees made about $9 per hour. In its new format, they would make $10 an hour on paper, with that extra dollar going toward paying back the revolving loan fund, which covered their initial buy-in. At the end of the year, employees would split the profits from the business based on hours worked.
Both recognized that there is always a risk in business. But, they have structured their plan in a way to hedge against potential failure, keeping the loan fund secure.
Killman said they are looking into working with other lending institutions, but said that the loan fund as an entity would have first right of lien on any defaulting property — if a business failed that the loan fund lent money to, it would seize the business and its assets. Killman said that as the worker cooperative ecosystem grows, if a business failed, the workers would be able to be shifted to other businesses.
There are still a lot of i's to dot and t's to cross before anything is official — there's also the other $25,000 to raise. But the Carbondale Spring is on its way. Smaligo said the group plans to share its progress on the fund and other items in its plan for Carbondale during a Sept. 8 event at The Varsity.
He shared at least some of the progress in an interview with The Southern earlier this month: The group has established an interim board for the revolving loan fund and has been making strides to design the structure of the loan fund.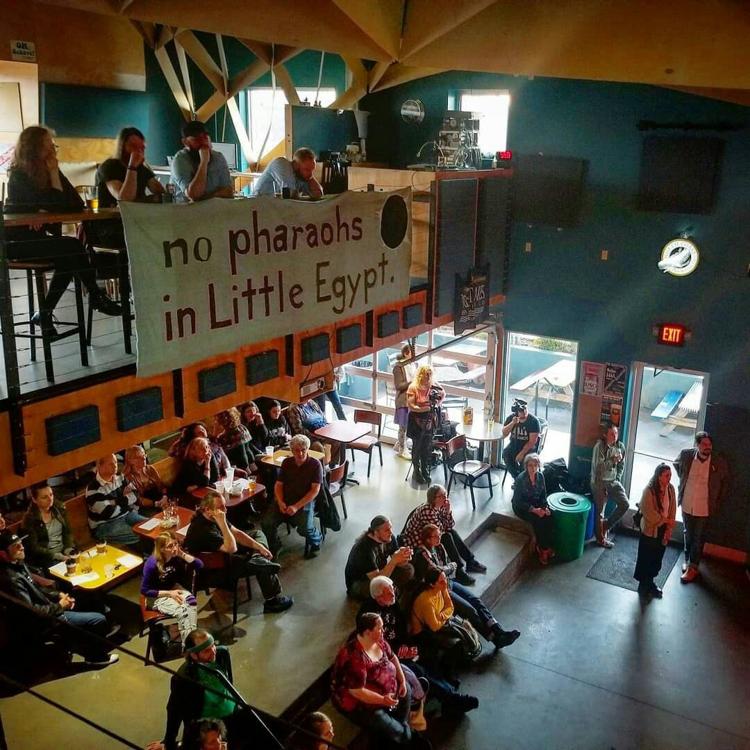 Nay-saying
There are people who say none of this can work. Killman said there are people who feel the status-quo is where they should be and are comfortable, and that's OK. But, Smaligo added, the idea has worked elsewhere. Those are the places they are looking to, to find models for success.
"This is a tried and true model," he said. "There is plenty of evidence that this is a realistic way to organize a business."
He also said the co-op model solves problems traditional models of business that ownership can't.
Both said they aren't trying to argue with anyone.
"It's not something that serves it to frame it politically in the traditional sense," Smaligo said.
Instead they are putting their heads down and getting to work. When critics come after them, Killman is polite and understands not everyone can accept change right away. But still, for these people, she has simple words.
Carbondale Spring's Presenting Our Progress meeting is at 6 p.m. Sunday, Sept. 8, at The Varsity, 418 S. Illinois Ave.
10 Southern Illinois restaurants we miss