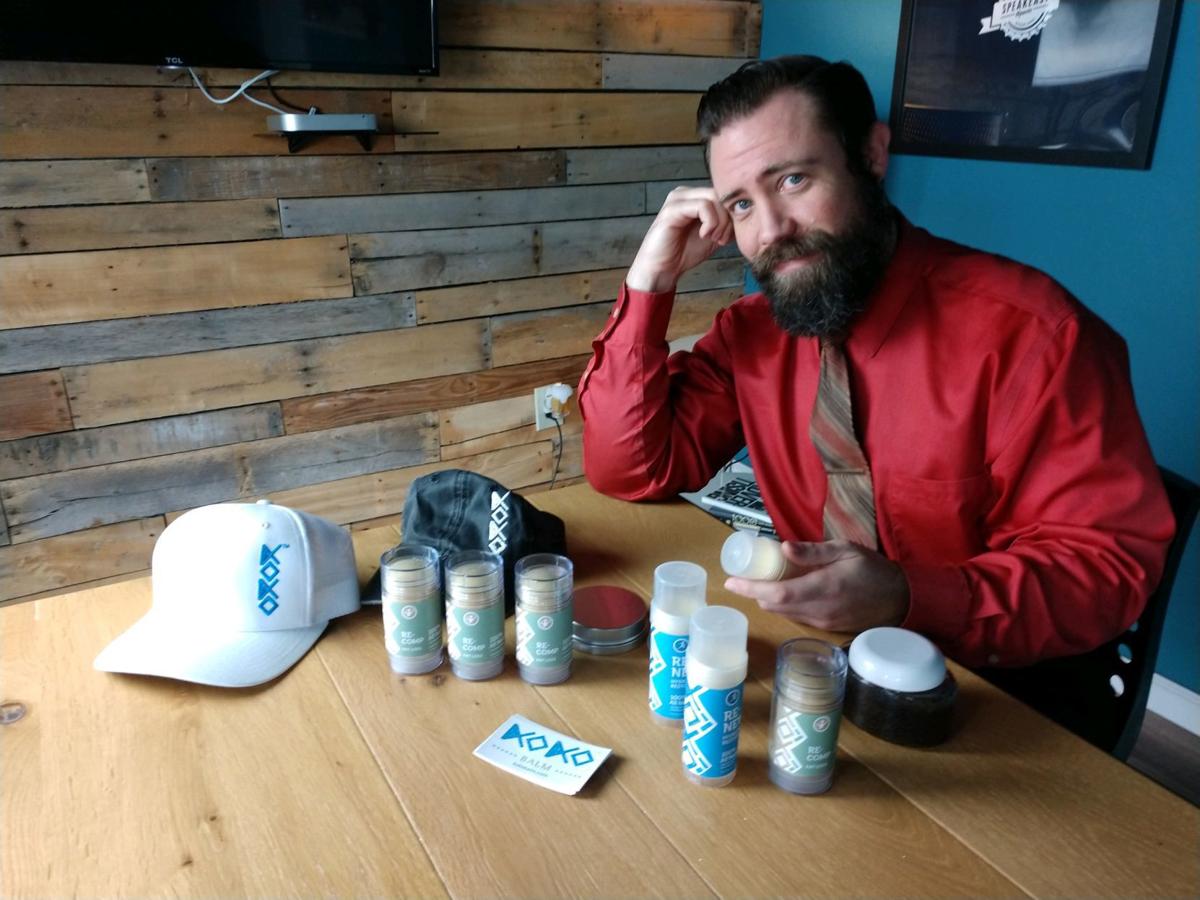 Matt Carnaghi, of Marion, considers himself to be an "accidental entrepreneur." Yet his company, Koko Balm, has a developed a fan following and a growing list of personal care products, all because of Carnaghi's own failure to pack for a trip several years ago.
"A small group of us were on trip to Savanah, Georgia, to run in a half marathon," he recalls. "I had forgotten to bring the anti-chafing balm that I had been using and I was sort of freaking out. I just started joking that I would just make my own."
Carnaghi says "making his own" was on his mind all weekend — enough so that when he returned to Southern Illinois, he began researching potential ingredients and the process of making his own balm. Leaning on the chemistry and biochemistry classes he took in college, he started concocting formulas at his home. He went through about 16 tries before finding one that met his approval.
"Since I was making it for myself, I wanted something that was simple, clean and natural that I could honestly produce without a whole lot of effort," he said.
He said those desires forced him to use naturally and higher-quality ingredients, resulting in an even better product. He began packaging his new anti-chafing product in small tubes and passing it out to friends and other runners.
Carnaghi calls what happened next "peer pressure."
"People kept telling me, 'Matt, you should sell this.' I realized that there were probably many other people who ran or bicycled or whatever that might be looking for a product like this," he said.
You have free articles remaining.
With a product name playing on the primary ingredient — cocoa — Koko Balm was born. Today, Carnaghi sells several products on his website as well as through retailers like Amazon. He adds that he has several more products currently under development — everything from anti-inflammatory rubs to facial scrubs and pomades. He says many of the new items will be unveiled on a new website currently being developed.
"Every single one of them has the same core ingredients and no preservatives, perfumes or dyes," he said, adding that many of the new items have naturally.
"A lot of it has come about by accident. I never have sat down and thought about what I could make next. I've always been approached by someone that gave me an idea or specifically asked for something."
Carnaghi says he continues to produce and package his products in his home, but believes in being prepared for growth. He says labels for Koko products are being redesigned to better accommodate the need of retailers and he has already identified a commercial co-packaging company should he outgrown his home as well as a potential distributor.
He credits a business coach and the Small Business Development Center at Southern Illinois University Carbondale for helping him set the direction for his business and says he is fine with growing Koko Balm slowly. Canraghi, who works full-time in business development for a local branding, graphic and web development firm, is enjoy his "accidental" side business.
"Sometimes I still struggle to call it a business," he said. "I like to refer to it as an expensive hobby but working to get to the point where it can be full-time. I want to really try to be as strategic as possible in developing this," he explains. "I know the importance of keeping the brand really consistent in all that I do. I know there is going to be growing pains and I can't foresee everything, but I'm going to try to avoid some of the pitfalls."