BLOOMINGTON — State Farm offered settlements to 20 employees in connection to discrimination complaints, civil rights attorney Ben Crump said Monday.
After working for State Farm for 28 years, Carla Campbell-Jackson was terminated within two weeks of reporting discriminatory practices; she has accused the company of firing her in retaliation for speaking out.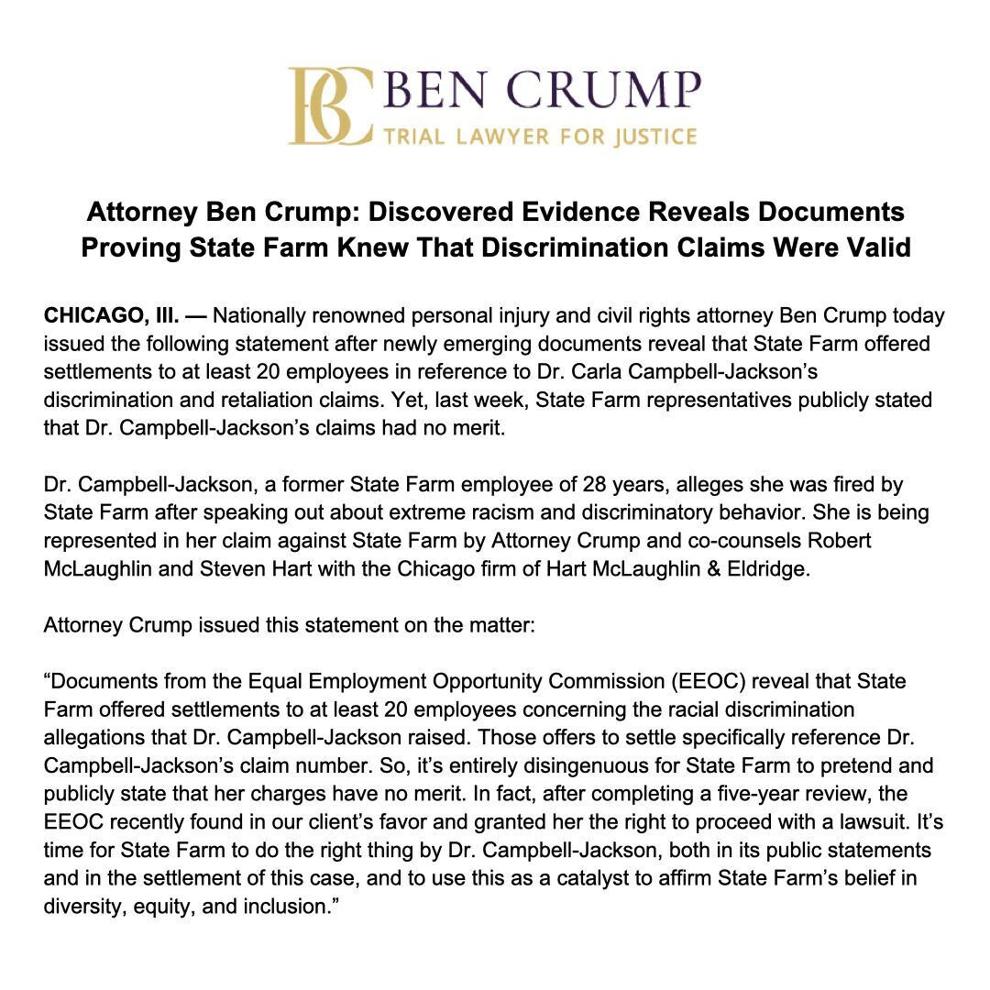 On Monday, Crump said in a statement from his law office, documents from a U.S. Equal Employment Opportunity Commission investigation into State Farm reveal at least 20 employees were offered settlements "concerning the racial discrimination allegations Dr. Campbell-Jackson raised."
In a statement last week State Farm said Campbell-Jackson's allegations are without merit, "as they run counter to our values and who we are as an organization," and her cause for termination was sharing personal information outside the organization.
"It's entirely disingenuous for State Farm to pretend and publicly state that her charges have no merit," Crump said. "... It's time for State Farm to do the right thing by Dr. Campbell-Jackson, both in public statements and in the settlement of this case, and to use this as a catalyst to affirm State Farm's belief in diversity, equity, and inclusion."
---
Kelsey Watznauer's most memorable 2021 stories
Simply put, this year was a rush and my head is spinning realizing it's already time to look back on all we've done in the last 12 months.
Now in my third year at The Pantagraph, I was able to produce some of my strongest work — stories that mattered to me and stories I believe mattered to the community. It was (more than a little) difficult to narrow it down, but I've selected four of the heavy hitters and one of my favorite examples of the passionate, interesting students I had the honor of meeting in 2021.
Contact Kelsey Watznauer at (309) 820-3254. Follow her on Twitter: @kwatznauer.