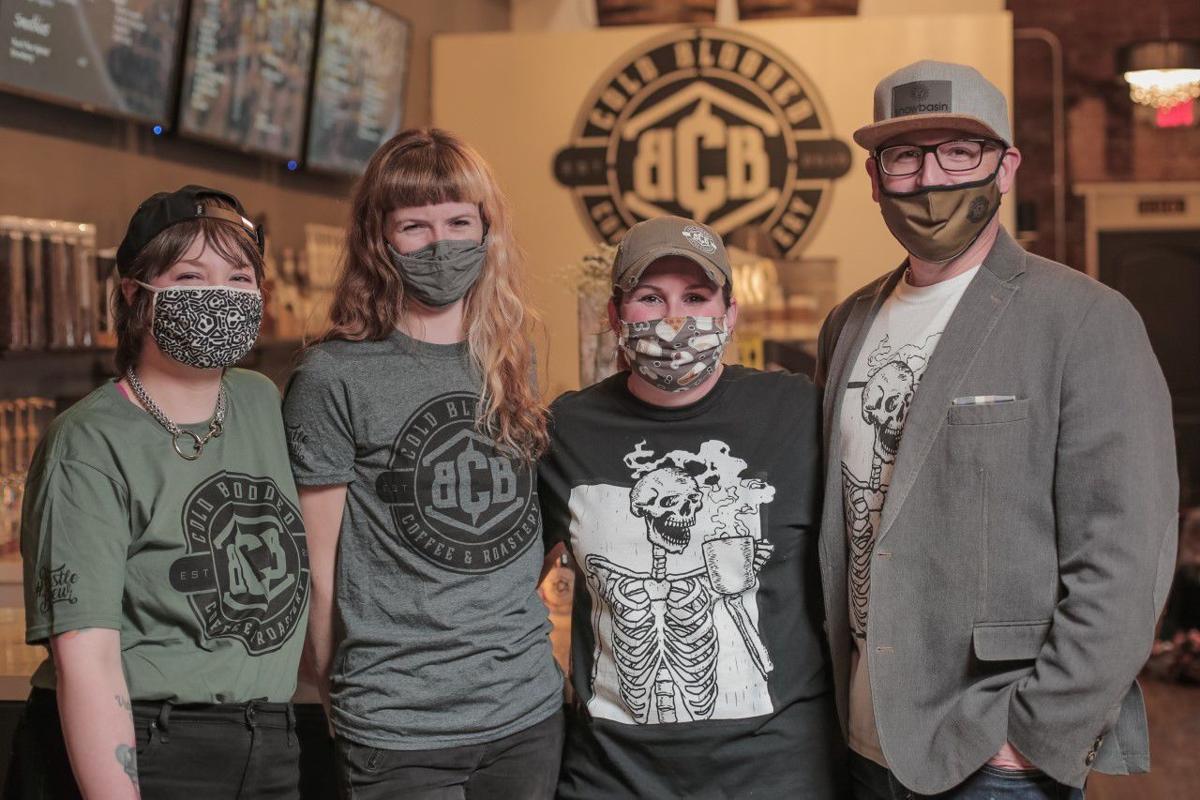 MARION — On a rainy, chilly Monday night in January, TJ Cowan hunkers down over a bellowing roasting machine to measure out the perfect amount of beans for his next bag of Cold Blooded Coffee.
He's so busy and focused that he doesn't have time to roast himself a cup of coffee. He eats the beans instead. "You haven't tried eating roasted beans? You have to try it!"
If you've crossed paths with TJ, you now understand where he gets his boundless energy. He also finds motivation from his super-supportive wife, Jackie — who helps lead the business' operations — and his children to keep the family business on the fast track.
Jackie was an office manager until January 2020 when she joined Cold Blooded primarily to run the brewing production and wholesale accounts. TJ's "real job" is in industrial engineering and program management. Together, the Cowans have built an impressive business with a fully operational retail spot in downtown Murphysboro, weekend popups at farmers' markets, wholesale distribution across the state of Illinois, and franchise penetration into Chicago last January.
"I made my first batch of coffee in May 2017 and incorporated the business June 2018," TJ said.
If that seems fast, welcome to the life of the Cowans. He and Jackie have plans to expand even more this year. If investing in brick-and-mortar locations during a restrictive pandemic couldn't slow down this family, nothing will.
The couple recently sat down with The Southern to discuss their passion for coffee and philosophies on work happiness. So, grab a cup of coffee (or some roasted beans to snack on) and enjoy the Cowan's caffeinated journey to the top of the Southern Illinois coffee mountain.
Question: You recently opened up a storefront in Murphysboro. How big of a challenge was starting a brick-and-mortar concept in the middle of a pandemic?
TJ: It caused us to really make sure we were process-strong on curbside and safety for employees and customers. We also really wanted the community to still feel connected with the space until the café was fully open.
Q: What kinds of lessons and stories will you share with your kids when they get older and ask about how you started your business during such a challenging time?
Jackie: I think the lesson I'll share is to constantly be creative and innovative no matter the situation.
TJ: Our kids have watched us work extremely long days, spend weekends prepping and running farmers' markets and events for the last two years. Honestly, I think if you asked the kids, they'd say the only difference 2020 has brought is the increased amount of time spent together as a family. Starting Murphysboro was just our latest challenge, there will be another. My most valuable lesson I could teach my kids would be to follow your passion and master your agility.
Q: Can you tell our readers more about where you get your beans for Cold Blooded and how important quality is for you and Jackie?
TJ: We import from Ethiopia, Kenya, Papua New Guinea, Brazil, Guatemala, Honduras, Columbia, Costa Rica, Sumatra, Tanzania, and Uganda. Every bean is specifically chosen for its high cup score, profile, acidity, and body. Quality is not a buzz word to us. It should speak for itself between the aroma and mouth finish. Sourcing and roasting are where the value is added. It sets us apart.
Q: I know you have plans for expansion. What can you share with our readers about your long-term goals?
TJ: We're already working on our next location in Southern Illinois and it's a whole new level. We can't wait to unveil details. We will also have a production facility complete in 2021 which will include a canning operation which will distribute everything from our cold brew to our energy drinks.
Q: To what do you attribute your success?
Jackie: TJ's attention to detail and listening to our customers
TJ: Simply a passion for what we do. In order to offer the best product, service, and experience, you have to give more than you take. We love giving and being generous. Loving people is in our DNA.
Q: Watching you roast beans, your passion for coffee is evident. From where does this love for all things caffeinated come?
TJ: There's something very seductive about coffee beans and the art of roasting. I'm a micro detail and process guy. It's how I'm wired. Every new crop is different from the last and balancing the blends and roasts is like solving small mysteries and revealing the prize though a cup.
Q: What has the road to career happiness been like for you? What have been some of your primary challenges and how did you overcome them?
TJ: That's a complicated question but at the end of the day I know what my retirement looks like now — I'll never retire. Traveling to source the right beans and support the families and farms around the world is the natural next step for us.
The challenges we've faced is like anyone I'd suppose — not enough time do everything that needs done or that I want done. I think there's new challenges every day and that's just part of growing pains. Each day we prioritize and give it all we've got.
Q: When you were a kid, how would you have answered the question, "What do you want to be when you grow up?"
Jackie: I was going to be a teacher.
TJ: I was supposed to be a guitarist in a metal band, ripped jeans and luscious hair. I have the jeans so far.
Q: What's your advice to people who may feel like they are "stuck" in unhappy work situations?
TJ: I would remind people how lucky we are to be able to support our families even in a job that's not your passion. Sometimes I think we expect work to be our passion and it can be, but a hobby without the pressure to monetize it is truly enjoyable. On the flip side if you do what you love in your free time, you'll be surprised what opportunities come up. Be open!
Joe Szynkowski is a Sr. Director for NuVinAir Global, a Dallas-based company disrupting the automotive industry. Thanks to technology, he does so happily from his home east of Marion. Check out www.workhappiest.com for his WorkHappy Spotlights or email Joe@TheUpWriteGroup.com for more guidance on finding career joy.