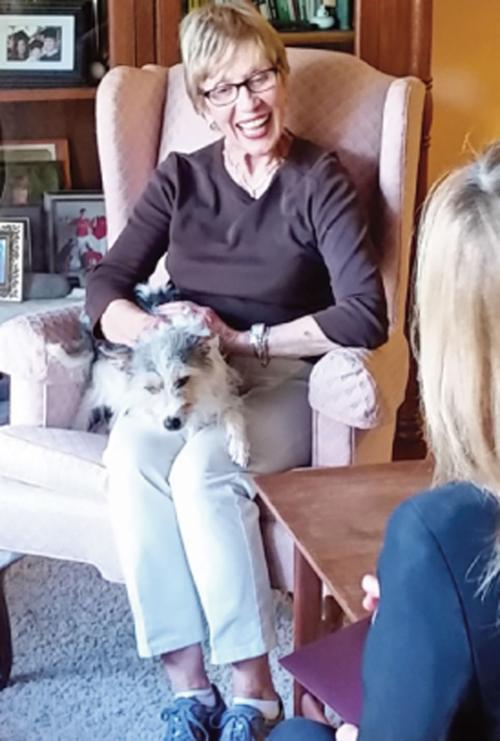 Once we retire, we are supposed to be living what many call the golden years. Yet for many, those years are difficult, wrought with challenges.
Colleen Schloemann knows and understands what elderly people go through and that is why she has specifically focused her counseling practice on caring for and assisting older people with navigating the mental health and emotional struggles that come with aging.
"People contact me for the same reasons that they people in any age group reach out for help: depression, anxiety, adjusting to new situations, coping with relationships and more," the Herrin-based licensed clinical social worker said, adding that there are other issues that the elderly face as well.
"Grief is the big one that stands out," she said. "When you are elderly, it seems you are bombarded with losses."
Schloemann says the list of things that people face as they age is extensive.
"You have to be resilient to get old and you didn't get there without suffering through pain and hardships, but when you are old, they seem to come all at once: You might lose a spouse and then you have health issues, then your vision may fade and you might lose your driver's license and then maybe even move out of your home. That means you are away from your family and friends and can feel isolated. Sometimes it is just so overwhelming," she said.
She says through her years of experience — Schloemann began working with older adults in 1981 — she has been able to develop an approach to counseling specifically designed to help people as the age.
"My orientation is strength based," she said. "We start with their strengths. Everybody has great strength and the elder have more strengths than many younger people; they have had a lifetime to develop them."
She adds that she uses cognitive behavioral therapy to help her clients. She says that she works with some clients for just a few sessions, for others a long-term approach works best.
"That's what mental health professionals do; we try to bring a sense of calm. The reason people reach out is that they want to feel better. We are here to help them achieve life satisfaction."
The willingness of people to seek help has grown, she says.
"I noticed early in the 1980s that elderly people were not getting mental health treatment because of a stigma," she said. "Plus, Medicare would not reimburse for it then."
Medicare changed their policy in 1989 and Schloemann says the perception of seeing a counselor.
"I've seen the stigma decrease," she said. "People now are willing to get mental health care without being embarrassed. They want to be with somebody where it's confidential and trusting. That stigma has been erased for this generation."
She adds that seniors now have more options for living arrangements than when she first began her practice.
"It used to be that if you couldn't take care of yourself or be with your family, you went to a nursing home," she says, adding that assisted living facilities have filled a gap for many seniors.
Schloemann says her practices is holistic, considering social, spiritual and emotional aspects as well as physical condition and their environment. In fact, she stresses environment.
Her practice is unique in that all of her counseling sessions are conducted in clients' own homes. She says it both eases the burden on clients and helps her get to know them better.
"There are people with transportation issues and there are some with physical limitations. A lot of people don't realize that for many elderly, getting out of the house is not simply a matter of getting dressed and hopping in the car. Getting to medical appointments can be quite traumatic for them," she said.
She says it also is a relief for her clients not to have to go to one more appointment.
"It is stressful for them to have too many appointments," she said. "There are visits to their primary doctor, maybe to the eye doctor or the orthopedic office and more. They look at their calendars and there are so many appointments, it is a relief to have me come to them.
Schloemann says making the house calls can really make a difference.
"I know that some of my clients would not get therapy if I didn't go to them," she said.
Of course, during the COVID-19 pandemic, many of the "at home" appointments are happening in driveways or backyards with appropriate social distancing. She explains it is one way to change her approach to make sure clients get the care they need.
She says one other thing has changed over the years with her practice.
"It used to be that I was working with people who were 70 years older than me; now I don't have anyone that's more than 35 years older," she said with a smile.
Meet the 'Mask Committee,' making masks for Southern Illinois police, health care workers
Photos: Meet the 'Mask Committee,' making masks for Southern Illinois police, health care workers
On March 20, I made a mask for my husband, who is a health care worker, because there was a shortage of personal protective equipment, or PPE, at his workplace. Then, I made more masks for my elderly neighbors, elderly local people and local friends, as well as friends from New York and Florida. I was using leftover fabric I had in my workshop — holidays patterns like Christmas, Valentine's Day and Fourth of July.
I was running out of material and then Calico Country Sew store in Carbondale started donating fabric. I picked up some yards, and I was able to make masks for the police officers from Carterville. But, that was it: I ran out of material, and Amazon wasn't shipping until May. As soon as I announced on my Facebook page that I had run out of material, people started donating fabric, metal wire, machine needles and threads. With that donation, I was able to keep making more masks to donate, and I completed a group of masks for Herrin police officers.
Then, Dr. Amanda Brazis Cook from Southern Illinois Healthcare approached me asking if I can reuse operating room drapes to make masks. She brought the material to my house, and at that point, I realized I needed extra hands to mass produce masks for area health care workers. 
I asked the president of Carterville Rotary Club to help me find ladies who know how to sew, and Mary Slider and Louise Humble joined the effort. I also asked the president of my Woman's Club in Herrin, and she was able to help me find three more ladies: Patty Cox, Carla Shasteen and Tienne Kollar, all of Herrin.
Another doctor joined the team: Dr. Danielle Tomevi brought material and also found a lady to help us, Dorene from Murphysboro.
And that is how the mask committee was formed. We named it "Mask Committee: Keep Calm and Sew."
After that, Joni, a nurse at Herrin Hospital, joined the committee, too, then Mary Russell, one of the managers from Dillards, Nancy, one of my neighbors, and Mirna from Murphysboro.
We have been sewing our hearts out since March. April was the busiest month for us. We have made hundreds of masks to donate.
Then, we had a request of a new pattern and we had to divide the committee in two to work the requested pattern. Dr. Sara Altamimi provided us with more OR drapes to use, and we have been working making two different masks for area health care workers.
Ninety-five percent of the masks have been donated to SIH, and 5% to community members and police officers. We have received several selfies of health care workers wearing the masks in different departments. It really made us happy that we can give back and help the community in time of need.
The business news you need
With a weekly newsletter looking back at local history.