With another decade behind us, it is time to audit the major equity indexes' performances from the previous two decades. Why? I go back two decades to identify trends then use my analytics as a reference to help determine the strength or weakness of our personal holdings.
More importantly, we will see the results of our investing and trading strategies to adjust going forward.
Let's focus on these major equity indexes: S&P 600 Small Cap Index ($SML-blue line), S&P 400 Mid Cap Index ($MID-red line), Dow Jones Industrial Average ($INDU-purple line), S&P 500 Large Cap Index ($SPX-green line), and the Nasdaq 100 Index ($NDX-brown line). 
To analyze the previous 2010-2019 decade, we first need to audit the 2000-2009 decade for a proper comparison.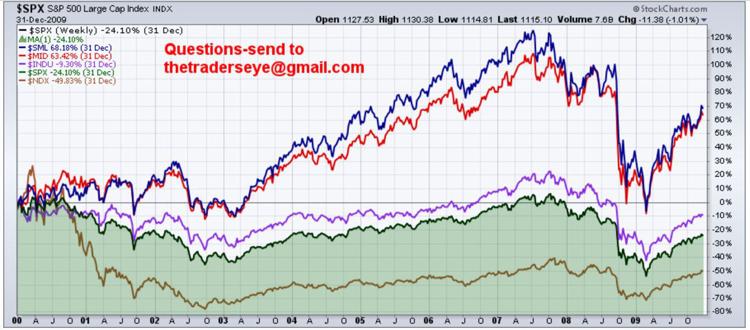 The results: Small and mid-caps lead the pack, followed by the Dow Industrials then the general market S&P 500 while the Nasdaq 100 was the index laggard. To refresh your memory, the NASDAQ back then was highly composed of tech stocks.
Within this group, the small and mid-caps were the only indexes with a positive return. It was a lost decade for the S&P 500 that brought to the realization of many investors that the markets do not always average the touted six or eight percent annual returns. It was during this time that I developed my very popular "Garden Growing" strategy to build financial wealth in times of a sideways market. More of this during upcoming columns.
Why did the NASDAQ 100 lag the rest of the market from 2000 to 2009? Many remember the tech bubble that burst in 2000 resulting in many funds, institutions and investors getting wiped out. This caused many to refrain from buying stocks in this highly volatile and risky group. 
Next, lets analyze the same equity indexes to see their relative strength/performance in the next decade (2010-2019) compared to the performance of the market, the $SPX-green area. The results-the leader was $NDX, the NASDAQ100 Index, followed by $SML-Small caps, $SPX-Large caps, $MID-Mid-caps with the laggard being the Dow Industrials.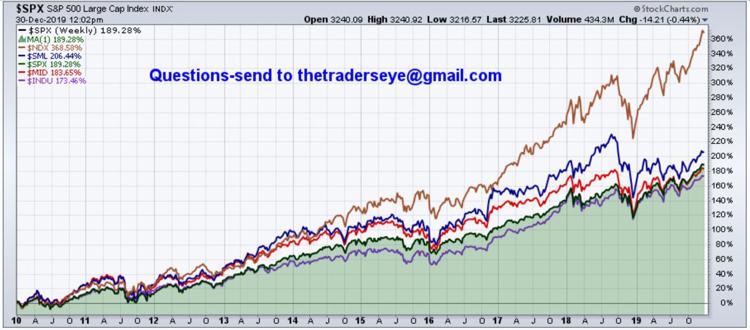 No equity index lead in both decades. The laggard, the NASDAQ 100 during 2000-2009 was the leader during 2010-2019 — go figure. All other indexes traded places with each other performance wise from one decade to the next.
Here are the key points to think about:
1. Just because one index was the leader in one decade does not guarantee it will continue to be the performance leader going forward.
2. Stay on top of your holdings performance. Yes, even in good times, open your monthly statement or better yet view your accounts online on at least a weekly basis.
3. Diversification among different equity groups is prudent.
4. Just because the main equity indexes go up, this does not guarantee that all holdings including yours are going up too!
5. When you hold securities that go south have the courage to cut your losses and put the funds into strength instead of weakness.
6. Don't drink the Wall Street Kool-Aid per it will always come back, especially if near or in retirement.
7. Always remember, once properly educated, no one will ever have more interest in your account balance than you.
Are you monitoring these equity indexes to monitor a continued run or the next downturn? If not, simply set an alert in your online account to let you know if or more important when they nose dive. Many remember the tech bubble in 2000 or the devastating effects from the International Financial crisis that began in 2007. It took years for many investors to get back to break even while many others did not. Whatever you do, don't be in that group that did not recover.
If you want to learn about the many tools and systems to better manage your holdings, email me about my upcoming online training starting later in 2020.
To answer your questions on what's in store for 2020 and this decade, I will cover what I see during our January Facebook Live broadcast, later this month. If you have questions, please email them or private message me at Facebook.
And, for those asking about previous columns, go to thesouthern.com, then type eye on the market in the search bar. It is that easy.
What's next? My goal is to educate what to watch for to signal the next trend shift along with investing and trading opportunities for 2020. Along the way, I will audit the holdings of Warren Buffett and determine if he is the greatest investor in modern time. It will be an interesting year, for sure!
Plan your work, work your plan, and share your harvest!
DAVID O. ENGLAND is an investor/trader, financial analyst/educator/lecturer and Associate Professor Emeritus of Finance. This column is for educational purposes only and not intended as financial advice. Past performance does not dictate future returns. Questions? Send to thetraderseye@gmail.com.