Today, I'll answer your questions as what will be the reason for the next downturn. My simple answer to the reason — financial, and related to leveraged debt. As for where, I will narrow it down to China, Europe or the U.S.
In the last few months, there has been numerous reports concerning economic weakness in China. In November, Bloomberg News ran a story titled, "China financial warning signs are flashing almost everywhere." The story discussed numerous rural bank runs, surging consumer debt along with unprecedented bond restructuring. What could go wrong with that combination?
Plus, during the last few years, many in key positions have warned about a potential Chinese banking crisis that could be more severe than what the U.S. experienced.
The main question: What do you do with these potential threats? My simple answer: If ever in doubt, simply follow the money. If the Chinese markets are going south, those in higher positions will know it long before we read about it and will begin hitting the sell button on select Chinese securities.
When I see a potential market opportunity, I research funds then individual stocks that could be effected. Let's begin with the top Chinese Exchange Traded Funds by asset size and performance year-to-date, compared to the Shanghai Stock Exchange Composite Index performance ($SSEC-green area). The candidates: iShares China Large-Cap ETF (FXI-brown line), iShares MSCI China ETF (MCHI-blue line), KraneShares CSI China Internet ETF (KWEB-red line), Xtrackers Harvest CSI 300 China A-Shares Fund (ASHR-pink line), and SPDR S&P China ETF (GXC-purple line). To compare the relative strength of the Chinese market to the U.S. market, I have included $SPX-black line.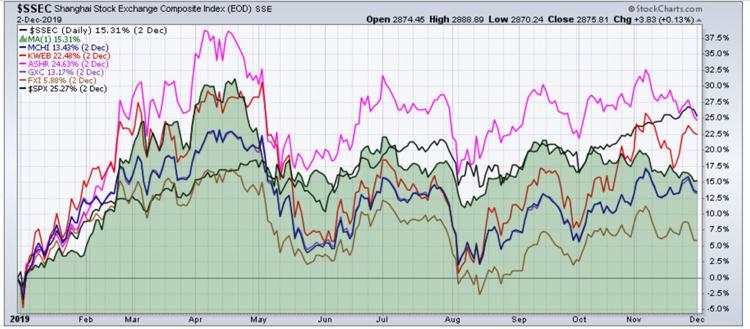 The results, two Chinese funds ASHR and KWEB are outperforming the $SSEC, and three funds MCHI, GXC and FXI are underperforming the main Chinese index, but are trading in positive territory. For comparison, the $SPX remains to outperform every Chinese fund and the $SSEC.
Within this group, it looks like the Chinese market is still in good shape. What would I be looking for to see problems? If two or more funds dropped under the zero return line, it would signal potential problems ahead. If more followed, I would consider the weak funds as potential short or put candidates.
To continue my follow the money theme, let's view the relative strength performance of the top Chinese banks, traded on an American exchange, compared to the strength of the $SSEC. The banks are as follows: Chinese Merchants Bank (CIHKY-purple line), Industrial and Commerce Bank of China (IDCBY-brown line), Chinese Construction Bank (CICHY-pink line), Bank of China (BACHY-red line), and Agriculture Bank of China (ACBGY-blue line).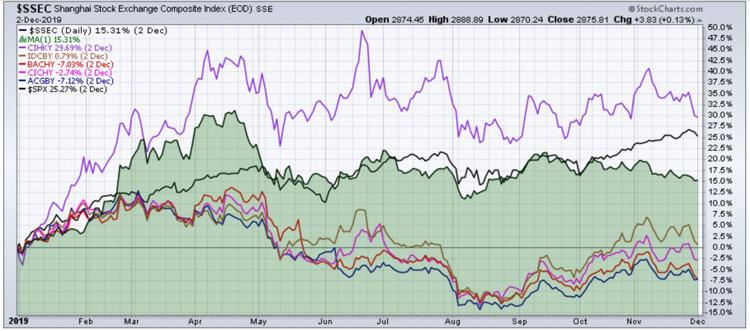 You have free articles remaining.
The banks relative strength performance data is a different story compared to the previous Chinese Exchange Traded Funds. Only one bank in this group, CIHKY, is trading performance wise above the Chinese index $SSEC and $SPX. Another bank, IDCBT, is trading in positive territory. The remaining three banks in this group, CICHY, BACHY and ACGBY, are all trading in negative territory.
What would signal continued weakness? If these banks would drop below their previous lows, then they would qualify to consider as short or put candidates.
I would not jump into any of these Chinese ETFs or banks without the proper buy/sell signals in place. I will be covering these system signals in later columns.
Are you monitoring the national financial news to signal the next downturn? If so, keep in mind that on Feb. 28, 2007, Fed Chairman Ben Bernanke's testified at the House Budget Committee, reassuring markets that the United States would continue to benefit from another year of its Goldilocks economy.
Then, on March 2, Federal Reserve Bank of St. Louis President William Poole said that Fed predicted the economy would grow 3% that year. Poole added that he saw no reason for the stock market to decline much beyond current levels. He said stock prices were not overvalued as they were before the 2000 decline.
It was only a few months later that the global financial crisis began. Personally, I don't have a lot of confidence that those in charge at the Federal Reserve will be the guiding light when the next financial crisis hits.
If you make the time and learn what to watch, you can get a head start that could mean the difference of when and if you can retire. If you roll up your sleeves and learn how markets really work, you could be in the small group making money with the next bear market begins.
If you want to learn more about the many tools and systems to better manage your holdings including how to calculate performance data, email me about my upcoming online training starting in 2020.
What's next? I plan to cross the globe and analyze some European banks to check out their relative strength and see if there are any cracks forming. You may be surprised at what we discover.
Plan your work, work your plan, and share your harvest!