Today, I answer your questions as to the source for the next downturn and focus on European markets and banks to see if this will be the geographic area causing the next downturn.
Why? The effects and what happens with Brexit are unknown, but will definitely affect global markets, and then the U.S. market.
Next, the European debt crisis. Counties like Greece, Ireland, Italy and Portugal have failed to generate enough economic growth to keep up with paying back promises to their bondholders.
Although the odds of default from one of these countries is lower now than in 2011, the chance of another economic shock to the region and the world economy is definitely a possibility.
Even though European banks are far away, the world financial system is fully connected. It is estimated that more than 40% of the International Monetary Fund's (IMF) capital comes from the United States, and mainly from we the taxpayers.
The important question: What do you do with these potential threats? My simple answer: If ever in doubt, simply follow the money.
Like with China, if the largest European markets and banks weaken, those in higher positions will know it long before we read about it and will begin hitting the sell button on select European securities.
The good thing? Once you learn how to read or learn how to design my relative strength/performance charts, you can see what the institutions are doing instead of what they pay market "specialists" to say they are doing.
When I see potential threats or opportunities, I first research funds then individual stocks. Let's begin with top European Exchange Traded Funds (by asset size) and compare their performance (since their January 2018 high,) compared to the strength of the largest stock fund in the European stock market, the Euro Stoxx 50 (FEZ-green area). The candidates: Vanguard European Stock Index Fund (VGK-blue line), iShares MSCI Eurozone ETF (EZU-red line), JP Morgan BetaBuilders Europe ETF (KWEB-red line). To compare the relative strength performance of the European market to the U.S. market, I have included $SPX-black line.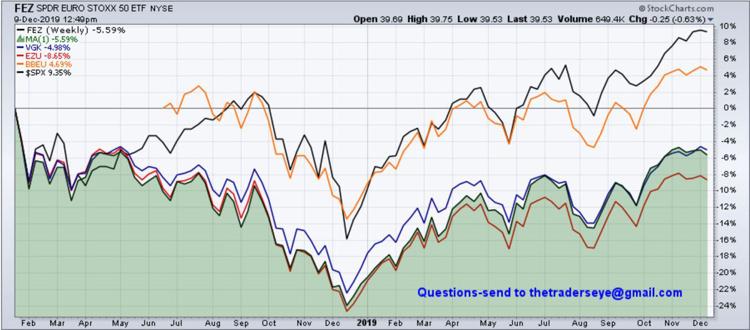 The results, only one European fund, BBEU, is trading in positive territory. One European fund, VGK, is outperforming the Euro Stoxx 50 Index, but both are in negative territory. One fund, EZU, is underperforming FEZ and is leading the pack in negative returns. For comparison, the U.S. market ($SPX) grossly outperformed FEZ and all funds in this group.
Within this group, it looks like the European market is not in good shape. If more funds drop under their September 2019 lows, it would signal potential problems ahead. If more weakness followed, I would monitor these funds for potential short or put candidates. 
To continue my follow the money theme, let's view the relative strength and performance of top European banks, compared to the strength of the Euro Stoxx 50 (FEZ-green area). They banks are as follows: HSBC Holdings (HSBC-pink line), BNP Paribas (BNPQY-red line), Banco Santander (SAN-gold line), ING Groep (ING-purple line), and Deutsche Bank (DB-green line).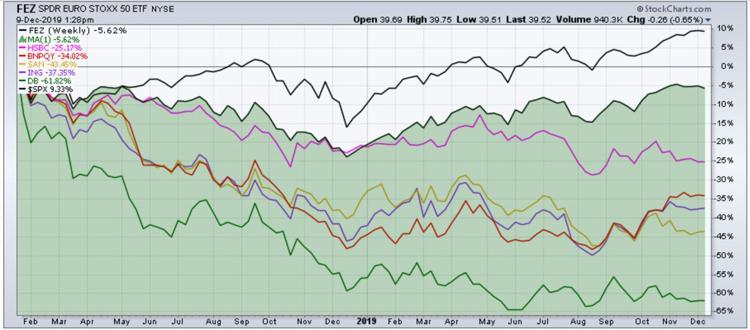 All banks in this group are not only trading in negative territory, they are underperforming the main European index FEZ — that's not good. What would signal continued weakness? If they drop below their previous August 2019 lows, they would qualify to consider as short or put candidates.
I would not jump into any of these European banks without the proper buy/sell signals in place. I will be covering these system signals in later columns.
Are you monitoring these funds and banks to signal the next downturn? If not, it would be wise to set an alert if any of these large European funds or banks take a nose dive. Personally, I am very concerned about some of the banks in this group.
If you make the time and learn what to watch, you can get a head start that could mean the difference of when and if you can retire. If you learn how markets really work, you could be in the small group making money with the next bear market begins.
Email me about my upcoming online training starting in 2020, if you want to learn about the many tools and systems to better manage your holdings.
What's next? I return to North America to analyze some top banks in either Canada, Mexico or the U.S. to check out their relative strength/performance and monitor if any cracks are forming.