"To buy when others are despondently selling and to sell when others are avidly buying requires the greatest fortitude." — Sir John Templeton
One of the main goals I have in writing this column is to minimize the number of investors having that kicked-in-the-gut feeling when the next recession begins. 
So, today, I will analyze a group of different types of securities and their returns during previous downturns. Why? To determine if they could be safe haven candidates for when the next recession or bear market comes into play.
As you will see, having a strategy of riding it out, it will always come back is so unnecessary. I can remember the pain in many of my students' faces during the 2007-2009 recession when their 401(k)s turned into 201(k)s, so to speak.
Those whose investment holdings dropped more than 50% had to have a 100% return just to get back even. Many had to postpone retirement or simply had less to retire on. It's not a good scenario for sure.
So, let's analyze performance during the 2000 to 2002 and the 2007 to 2009 selloff, which includes the market ($SPX-green area), gold ($Gold-gold line), and silver ($Silver-grey line), mid-caps ($MID-red line), small-caps ($SML-purple line) and large-caps ($SPX-black line.)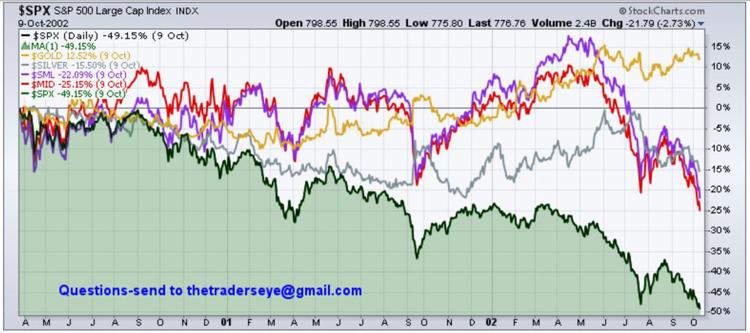 During the 2000 to 2002 selling, the market ($SPX-green shaded area,) sold off 49.15%. The only one in this group with a positive return was gold with a 12.52% return. The other returns: silver -15.50%, small caps -22.09%, mid-caps -25.15%, and large-caps -49.15%.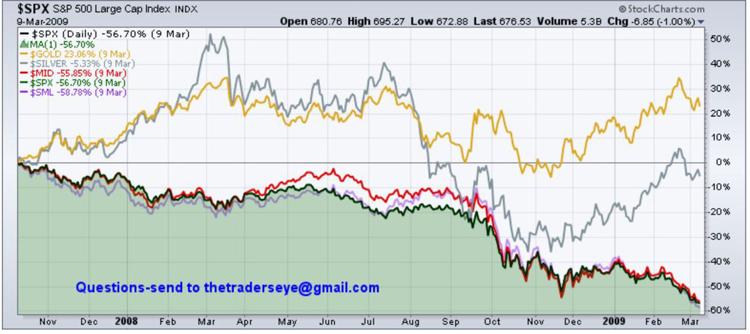 During the 2007-2009 selling, the market ($SPX-green shaded area) was down 56.70%. Once again, gold was the only one in this group with a positive return of 23.06%. The other returns: silver -5.33%, mid-caps -55.85%, large-caps down 56.70% and small caps -58.78%.
During both periods, all market equities in this group — large, mid and small caps — pummeled. This is a prime example of diversification works until it doesn't. Silver sold off less while gold was the only safe haven in this group with a positive return each time.
You have free articles remaining.
Keep reading for FREE!
Enjoy more articles by signing up or logging in. No credit card required.
Keep in mind that past results do not guarantee future results, so don't just jump into gold without the proper buy signals in place. I will be covering these signals in later writings.
This performance data is extremely interesting, but the important question is what are you planning to do with it? Here's what you should think about:
First, do you have the performance returns of your current holdings during these previous selling periods?
Second, if not, simply insert their symbols into a performance chart to see their returns.
Third, if you are not tracking your securities previous performance, then why?
If you have a managed account, you should already have this performance data. If not, simply request it. Then, ask for the gameplan for your portfolio for when the next recession begins.
Profitable traders/investors make money with what they own and when they own it. If you want to learn more about the many tools and systems to better manage your holdings including how to calculate performance data, email me about my upcoming online training starting in 2020.
As we saw last week, the market continues to make new all-time highs and currently is nowhere near a formal sell signal. No one knows when the next large-scale selling begins or what will be the catalyst that starts it. There is no better time than now to develop or fine tune your capital preservation plan to be prepared for when it happens.
What's next? I analyze the 11 sector groups then the highly popular bond funds sold as a hedge for when equity funds hit the skids. The goal; to determine which securities may go up when the market goes down. Once we have a list, I will then explain what to look for before entering into these possible safe havens.
Let's make this interesting. Send me your safe haven candidates and I will analyze them and see if they qualify. If so, I will include them in a future column. I also plan to write on candidates that definitely qualify as safe havens.
For many, this may be your first opportunity to make money when previously your portfolio tumbled.
Plan your work, work your plan, and share your harvest!