Today, I wrap up and with our US financial funds and banks to see if this will be the location and sector causing the next meltdown.
The effects and what happens with our domestic financial institutions definitely affect global markets, usually within seconds after news hits.
When discussing banks, keep in mind these institutions are more than just a larger version of the banks we do our personal banking with. These institutions offer global banking services along with trading departments making them International Financial institutions.
Legislation passed after the global financial meltdown in 2010 was designed to make financial institutions safer in terms of risk, leverage and liquidity. But are they really safer? I hope we don't have a repeat of what happened a few years back. Since these institutions loan and trade globally, they carry extra risk and could be a threat to us, the United States taxpayers.
The important question: what do you do with these potential threats? If ever in doubt, simply follow the money. Like with China, Europe, Latin America and back home in the U.S., if/when markets and banks weaken, those in higher positions will know it long before we read about it and will begin hitting the sell button on select securities.
The good news, once you learn how to design my relative strength/performance charts, you can see what the Institutions are doing instead of what they pay market professionals to say they are doing.
When I see potential threats/opportunities, I first research funds, then individual stocks. Let's begin with top U.S. Financial Exchange Traded Funds (assets under management-size) and compare their relative strength/performance (since their February 2016 low,) to the strength our domestic stock market, the S&P 500 ($SPX-black line).
The candidates: Financial Select Sector SPDR Fund (XLF-orange line), Vanguard Financials Fund (VFH-green line), First Trust Financials AlphaDEX Fund (FXO-pink line), and the Fidelity MSCI Financials Index (FNCL-blue line).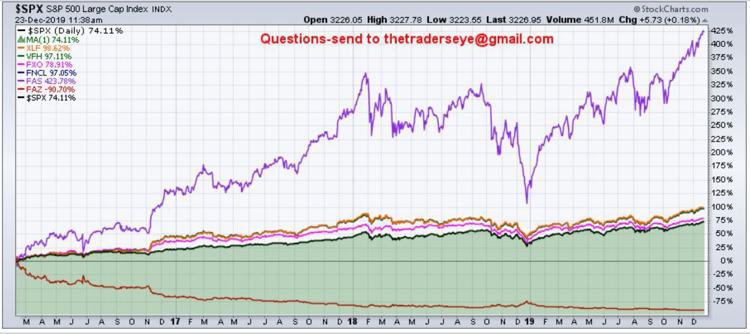 The results: all non-leveraged funds are trading in positive territory with the largest fund, XLF outperforming the group. The remaining three funds are underperforming XLF but are still trading with positive returns. For comparison, the U.S. market ($SPX-black line) is underperforming all non-leveraged financial funds in this group.
You have free articles remaining.
For my readers looking for trading candidates, I included the Direxion Daily Financial Bull 3X Shares (FAS-purple line), and the Direxion Daily Financial Bear 3X Shares (FAZ-red line), to keep front and center as a swing trade candidates. Caution — being on the wrong side of either one of these 3X leveraged funds and it can blow out an account in no time. More about trading leveraged funds in a future column.
Within this group, it looks like the U.S. financial market is in very good shape. If any funds drop under their December 2018 lows, it could signal potential problems ahead. I will monitor these funds, especially FAZ as potential trading candidates.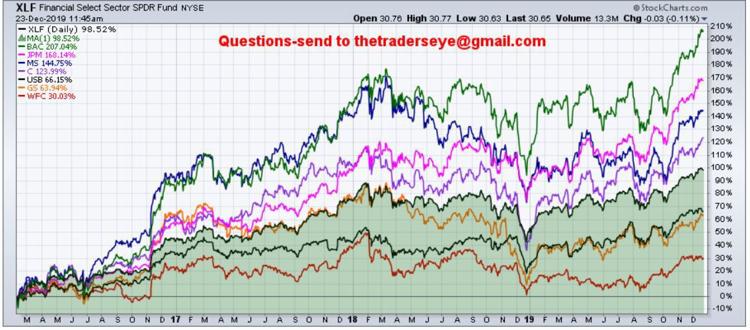 To continue my follow-the-money theme, let's view the relative strength/performance of these top U.S. banks compared to the strength of the strongest fund by relative strength/performance the Financial Select Sector SPDR Fund ETF (XLF-green area). The banks and their respective performance are as follows: Bank of America (BAC-green line), JP Morgan (JPM-pink line), Morgan Stanley (MS-blue line), Citi Group (C-purple line), US Bancorp (USBL-black line), Goldman Sachs (GS-orange line) and the laggard in the group, Wells Fargo (WFC-red line).
All banks in this group are trading in positive territory. Four are outperforming the comparative fund XLF. Three banks are underperforming XLF but are still trading in positive territory. What would signal continued weakness? If any banks drop below their previous December 2018 lows, they would qualify as trade candidates.
Do not jump into any of these American banks without the proper buy/sell signals in place. I will be covering these system signals in later columns.
Are you monitoring these funds and banks to help signal the next downturn? If not, simply set an alert if any dive. Many remember the devastating International Financial crisis that began in 2007, and know it can happen. Those holding certain U.S. banks found out the dangers of a "buy and fold" mindset.
If you want to learn about the many tools and systems to better manage your holdings, email me about my upcoming online training starting in 2020.
In this series I have identified the top funds and banks in China, Europe, Latin America and the U.S. to monitor their relative strength/performance to see if or when cracks are forming. Use these funds and banks as a "canary in the coal mine," to help identify where future global weakness may begin.
What's next? We will monitor the 2019 performance of the major indexes to use as a reference point to calculate if your holdings are outperforming or underperforming the US market.
Plan your work, work your plan, and share your harvest!
DAVID O. ENGLAND is an investor/trader, financial analyst/educator/lecturer and Associate Professor Emeritus of Finance. This column is for educational purposes only and not intended as financial advice. Past performance does not dictate future returns. Questions — send to thetraderseye@gmail.com.