Last week, I audited the very important sector performance, then identified ways to play bull moves using the very popular, low-expense Exchange Traded Funds.
Today, let's head in a different direction and answer a reader's question on gold and silver: "Since gold is outperforming silver, why did in a recent interview, you say you preferred silver — what am I missing?"
Correct. In a podcast, recorded the second week of July, I stated that "I preferred silver over gold." To see how gold, silver and the market performed, I designed a chart going back one-year to view performance during panic selling, then the spectacular market rebound up to July 1.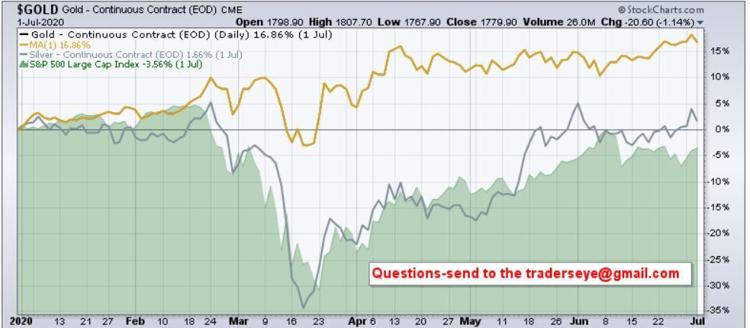 Here are the key points: When panic selling hit in February, silver (gray line) sold off more than the market, (green area). Gold (gold line) had some selling but outperformed the group. Checking the performance up to July 1, gold had the best performance, over 16%, while silver was up only 1.66%, while the market had a negative 3.56% return.
Next, I will show the importance of looking at multiple time frames when performing a proper analysis. Also, I added an important component, the performance of the U.S. Dollar Index (blue line). The chart begins after panic selling ended and the massive rally began on March 24.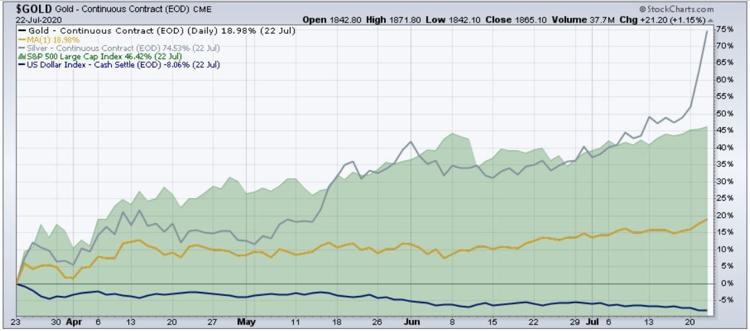 Here are the action points: In the previous chart, it looked like gold was the obvious short-term winner. When the market rally began, more money poured into silver than gold. Silver took off after July 1 and has not looked back, represented by the 74% rally. The run looks like a rocket taking off, it's what we call parabolic.
An important point, though, is to look at the selling of the U.S. Dollar Index. While it goes down, gold, silver and the markets continue to run. This is rare because usually when gold and silver go up, markets go down. This positive correlation will not last forever.
When answering the question of why the recent surge in gold and especially silver? I could fill a book on the possible reasons. My simple answer: More demand than supply. It makes no difference why it is going up. What does make a difference if you decide to own it is your buy price and where you sell it. Portfolio balances are not concerned with the "why" behind any move.
How do I trade/own gold and silver? There are two ways. One is to buy the physical bullion or coins. Second, buy the Exchange Traded Funds that track precious metals.
Here are my most popular gold and silver ETFs:
GLD-Spider Gold Trust is the largest ETF to invest directly in physical gold and tracks the gold spot price, less expenses, and liabilities.
IAU-iShares Gold Trust IAU tracks the gold spot price, less expenses, and liabilities.
GLDM-SPDR Gold MiniShares Trust and tracks the gold spot price, less expenses, and liabilities. The ETF appeals to investors wishing to place smaller price orders.
SLV-iShares Silver Trust is the largest ETF to invest directly in physical silver. It tracks the silver spot price, less expenses, and liabilities.
SIVR-the Aberdeen Standard Physical Silver Shares ETF. It tracks the silver spot price, less trust expenses.
All of these are non-leveraged, Exchange Traded Funds, and trade on major U.S. exchanges. None are the higher risk, Exchange Traded Notes. Before trading, do your due diligence. Some in this group are classified as collectibles and have higher tax rates.
How do I trade them? I set an alert to let me know when the price either goes up or down through the 30-day, simple moving average. When I receive an alert, I use my Simple Simon system to signal when it is time to buy or sell. See previous columns for trading instruction details.
Next, when buying physical gold and silver, you must know the quality and reputation of the company you are dealing with — more on this later. Next is price and is determined on many factors including, availability, spot price and premium (mark-up). You could have all the want-to's in the world but if availability is limited, there may not be inventory available.
Before buying, find out the current spot price — it changes throughout the day. Next, determine the premium, the mark-up of the coins. Make sure the price quoted is on inventory on hand. Finally, as the current-buy pack price. Never buy promises on what inventory is coming in. Only buy what is on hand.
I only buy from companies that show a real-time buy and sell price, with inventory on hand. Reputable online dealers will have this. Inquire how long the company has been in business-this answer shouts volumes. Reputable dealers have accredited better business bureau and customer service ratings, and have been in business for many years-some for decades.
In full disclosure, I hold physical silver rounds.
The bottom line: Keep things simple. If you follow these instructions and control greed, it will reduce regrets down the road. Trust me, I know.
Coming up, I will introduce you to some leveraged, precious metal ETFs, and will add my favorite miners to the mix.
Plan your work, work your plan, and share your harvest!
DAVID O. ENGLAND is an investor/trader, financial analyst/educator/lecturer and Associate Professor Emeritus of Finance. This column is for educational purposes only and not intended as financial advice. Past performance does not dictate future returns. Questions? Send to thetraderseye@gmail.com. Full Disclosure: The author does not own any securities in this column.
The business news you need
With a weekly newsletter looking back at local history.