Last week, I identified the top cannabis companies and audited their performances. Today, I will wrap up the series and focus on key stocks linked to the cannabis industry.
Why? As discussed previously, cannabis is still illegal on the federal level, but buying companies linked to the industry is not illegal and the focus of today's column.
Where do we find these companies linked to the cannabis industry? Using my personal analytics, I identified all companies in the top five cannabis funds discussed in the first two parts of this series of columns. Next, I cross referenced their profiles to see the companies linked to the industry.
Here are the top four companies in this list, courtesy of Marketwatch.com. In addition, I added a company in the marijuana breathalyzer sector. Imagine the demand by law enforcement departments, (local, state and federal) to generate revenue when a proven cannabis breathalyzer is perfected.
1. IIPR: Innovative Industrial Properties Inc. focuses on the acquisition, ownership and management of industrial properties. It includes properties leased to experienced, state-licensed operators for regulated medical-use cannabis facilities.
2. STZ: Constellation Brands Inc. engages in the production, marketing, and distribution of beer, wine, and spirits.
3. SMG: Scotts Miracle-Gro Company engages in the manufacture, marketing, and distribution of systems and accessories for hydroponic gardening.
4. CRNP: Corbus Pharmaceuticals Holdings Inc. is a phase 3 clinical-stage pharmaceutical company, which focuses on the development and commercialization of novel therapeutics to treat rare, chronic, and serious inflammatory and fibrotic diseases.
5. BLOZF: Cannabix Technologies Inc. (purple line) engages in the development and manufacturing of marijuana breathalyzer for law enforcement. 
The performance results from January 2017 to date are as follows: IIPR (blue line) up 410%, STZ (red line) up 29%, SMG (green line) up 22%, CRNP (orange line) down 21%, and BLOZF (purple line) down 27%. During the same time period the market ($SPX) is up 44%-green shaded area.
You have free articles remaining.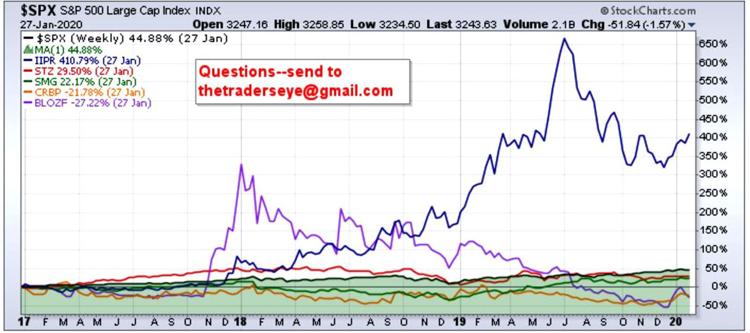 During this time period, IIPR ran over 650% and BLOZF was up over 300% before profit taking hit causing the huge drop with many companies in this sector. All stocks in this group with the exception of IIPR continue to trade in negative territory. 
Now, let's examine the (micro) relative strength of this group from Jan. 1, 2019, to date. The performance results are as follows; SMG (green-line) took the lead up 68%, previous leader IIPR (blue line) is up 51%, STZ (red line) is up 12%, CRBP (orange line) is down 9% and BLOZF (purple line) comes in last place down 63%. During the same time period the market ($SPX) is up almost 22%-green shaded area.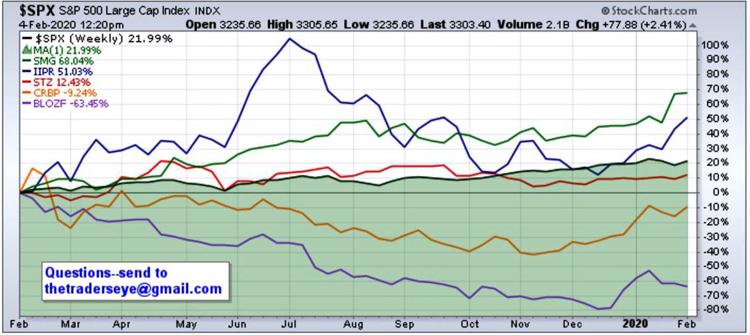 Once again there is a vast difference in performance between the longer and shorter term. This reinforces it is always wise to compare performances with more than one timeframe. The cannabis analyzer stock BLOZF seems to have the most market potential, but one can see it has the worst performance.
This is a prime example not to buy what you think but what you see. Until BLOZF reverses, it will not be a serious candidate for the cannabis fund managers. Until I see progress with their breathalyzer technology, I see continued downside ahead.
Do these results mean all cannabis companies are underperforming the market? Absolutely not. There are well over 100 tradable stocks in the U.S. and Canada in this sector. Some continue to trade in the green.
In conclusion, once cannabis is legal federally, don't be surprised if the first cannabis company makes it into the S&P 500 and then the DOW Industrials. Even with the increased demand from more highly populated states voting to make cannabis legal, it does not mean all cannabis companies will be profitable. Be very cautious because when the shakeout happens, many companies will go bankrupt. Don't let your portfolio do the same.
For those asking about previous columns, go to thesouthern.com, type eye on the market in the search bar. To see chart details, go to the online version.
What's next? I answer your questions on which companies/sectors will be the best to trade once the coronavirus runs its course. Then, a new series featuring the performance if you bought the best and worst ETF and funds/stocks from 2019.
Once all funds/stocks are identified I will introduce you to my very popular Simple Simon trading system. I promised and will deliver.
Plan your work, work your plan, and share your harvest!
DAVID O. ENGLAND is an investor/trader, financial analyst/educator/lecturer and Associate Professor Emeritus of Finance. This column is for educational purposes only and not intended as financial advice. Past performance does not dictate future returns. Questions? Send to thetraderseye@gmail.com. Full Disclosure: The author does not own any securities in this column.
The business news you need
With a weekly newsletter looking back at local history.