Last week, I answered questions on the Next Gen sector then featured the top-performing exchange-traded fund in the group, ARKG-ARK Genomic Revolution ETF Internet ETF, along with its top companies. These companies focus on benefiting, extending, and enhancing the quality of human and other life by incorporating technological and scientific developments and advancements in genomics into their business.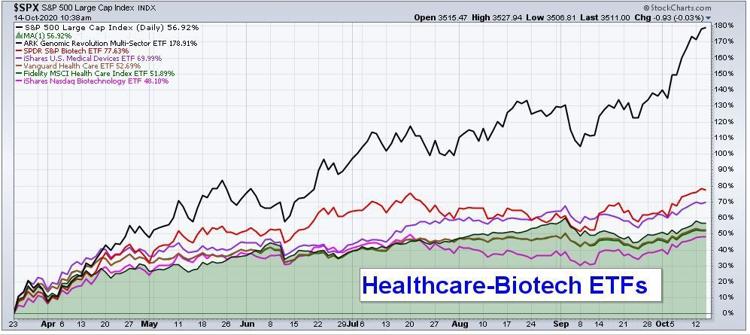 Today I feature the second-strongest performer in the group, XBI-SPDR S&P Biotech ETF (red-line) that tracks the total return performance of the S&P Biotechnology Select Industry Index. Per the performance chart, you can see XBI has an impressive 77% return and outperformed the market ($SPX) by 13%. 
Before we identify the strongest companies in XBI, let's answer the question, what exactly is biotechnology? Per Investopedia.com, biotechnology is a science-driven industry sector that makes use of living organisms and molecular biology to produce health care-related products and therapeutics or to run processes (such as DNA fingerprinting). Biotechnology is best known for its increasingly important role in the fields of medicine and pharmaceuticals and is also applied in other areas such as genomics, food production, and the production of biofuels.
A key point, when lecturing or writing on biotechs, I warn my students, this group is extremely volatile and not for the faint of heart. Companies in this group run or drop in anticipation of positive or negative news during multiple testing phase trials. Like the old saying, if you can't stand the heat, don't get into the kitchen. I use biotech plays in speculative portions of smaller portfolios only.
As I introduce you to new ETFs and their top companies, place them in a watch list portfolio and monitor their performance. In a few weeks, I will recap the funds and top companies in this series for new opportunities to consider for investing or trading.
Next, I will identify the top companies in the top-performing XBI-SPDR S&P Biotech ETF, tracking the total return performance of the S&P Biotechnology Select Industry Index. The top companies and a brief description are as follows:
IMMU- Immunomedics, Inc. develops, manufactures, and sells diagnostic imaging and therapeutic products. The company's products are used to detect and treat cancer and infectious diseases.
NVTA- Invitae Corporation, a medical genetics company, processes DNA-containing samples, analyzes information related to patient-specific genetic variation, and generates test reports for clinicians and their patients in the United States, Canada, and internationally.
SRNE- Sorrento Therapeutics, Inc. is a clinical-stage biopharma company, develops therapies for cancer, autoimmune, inflammatory, and neurodegenerative diseases. 
TWST-Twist Bioscience Corporation, a synthetic biology company, manufactures and sells synthetic DNA-based products. 
MRTX- Mirati Therapeutics, Inc., a clinical-stage oncology company, develops product candidates to address the genetic and immunological promoters of cancer in the United States. 
EXAS- Exact Sciences Corporation, provides cancer screening and diagnostic test products in the United States and internationally. The company offers Cologuard, a noninvasive stool-based DNA screening test to detect colorectal cancer and pre-cancer. It also provides Oncotype DX, a gene expression test for breast, prostate, and colon cancers.
SGEN- Seattle Genetics, Inc., a biotechnology company, develops and commercializes therapies for the treatment of cancer in the United States and internationally.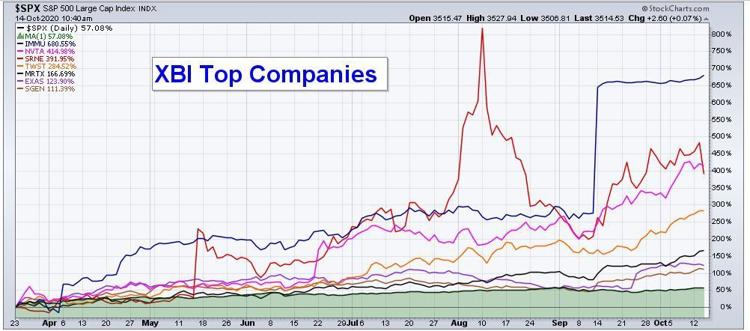 To see the performance of these top companies compared to the market (SPX), I designed a chart beginning on March 24, to real-time.
IMMU- Immunomedics, Inc. took top honors with an unheard of 680% return. NVTA- Invitae Corp. is up 414%. SRNE- Sorrento Therapeutics, Inc. up 391%, ARCT- Arcturus Therapeutics Holdings Inc. up 272%, TWST-Twist Bioscience Corporation up 284%, MRTX- Mirati Therapeutics, Inc. up 166%, EXAS- Exact Sciences Corporation up 123% and SGEN- Seattle Genetics, Inc. up 111%. The market (SPX)-the green shaded area is up 57%. 
Here are the action points: During this timeframe, all seven companies outperformed the market (SPX). The leader, IMMU- Immunomedics, Inc. is up 680% with many others up triple-digits as well. While I only like to feature five companies, I expanded it to seven companies because of their potential this year and in the years to come.
Will these huge returns continue? Until profit-taking hits — nothing runs forever. It works until it doesn't. To see how volatile these companies can trade, look at the explosive run of SRNE (red-line) and more importantly how fast it dropped when profit-taking hit.
I will be monitoring these funds and companies, waiting for a pullback. When it happens, I will rely on my Simple Simon buy and sell system to help with my trade decisions.
Take the time to do your due diligence on each fund, which index they track, and its holdings. Spend time to research each company and determine exactly what they do and how they make their profits. Identify the remaining top companies to see if one may be next to run like IMMU, NVTA, and SRNE.
Next week, I plan to introduce you to companies in XBI, the iShares U.S. Medical Devices ETF.
In full disclosure, I do not hold any securities listed.
Plan your work, work your plan, and share your harvest!
David O. England is an investor/trader, financial analyst/educator/lecturer and Associate Professor Emeritus of Finance. This column is for educational purposes only and not intended as financial advice. Past performance does not dictate future returns. Questions? Send to thetraderseye@gmail.com.
The business news you need
With a weekly newsletter looking back at local history.