Today, I answer your questions on my quote, "The closer you are to retirement, the more one should be concerned with a return of one's money instead of a return on it. "
To illustrate my point, my first chart is from associate Mr. Lance Roberts at Real Investment Advice.com, using data representing real returns, nominal data adjusted for inflation. Real returns are closer to the true dollar value of your investments. Unless you request real return data you are only seeing what is classified as nominal prices/values and can be extremely misleading.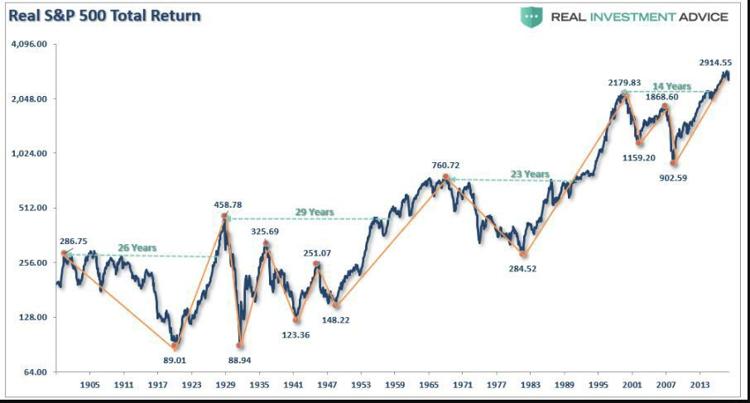 Let's go back to 1900 and view the real returns of what is now the S&P 500. The key point — to see how many years it takes to retrace and breakout after market highs in the early 1900's, 1929, 1968 and 2000. Why? This shows how long it took in years for the market to come back, then go higher.
After the market highs in the early 1900's it took twenty-six years.
After 1929, it took 29 years.
After 1968, it took 23 years.
After the market top in 2000, it took 14 years.
Ask yourself a simple question, how did it work out for workers whose retirement funds were in the market planning to retire around 1929, 1968 or in 2000?
Next, a chart from associate Doug Short at advisorperspectives.com. This chart uses real data (nominal adjusted for inflation) and includes two additional major indexes, the Dow Industrials and the NASDAQ showing real returns from the market high in 2000 to the end of Sept. 2019.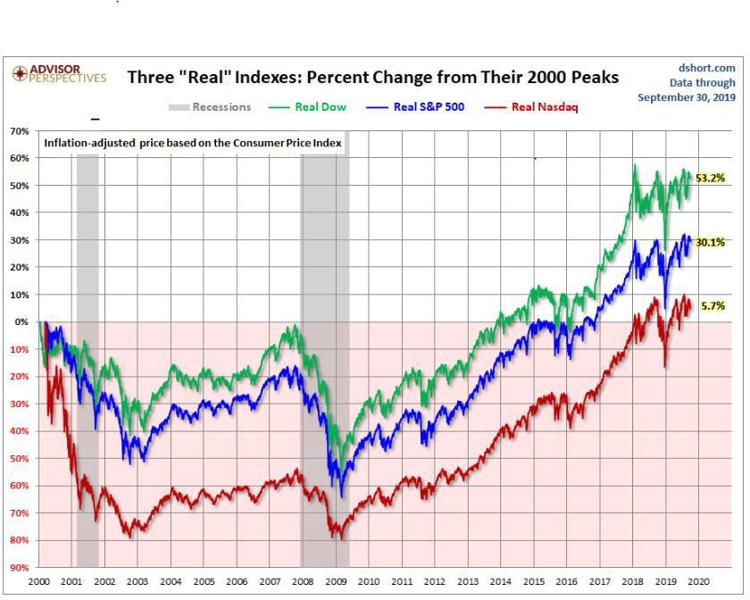 After the market top, in 2000 it took 14 years for the price to retrace then breakout for the S&P 500.
It took 17 years if invested in the Dow Industrials.
It took 18 years if invested in the NASDAQ.
For those who invested at the market top in 2000, this data knocks the wind out of the sails of those that drank the Wall Street Kool-Aid, thinking they were getting a real 8% return per year.
You have free articles remaining.
Keep reading for FREE!
Enjoy more articles by signing up or logging in. No credit card required.
A better question, with the current bull market going on 10-years-plus, if you're planning to retire now or in the next few years and the current bull market ends before you retire, can you afford to retire with less or wait years for your retirement dollars to retrace back to their previous highs?
It is true after the massive selling in 2000 and 2007 these markets returned to their previous highs, although it took years to happen. What this data does not represent is that many funds/securities perform less, sometimes far less than market returns because of expenses and fees. If a security has a 90% correlation performance to the market, it will take additional time to get back to breakeven.
Action points
1. Determine the performance of your individual holdings during previous 2000 and 2007 downturns.
2. If in a retirement plan with a group of securities to select from, determine their individual performance during the 2000 and 2007 downturns.
3. See which if any funds/securities went up in value during each timeframe.
4. If none went up during this timeframe, see which ones went down the least.
5. Research which securities can be used as a safe haven during downturns, which probably consist of money market funds.
6. If using money market funds get in writing that they are protected by the SIPC or FDIC.
7. A properly managed portfolio will already have these questions answered. If not, it is time to roll up your sleeves and obtain the education to know how to get the job done.
These action points are not just for those in or nearing retirement but for anyone invested in the market. Don't rely on, "it will always come back" as a naive strategy that could be costly and will wipe out many in the years to come. Don't let it be you!
Remember, no one knows when the next recession begins and how long it will last — this is a fact, but many times there are indicators we can learn to give us clues before it happens.
In the weeks ahead, I will analyze previous market tops to see if there were indicators telling us it was happening, then see where we are now to be better prepared for when it happens.