Today, I answer a question from a reader in Phoenix wanting to know more about the VIX, and more importantly, how I trade it.
The Market Volatility Index (VIX) measures the volatility of the market. Commonly referred to as the "Fear Index," it rolled out in 1993 and makes its home on the Chicago Board Options Exchange (CBOE). The simplest explanation: It is a view of investors' expectations on future market volatility.
So, why is it important? Because traders and investors use the VIX to measure the level of risk, fear or stress in the market. The VIX is represented as a positive number. The higher the number means that there is excess bearishness, while lower numbers mean excess bullishness. 


To better understand the importance and how the VIX works, I designed a chart using the VIX (red line) and the S&P 500 ($SPX-green area) January 2020 to date. I then added a 10 Exponential Moving Average (EMA), as a signal line. Notice what happens when the VIX crosses up through the 10 EMA, the red line?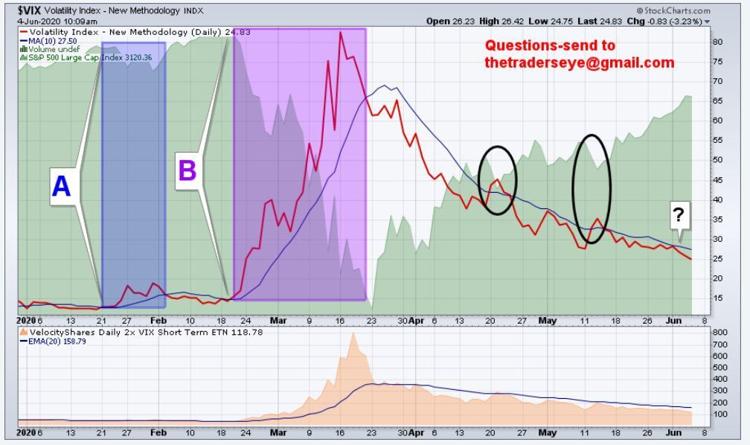 On Jan. 20 (point A-blue box), the VIX crossed up through the 10 moving average. A few days later, it broke out, and selling soon hit the SPX. By the end of January, the VIX crossed back down through the 10 EMA and buying came back into the SPX.
Fast forward to Feb. 20 (point B-purple box) when the VIX once again traded up through the 10 EMA. At the same time, panic selling hit the SPX hard. The VIX was trading around 15 at the time and ran to 83. During this remarkable run, smart traders cashed in their profits then began shorting the VIX. Once the VIX began to drop, selling slowed on the SPX and a bottom was formed. During this timeframe, the VIX rallied more than 400% and the SPX dropped about 35%.
Once the VIX crossed back down through the 10 EMA, this reassured traders and massive buying came back in the SPX. Once in April and in May, the VIX crossed back through the 10 EMA, and selling hit the SPX (see black ovals). Currently, the VIX is trading under the 10 EMA, signaling lower volatility and a continued market rally.
Here are the action points: While many traders use a VIX level like 20 or 30, I prefer using the VIX with this 10 EMA. As you have seen, it signaled the rally and drop during this timeframe, better than using just a specified number.
Next question: How do I use the VIX? For investing, when the VIX takes off, I can use these opportunities to add to my long term, high-dividend paying positions, at a lower share price.
For trading, I used VIX leveraged products, like the Velocity Shares Daily 2x VIX Short-Term ETN (TVIX). Before I proceed, I must warn that trading TVIX is not recommended because of its explosive volatility. It is a weapon of mass financial destruction if not traded without a proven system along with protective stops.
To illustrate my point, view the lower box. I designed a chart, using the price of TVIX (red shaded area). I use a 20 EMA (blue line) as a confirmation indicator. Notice what happened when TVIX crossed over the 20 EMA around Feb. 20?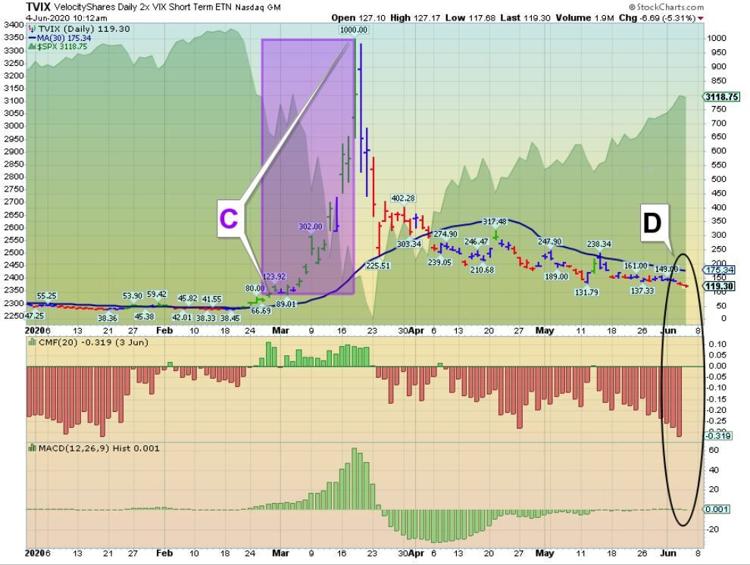 To answer the next question on how I trade the VIX, I designed a chart for TVIX and SPX, using my Simple Simon trading system. The time frame captures the volatility of the 2020 market selling and recovery.
At the end of February, (point C), TVIX closed above the 30 SMA (blue line), and a current trendline. After the third day of increasing Chaikin Money flow (CMF-middle box), and a MACD confirmation, (lower box), a formal buy signal hit, above the $82 price. Once hit, in the next three weeks, it ran from $80 to $1,000 — a 1,300%-plus run. 

If trading a security with such a parabolic run, one has to set a subjective price or percent gain on where to take profits. Why? A formal sell signal was not hit until after price fell from $1,000 to 274.90 when the price fell under the 30 SMA in April 2020.


The next question: Is it time to buy TVIX in case profit-taking hits with the SPX? Although many continue to average down, the answer is no. Per the chart (point D), although the MACD is slightly positive, money flow is extremely negative and the price is trading under the 30 SMA, so a formal buy signal has not happened.
While it is wise to hedge long positions, meaning have trades that go up when profit taking hits, one must have formal system buy signals before putting any money to work to safely hedge.
I audit traders' and investors' accounts to see how their positions relative strength and performance compared with simply investing in the SPX. Unfortunately, I see many are losing money, taking on hedge positions thinking the SPX is ready to plummet. Make sure you trade or invest in what you see instead of what you think is going to happen.
For full disclosure, during this featured period, I was hedging my positions with different leveraged inverse funds along with today's featured security TVIX. I would like to write that I captured the entire $82 to $1,000 run, but I didn't. The truth? I captured a good part of this parabolic TVIX run during the SPX selling, more than enough to double one the trading accounts I use, in my teaching seminars. 

Currently, I am out of TVIX and am in no hurry to re-enter. Why? When trading volatility and inverse funds, it takes a ton of energy and focus. So, I patiently wait until the described Simple Simon Buy signals hit. If so, I will practice what I teach and have protective stops in place.
Another risk with TVIX is that it is an Exchange Traded Note (ETN) and not an Exchange Traded Fund, (ETF.) Exchange-Traded Notes are issued by banks and financial institutions. In its prospectus, there will be a clause stating, "If the ETN falls below a certain price, the bank has an option to purchase the ETN from investors. This is a protective stop for the issuer (bank) to limit their risk. If the price falls to the specified level, the ETN can be liquidated. If liquidated under your buy price, you will be forced to take a loss.
Has this ever happened? Yes. This happened with more than a dozen ETNs, earlier this year, causing many traders to lose a lot of money when the ETN was liquidated. Hence, why one should be extra cautious when trading ETNs, even if for a couple of days, and only with a small portion of one's portfolio.
In the weeks ahead, I answer more of your questions on previous columns, including updates with the cannabis and airline groups. If you have market questions, email them to my address below. 

Plan your work, work your plan, and share your harvest!
DAVID O. ENGLAND is an investor/trader, financial analyst/educator/lecturer and Associate Professor Emeritus of Finance. This column is for educational purposes only and not intended as financial advice. Past performance does not dictate future returns. Questions? Send to thetraderseye@gmail.com. Full Disclosure: The author does not own any securities in this column.
The business news you need
With a weekly newsletter looking back at local history.