Last week, I answered your questions as to where the market is going, and if it is time to jump back in by analyzing the 2018 sell-off. I concluded that the 2018 correction did not end in just a couple of weeks. It took two and a half months before the selling ended and buying came in.
Since the current panic selling has pummeled the market. As I type, the Dow hit the 30% down level.
So, today, let's take things to the next level and analyze the 2000-2003 sell-off for additional clues for if or when it is time to get back in.
To help understand market action during a panicked market, I designed a chart of the $SPX, the S&P 500 with three boxes: Price at the top, Chaikin Money Flow in the middle, and volume at the bottom.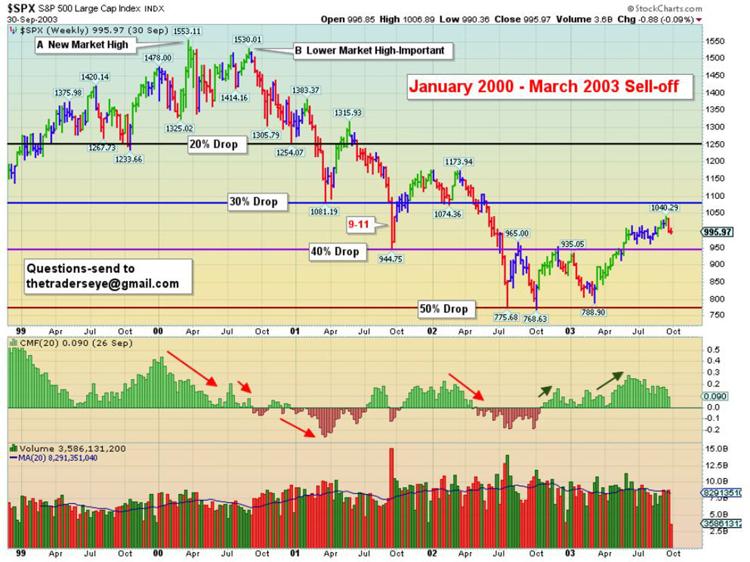 The SPX made a new high in March 2000 at 1,533 (point A) then showed weakness when the money (middle box) began to flow out of the market. A rally attempt (point B) failed to make a higher high while the money flow turned negative.
From a technical point of view, this was ultra-bearish and a major sign that a market top was in.
After trading down for nearly one year, in March 2001, the SPX broke down through the 20% level and was officially in a bear market.
A failed rally attempt took the SPX back to 1,315, then selling and profit-taking hit and after six months, it dropped down through the 30% level when Sept. 11 happened. Buying finally came in at the 40% drop level, then traded sideways for 10 months before selling returned, plummeting the SPX to the 50% down level.
After another eight months of trading sideways, price support was tested three times, making a triple-bottom pattern — very bullish if happening with increasing money flow. Finally, the sellers dried up then buyers came in, ending the horrendous two-year selling event.
Here are the key points: During each drop, the price did not go straight down. Since the chart has so many drop percentage lines, I did not annotate each bear drop or bull run. In total, there were nine bear drops and six bull runs, each lasting a minimum of one-month plus.
Many traders thinking a bottom was in got whipsawed over and over. Those with the Midas touch, who made money day-trading during the multi-year run into 2000, turned into wall mounts by institutional professionals. Why? Trading techniques that were successful during bull runs, usually are not successful when markets are pummeled.
While the 2018 correction took two and a half months to play out, once markets drop more than 20%, 30%, 40% or even 50%, the fierce bear-bull battle takes a lot longer to play out. Why? These drops cause panic selling then relief buying, resulting in tremendous technical damage. When this happens, it takes even more time to settle out.
I have always taught students to stay away from trading on borrowed money — on margin. Unfortunately, many traders don't listen and take on too much risk and blow out accounts — some even go bankrupt when the carnage hits. I have seen this over and over. This is not where you want to be.
Currently, with the upcoming negative reports, I see additional drops ahead, dropping the markets more than the current 20% to 30%. Do I see drops below 30% and 40%? Yes.
We will see more Dow 1,000-point down days mirrored by 1,000-point up days. Since most of the trading volume is algorithm-based, each market move will be in the direction of the news story at that time — it's not for the faint of heart.
In full disclosure, this 2000 sell-off was my first run at shorting the market — making money when markets go down. One can gain book knowledge, but until you have skin in the game, you cannot feel the true impact. My recommendation: Always paper trade your strategies before ever trading or investing with real money. Once successful with multiple paper trades, then and only then dip your toe in with real money — and tight protective stops are a must.
For somebody wanting to become a successful, overnight day trader — think again. As a professional trader, it is 10 times tougher now to make profitable trades than ever before. Is it doable? Of course, many are successful, but many more are not.
The market will bottom well before these fiscal storms finish. For those who have learned how the markets really work and have patience, there will be generational buying opportunities. For those that did not, they will find out if and how long it takes for the market, and more important, their securities to come back.
Next week, I'll analyze the 2007-2009 sell-off to see differences or similarities to previous bear market selling, for additional clues for if or when it is time to get back in.
Unfortunately, due to the current contagion risk, I have canceled any spring in-class seminars, but it opens the door to online training. Watch for our next podcast for details.
Plan your work, work your plan, and share your harvest!
DAVID O. ENGLAND is an investor/trader, financial analyst/educator/lecturer and Associate Professor Emeritus of Finance. This column is for educational purposes only and not intended as financial advice. Past performance does not dictate future returns. Questions? Send to thetraderseye@gmail.com. Full Disclosure: The author does not own any securities in this column.
Concerned about COVID-19?
Sign up now to get the most recent coronavirus headlines and other important local and national news sent to your email inbox daily.