Last week, I introduced you to the new group called Next Generation or NextGen for short. I then featured the top-performing exchange-traded fund in the group, IBUY-Amplify Online Retail ETF along with its top companies.
To answer the question on what constitutes Next Generation groups, here is a partial list: Cloud Computing, Cyber Security, E-Commerce, Artificial Intelligence (AI), Mobile Technology, social platforms and Blockchain, plus much more. After reviewing, you can see why many are excited.
While researching NextGen for investing and trading opportunities, companies in this space open new career opportunities — another one of the many reasons why I see a tremendous boom ahead.
Instead of moving to another area, I would be remiss not to introduce you to companies in the second-best ETF performer ARKW-ARK Next Generation Internet ETF. ARKW focuses to benefit from: Shifting technology infrastructure to the cloud, enabling mobile, new and local services, companies that benefit from the increased use of shared technology, infrastructure and services, internet-based products and services, new payment methods, big data, the internet of things, and social distribution and media.
Per the performance chart, you can see ARKW has an extremely respectable 132% return. Also, all funds in this group continue to outperform the market.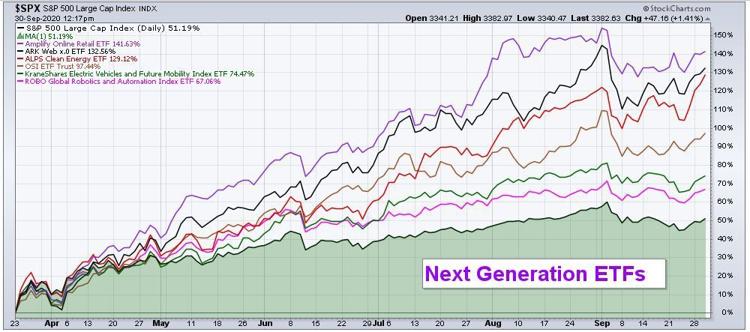 As I introduce you to new ETFs and their top companies, place them in a watch list portfolio and monitor their action. In a few weeks, I will recap the funds and top companies in this series for new opportunities to consider for investing or trading.
Next, I will identify the top companies in the top-performing ARKW- ARK Next Generation Internet ETF. The companies and a brief description are as follows:
TSLA-Tesla, Inc. designs, develops, manufactures, and sells fully electric vehicles, energy generation, and storage systems. It also provides vehicle service centers, supercharger stations, and self-driving capability. The company operates through the following segments: Automotive and Energy Generation and Storage
SQ-Square, Inc. engages in the provision of credit card payment processing solutions. It is a commerce ecosystem that helps sellers start, run, and grow their businesses along with offering point-of-sale, financial, and marketing services.
PINS-Pinterest, Inc. engages in the operation of a pinboard-style photo-sharing website. It allows users to create and manage theme-based image collections such as events, interests, and hobbies.
Z-Zillow Group, Inc. operates real estate and home-related information marketplaces on mobile and the web. It operates through the following segments: Internet, Media & Technology (IMT), Homes, and Mortgages segment.
ROKU-Roku, Inc. engages in the provision of a streaming platform for television. It operates through the following business segments: Player and Platform. The Roku platform allows users to personalize their content selection with cable television replacement offerings and other streaming services that suit their budget and needs.
TWOU-2U, Inc. operates as an education technology for nonprofit colleges and universities. It operates through the following segments: Graduate Program and Short Course Segments. The Graduate Program Segment targets students seeking a full graduate degree. The Short Course Segment targets working professionals seeking career advancement through skills attainment.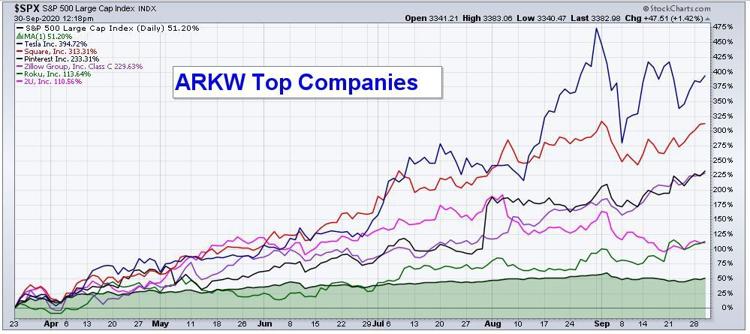 To see the performance of these top companies compared to the market (SPX), I designed a chart beginning on March 24, to real-time.
TSLA-Tesla took top honors with an unheard of 394% return. SQ-Square Inc. is up 313%. PINS-Pinterest, Inc. up 233%, Z- Zillow Group, Inc. up 229%, ROKU- Roku, Inc. up 113%, and TWOU-2U, Inc. up 110%. The market (SPX)-the green shaded area is up 51%.
Here are the action points: During this timeframe, all six companies outperformed the market (SPX). The leader, TSLA-Tesla is up nearly 400% with many others up as well. The laggard in the group TWOU-2U, Inc. outperformed the market by almost 60%.
Why the astronomical returns? This timeframe represents state shutdowns due to COVID allowing new monies flowing into this group.
Will these huge returns continue? Yes, until profit taking hits — nothing runs forever. It works until it doesn't. I will be monitoring these funds and companies, waiting for a pullback. When it happens, I will rely on my Simple Simon buy and sell system to help with my trade decisions.
Take the time to do your due diligence on each fund, which index they track and its holdings. Spend time to research the balance of the top companies to see if one may be next to run like TSLA, SQ, and PINS.
In full disclosure, I do not hold any securities listed.
Plan your work, work your plan, and share your harvest!
David O. England is an investor/trader, financial analyst/educator/lecturer and Associate Professor Emeritus of Finance. This column is for educational purposes only and not intended as financial advice. Past performance does not dictate future returns. Questions? Send to thetraderseye@gmail.com.
The business news you need
With a weekly newsletter looking back at local history.