Today, I answer questions concerning what I sent to select media early on Oct. 10, 2018, signaling the beginning of a 17% drop in the S&P 500 plus action points on what investors/traders could do if it happened.
Oct. 10, 2018 Market Analysis
I will go on record and state, we are in a prime position for a 10% correction in the upcoming weeks. WHY?
1. The S&P 500 has gained over 300% from the Great Recession low in March 2009. This is over 70+% higher that its 2007 peak.
The Russell 200 (Small Cap) Index was up over 400% and the NASDAQ Composite up 500%.
2. "We are at a critical juncture, for bond and equity markets" — David England
A. A 2% 10 Year Note yield favored the equity markets … but not so above 3%.
Q. Why does a 3%+ yield matter?
A. With a 3%+ yield, many investors see a bull market getting extended (9+ years) and are locking in profits, purchasing short-term treasuries.
Previously when the ten-year note yield has hit 3%+, profit taking hit the market-S&P 500 and other major indexes.
3. Currently, we have experienced over 15 Hindenburg Omens, recently, a potentially bearish technical signal. Does this signal a crash? No. It only signals things are getting weak internally and extremely vulnerable IF a black swan event occurs.
4. Expert chartist and financial advisor Curt Wharton recently (Oct. 8, 2018) published a report showing, since Sep. 21, 2018, only six of the 11 sectors have outperformed the U.S. market (S&P 500). Sector rotation gives important clues to what is going on internally with markets.
5. Some global indexes/funds are close or are already in a bear market (20%+ drop) from their previous highs as of Oct. 9, 2018.
Italy Stock Index $ITDOW -19.70%
NASDAQ Emerging Markets Index $NQEM -21%
Hong Kong Hang Seng $HSI -22%
China Shanghai Exchange Composite Index $SSEC -26%
6. Some Major European banks are down more than 20%+ … very bearish from a global perspective.
You have free articles remaining.
Keep reading for FREE!
Enjoy more articles by signing up or logging in. No credit card required.
What should investor's/traders do?
I teach investors/traders to have downside protection for times like these. Sell-offs should be positive events and not feared — opportunities for those trained in how markets work.
"The closer you are to retirement, the more one should be concerned with a return of one's money instead of a return on it." — David O. England
1. In times like these one discovers if they are an investor/trader or a gambler. If one does not have downside protection in place, then you are just a gambler, pure and simple.
2. Monitor the current selling and, more important, how far key indexes rebound — if the SPX cannot stay above the 200 day simple moving average then look out below.
3. If you use a registered financial advisor/planner and they have downside protection in place then you are dealing with a true professional.
If they do not have downside protection in place then you may only have a salesperson. If your downside protection is/are bond funds, ask to see their performance during the 2007-2009 sell-off when many of the popular bond funds dropped with equities. Diversification works until it doesn't. Note a 50% drop requires a 100% return to get back to break-even.
4. Remember, the majority of registered financial advisor/planners get compensated by the amount managed and not on the performance of their clients' accounts.
5. Consider options (calls and puts) in the trading/speculating portion of your portfolios. This extends your buying power and limits the amount you can lose in most scenarios.
6. Take the time to learn how to work the market and no longer let the markets work you.
7. Calm heads prevail. Remember, it is only money and money does not buy happiness. Many things in life are more important.
See the accompanying chart with key points showing what I was monitoring — the catalyst for my warning announcement.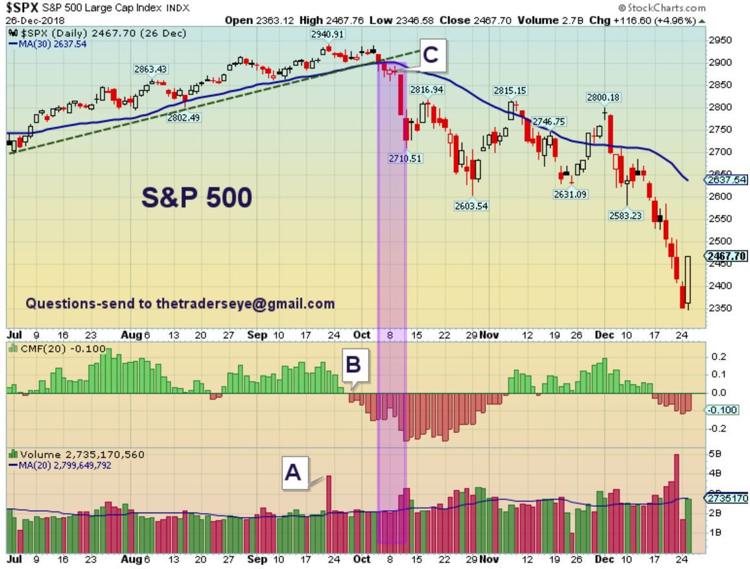 Point A — On Sept. 21, there was exponentially higher selling volume (tall red bar) signaling institutional profit taking.
Point B — On Sept. 27, the Chaikin Money Flow signaled the money flow went from positive (green bars) to negative (red bars) confirming increased selling.
Point C — Three very important items — see purple shaded area:
First, the S&P 500 dropped under the trend line (slotted green line);
Second, it dropped under the very important blue signal line (30 Simple Moving Average);
Third, on Oct. 9, it failed to rally above the blue signal line. Watch what happened on the next day.
The S&P 500 then tumbled all the way to the 2350 area before the selling stopped and buying came in.
What can be learned? If new to this type of analysis, you are not going to get all of this in one sitting. It took me over a decade of trial and error to learn the most important items to signal these events. A goal — learn one strong point per column. Continue to read and soon this type of analysis will become second nature and can definitely help with your buy/sell decisions.