"I will tell you how to become rich. Close the doors. Be fearful when others are greedy. Be greedy when others are fearful." — Warren Buffett
Last week, I analyzed readers' bond fund candidates' performance during the 2000 to 2002 and the 2007 to 2009 selloffs and saw that zero from the group had positive returns during both time frames.
Today, I wrap up the series and return to the largest bond funds analyzed in previous 2012 and 2017 columns here in The Southern. Why? To reduce any fund bias and determine if they could be safe haven candidates for when the next recession or bear market comes into play.
So, let's analyze performance during the 2000 to 2002 and the 2007 to 2009 selloff, including the market ($SPX-green area), and my previous candidates: PIMCO Total Return Fund I (PTTRX-red line), Vanguard Total Bond Market Index Investor shares (VBMFX-pink line), Vanguard GNMA Fund Admiral Shares (VFIJX-orange line), Vanguard Intermediate-Term Tax-exempt Fund Admiral Shares (VWIUX-purple line), and iShares 20-plus year Treasury Bond ETF (TLT-gray line.)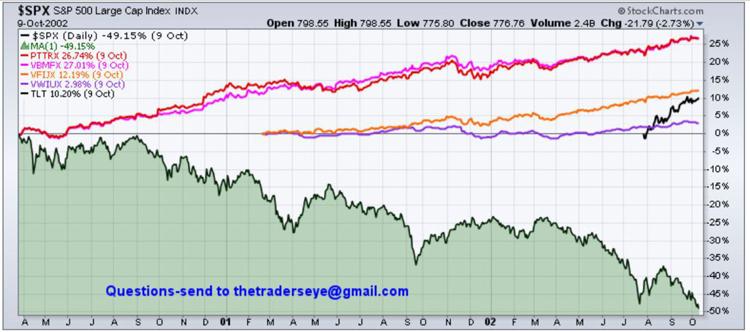 During the 2000 to 2002 selling, the market ($SPX-green shaded area,) sold off 49.15%. While not all of these funds were trading in 2000, all five have positive returns at the end of the SPX downturn. Two funds, PTTRX and VBMFX had extremely impressive returns over 26%. Two funds, TLT and VFLIX had returns over 10%.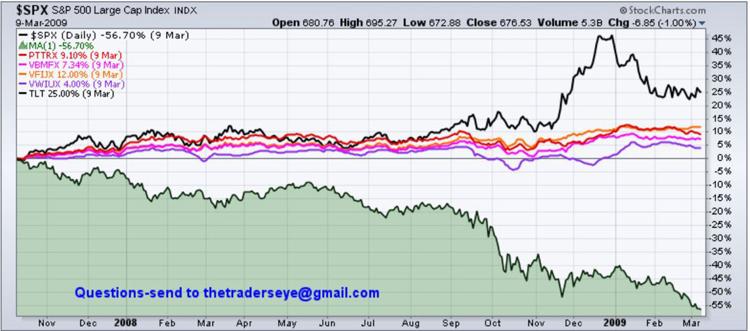 During the 2007-2009 selling, the market ($SPX-green shaded area) was down 56.70%. Once again, all five bond funds had positive returns in March 2009 when the market bottomed. The iShares 20-plus year Treasury bond ETF had an impressive 25% return.
During both time periods, while the majority of equity funds were pummeled, all five funds in this group prospered.
I developed this series to answer your questions and determine if there were safe haven candidates for when the next recession or bear market comes into play. The following funds did qualify as a safe haven during at least one of the previous 2000-2002 and 2007-2009 market pullbacks: $GOLD, FBNDX, FRHIX, PTTRX, VBMFX, VFIJX, VWIUX and TLT.
You have free articles remaining.
Remember, past results do not guarantee future results. Selling after the market top in 2000 was led by the technology sector, while selling in 2007 was led by the financials. No one has the ability to know which sector will lead the selling during the next downturn. While the eight securities in our group outperformed the market during a previous downturn, it in no way guarantees it will do the same when the next selling season hits.
Don't just jump into any of these funds without the proper buy signals in place. I will be covering these system signals later.
This performance data is extremely interesting, but the more important question is what are you planning to do with it? Here's what you should think about:
First, if you own equity (stock) or bond funds, do you have their performance returns during these selling periods?
Second, if not, simply insert their symbols into a performance chart using these time periods to see their returns.
Third, if you are not tracking your holdings previous performance, then why?
If you have a managed account, you should already have this performance data. If not, simply request it. Then, ask for their safe haven gameplan for when the next bear market begins.
Profitable traders/investors make money with what they own and when they own it. If you want to learn more about the many tools and systems to better manage your holdings including how to calculate performance data, email me about my upcoming online training starting in 2020.
Many indexes continue to trade near their all-time highs. There is no better time than now to develop or fine tune your capital preservation plan and be ready for when the next large-scale selling happens.
This may be the first opportunity for many to make money when previously their portfolios tumbled. It is up to you if you want to learn how to not have that unnecessary, getting kicked in the gut feeling when the next bear market begins.
What's next? In the weeks ahead, I answer your questions on the advantages and disadvantages of mutual and exchange traded funds, show the downside of the "Modern Portfolio Theory," the costs of revenue sharing, plus much more. If you have column questions for consideration, send them to my email below.
Plan your work, work your plan, and share your harvest!
DAVID O. ENGLAND is an investor/trader, financial analyst/educator/lecturer and Associate Professor Emeritus of Finance. This column is for educational purposes only and not intended as financial advice. Past performance does not dictate future returns. Questions? Send to thetraderseye@gmail.com.