Within the last month, the market has been anything but boring.
One day, the Dow Jones is down 1800 then up 800, then back down. Currently, the markets are derailed from fundamentals and cannot go up forever. Many are looking to hedge their long positions, while others look for ways, other than shorting, to make money when panic selling returns.
So, today, I answer your additional questions about the VIX, and what are my favorite volatility securities to trade and tips to trade them.
My three favorite volatility securities are as follows:
• TVIX-VelocityShares Daily 2X VIX Short-Term ETN. This ETN (Exchange Traded Note) seeks returns that are (2X) the returns of the S&P 500 VIX Short-Term Futures Index ER for a single day. See the June 7 column for my initial information on the VIX, and how I trade TVIX.
• UVXY-ProShares Ultra VIX Short-Term Futures. This ETF (Exchange Traded Fund) seeks daily results, before fees and expenses, that correspond to one and one-half times (1.5x) the daily performance of the S&P 500 VIX Short-Term Futures Index, for a single day. 


• VXX-iPath Series B S&P 500 VIX Short Term Futures. A more conservative one, this Exchange Traded Note offers exposure to a daily rolling long position in the first and second-month VIX futures contracts.
To see how each security performs, I designed a chart, highlighting the recent rally, from Feb. 20 to March 24. The peak performance data is illustrated by the (vertical) black slotted-line. The peak returns are as follows: The performance leader was TVIX (red shaded area), with a return of over 1900%. Next, UVXY (purple line) up 900% plus, followed by VXX (black line), coming in a little over 300%. The VIX performance (red shaded area) was close to 425%. During this same timeframe, the SPX (blue line) was down 35%.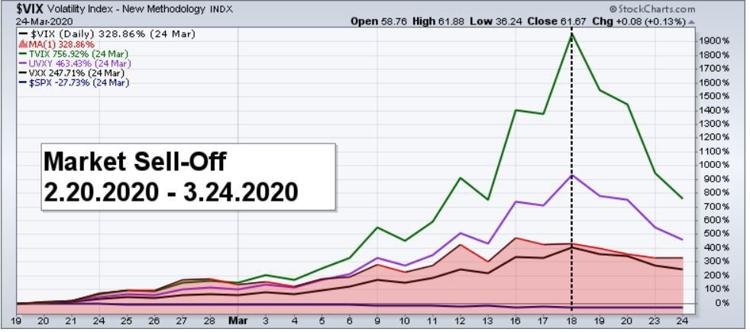 Here are the key points: The SPX (-35%) and the VIX (+425) do not run on a one-to-one ratio. When panic selling hits, the VIX ran a lot more percentage-wise than the SPX (market) dropped. Also, TVIX and UVXY ran a lot more than their 2X and 1.5X leverage ratio. Finally, while VXX is leveraged the same as the VIX, it underperformed its tracking index. Why? Because of the internal expenses and fees.
Next question: How do I use the VIX?
When trading, while there are additional VIX trading securities available, because of the higher volume (meaning more liquidity,) I focus on these listed VIX securities. If I want to be more conservative, I trade the 1:1 non-leveraged VXX. If I see potential return being more than the risk, I use either the UVXY or higher leveraged TVIX.
Keep in mind, TVIX and VXX are both Exchange Traded Notes (ETNs) and have additional risks than trading UVXY that is an Exchange Traded Fund (ETF). Make sure you read the security prospectus for details concerning when an ETN can be liquidated if it hits a certain price. 


Here are the action points: If planning to day trade any of these VIX securities, do not use my Simple Simon System. Why? Because it is designed for swing and momentum trading, meaning trades lasting one week to a few months. 

If planning to day trade these super-fast moving securities, simply review past activity to see which indicators (moving averages and oscillators) gave the best previous buy and sell signals, then set your parameters to match what worked previously. 


Set alerts and once you enter the trade when your profit target is hit, then lock in your profits and don't look back. Woulda, coulda or shoulda, never made a traders an additional penny. 


For years, I have coached traders, including auditing their performance, good or bad. When I audit students' or traders' accounts, a common denominator of securities surface in their loss column. Unfortunately, many times I see these VIX securities, adding to the red side of their totals. Why? Three reasons. First, they didn't use a proven system to signal buys and sells-they only bought because they thought it would go up. Second, when up significantly and did not lock in profits. They let a nice profit turn into an ugly loss-within hour or by the next day. Finally, they did not treat the market as a business, but rather a casino, and had zero protective stops in place.

Currently, I do not hold any of these mentioned securities but I am patiently waiting to see an (HPT) high probability trade formation develop. It is only a period of time when the upward momentum slows and the algorithm traders decide to make money to the downside. 

If you are a trader, my question to you: When it happens, will you be ready?
Plan your work, work your plan, and share your harvest!
DAVID O. ENGLAND is an investor/trader, financial analyst/educator/lecturer and Associate Professor Emeritus of Finance. This column is for educational purposes only and not intended as financial advice. Past performance does not dictate future returns. Questions? Send to thetraderseye@gmail.com. Full Disclosure: The author does not own any securities in this column.
The business news you need
With a weekly newsletter looking back at local history.