Last week, I answered your questions on if a correction has started, dissecting the previous 2007-2009 sell-off, then compared the action of a current weekly chart of the SPX to see if there were similarities.
Today, I will move to a (micro) daily look for additional clues to help answer your correction questions.
To better understand market action, I designed a chart of the S&P 500 (SPX) with three boxes: Price at the top, Chaikin Money Flow in the middle, and volume, at the bottom. Per the timeframe, I went back to September of 2019 to view the previous bull runs and pullbacks, running to real-time.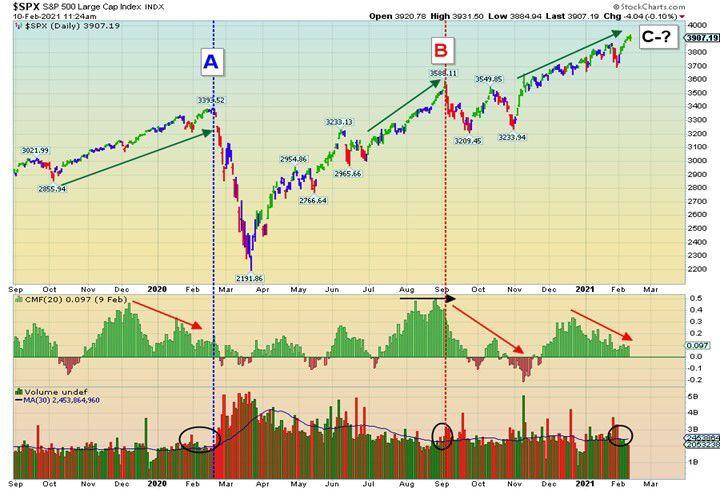 Per point A, while the SPX rallied, money was flowing out until the market ran out of buyers and selling hit — blue vertical slotted line. Once the panic selling topped, buying came in and the market ran into Point B — red vertical slotted line. During this timeframe, money flow matched the bull run, so no divergence. I highlighted this with a horizontal black line — see August and September of 2020.
Let's jump to Point C. Currently, there is a noticeable divergence with the SPX making a new high while money is flowing out. This, again, is a definite divergence and is a bearish signal for many.
As chartists, we look for divergences. We watch for above average (green bars) for rallies to continue and above average (red bars) to signal more downside ahead.
Smart investors are looking for signals to lock in profits on huge gains from the previous market bottom. Others are scaling back on their buying to help manage risk. Many investors, with time on their side, continue their buying frenzy. Who is correct? Only time will tell with that answer.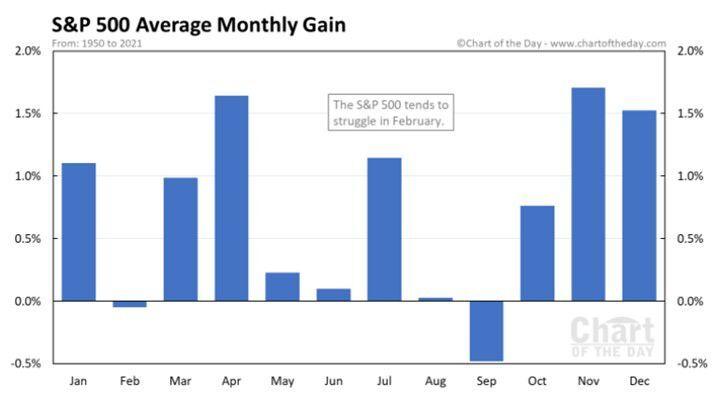 We never just look at one chart to form our conclusion. Check out this S&P 500 monthly gain-loss chart, courtesy of Chart of the Day, that covers 1950 to 2021.
The chart shows, on average, the S&P 500 tends to struggle during February and September, so do not be surprised if some profit-taking hits soon. If this pattern continues this February, it gives those in cash fantastic opportunities to put money to work.
My question — do you have your wish list of securities, in case profit-taking hits and drives security prices down into a buy zone? If not, then why? Pullbacks should not be feared, but welcomed. Smart investors and traders have extra cash on hand for when these opportunities occur.
The key point — this chart does not represent the market action when a trillion-plus of stimulus dollars hits the market.
In conclusion, there is a correction and profit-taking ahead. Until the current upward trendline is broken (as I type), a correction of 5% or more has not happened and the current bull market remains intact.
Plan your work, work your plan, and share your harvest!
David O. England is an investor/trader, financial analyst/educator/lecturer and Associate Professor Emeritus of Finance. This column is for educational purposes only and not intended as financial advice. Past performance does not dictate future returns. Questions? Send to thetraderseye@gmail.com.