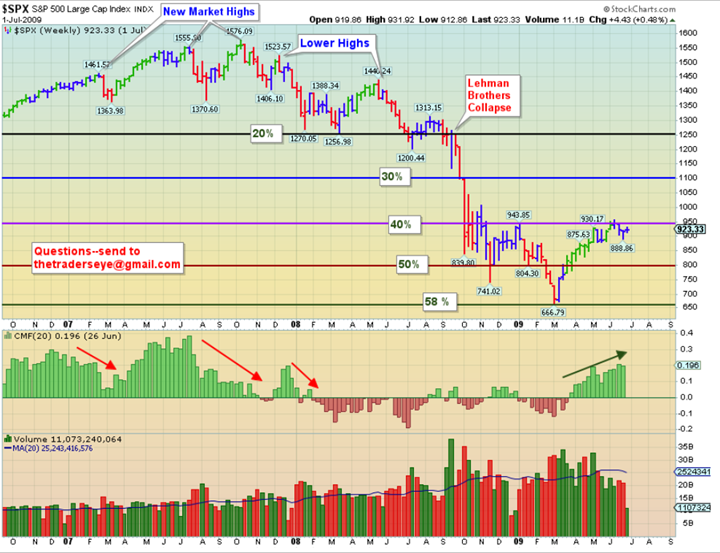 With all the attention the last couple weeks on shorting and short squeezes, some are asking if this could lead to the next Lehman meltdown and is signaling a correction or bear market ahead. While I believe the Game Stop run is in the rear-view mirror, this new short-squeeze environment is in the early innings of an extra-inning game.
To answer your questions on if a correction has started, I begin with dissecting the previous 2007-2009 sell-off. Why? To see what the institutions used then compare it to real-time to see if there are similar clues.
To help understand market action during a panicked market, I designed a chart of the S&P 500 (SPX) with three boxes: Price at the top, Chaikin Money Flow in the middle, and volume, at the bottom.
The SPX made three new market highs in February, July, and October 2007. After the second new high in July 2007, money (middle box) began to flow out of the market-see red arrows. In October while the market made a third new high at 1,576, money flow went negative — a very bearish signal. When this happens, short selling ramps, making new highs more difficult. This was a definite signal for those knowing what to look for to begin taking profits from long positions.
In December 2007, the SPX made a lower high at 1523, another very bearish sign. The next month, selling hit and in January 2008, the SPX dropped to the 20% down level.
A few months later in May 2008, another lower high hit while money flow remained negative. This was the third bearish signal to take profits. Keep these signals in mind the next time you hear no one can time the market.
In September 2008, devastating, negative news about the Lehman Brothers collapse hit. This left the market in free fall, dropping through the 30%, 40%, and 50% plus down levels, like a hot knife through butter. The rest is history.
Here are the key points: Similar to the 2000-2003 bear market, in 2007 and 2008, the price did not go straight down. There were also clues like money flowing out that helped signal more downside ahead.
Let's switch to a weekly chart in real-time to see if we can identify similar sell signals.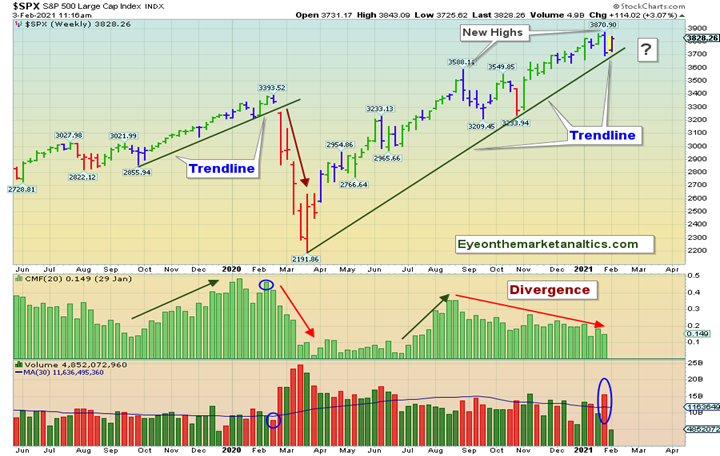 In February 2020, you can see a lower high with the money flow (middle box) but the low volume red bar (bottom box) did not signal panic selling ahead. Once the trendline was violated in mid-February, the SPX was in free fall until March 24, 2020.
Currently, there is a noticeable divergence with the SPX making a new high while money is flowing out. What is a divergence? It is when one indicator shows one thing and another indicator shows the opposite. As chartists, we look for divergences like and another indicator shows the opposite. Also, there is an above-average selling (red bar) volume last month. Both are bearish signals.
My answer on if a correction has started. While there is a correction ahead until the current trendline is broken, one has not started, and the current bull market remains intact.
Next week, I will move to a (micro) daily look for additional clues to help answer your correction questions.
Plan your work, work your plan, and share your harvest!
David O. England is an investor/trader, financial analyst/educator/lecturer and Associate Professor Emeritus of Finance. This column is for educational purposes only and not intended as financial advice. Past performance does not dictate future returns. Questions? Send to thetraderseye@gmail.com.