Last week, I audited the first-half performance of the three major indexes, then identified ways to play both bull and bear moves.
So, today, I analyze mid-year market cap performance, then identify ways to play bull moves using the very popular, low-expense Exchange Traded Funds.
Market cap (short for market capitalization) refers to the total dollar market value of a company's outstanding shares of stock. It is calculated by multiplying the total number of a company's outstanding shares by the current stock price. In simplest terms, it refers to how much a company is worth, determined by the current market value.
Companies are divided into groups, according to market capitalization: large caps ($10 billion-plus), mid-cap ($10 billion to $2 billion) and small-cap ($2 billion down to $300 million). These are the most common although some brokerage houses set their dollar specifications for each group.
To see how the market-cap indexes performed, I designed a chart going back one year to view performance during panic selling, then the spectacular market rebound. The three major market-cap indexes and performance are as follows: Large Caps (-1.88%, green line), mid-caps (-13.97%, red line) and the small-caps (-19.84%, purple line).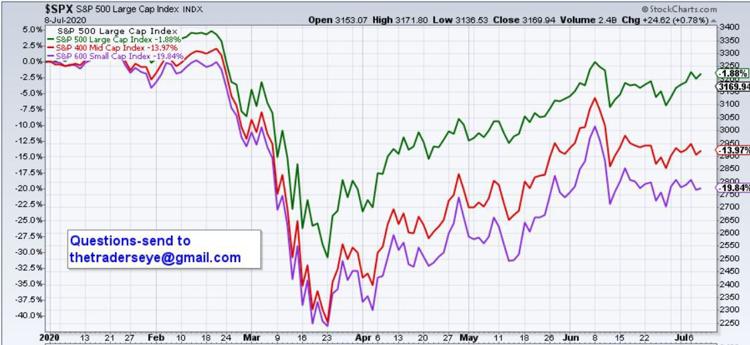 Here are the key points: When panic selling hit in February, it affected all three market-cap indexes. When the selling stopped and buying came in, large caps were the strongest, while the mid-caps and the small-caps rebounded the least. Keep this front and center the next time panic selling hits.
While some think the markets will continue to rally, others think it is time to take profits from the massive March run. To answer your question on which funds I play, here are the two most popular (AUM) assets under management for non-leveraged bull Exchange Traded Funds for all three indexes:
Large-cap funds: SPY-SPDR S&P 500 ETF and IVV-iShares Core S&P 500
Mid-cap funds: IJH-iShares Core S&P Mid-Cap ETF and VO-Vanguard Mid-Cap ETF
Small-cap funds: IJR- iShares Core S&P Small-Cap ETF and IWM-iShares Russell 2000 ETF
Please note, I do not include bear, non-leveraged for the mid- and small-cap indexes. To take advantage of making money using mid- and small-cap plays, one must play the very risky, double- and triple-leveraged funds, recommended only for seasoned traders.
So, here is the next question: How do I trade the major indexes? To answer this question, I designed another chart, switched from performance to price then added the 30-day, simple moving average (blue line).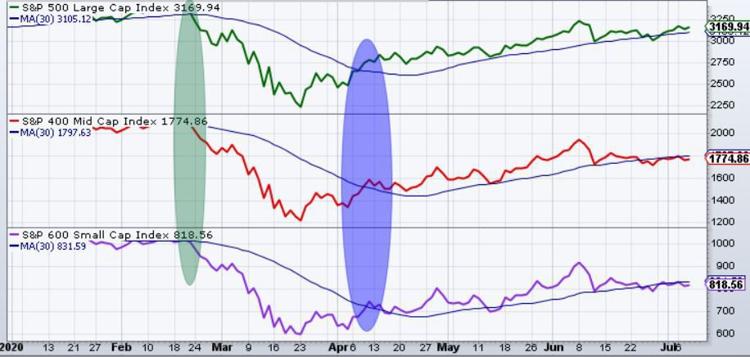 Here are the action points: Note what happens to the market cap indexes when the price drops down (green oval) or up (blue oval) through the 30-day, simple moving average.
To keep from wasting time, set an alert with your broker to let you know when it happens. When you receive an alert, I go to one of the mentioned Exchange Traded Funds and use my Simple Simon system to signal when it is time to buy or sell. See previous columns for details.
As with the index funds, if an official buy or sell signal develops, I only buy incrementally, meaning not all allocated shares at once. For example, if I plan to allocate for a full position, no more than 5% of my portfolio value. If this is 50 shares, then I would only buy 25 shares. If the price continues to go up, then and only then I would buy the second half of 25 shares.
Protective stops are a must, in case price reverses. If the security continues to run and hits my target (profit) price, I lock in my profit on half of my shares and trail the other half with a protective sell stop to still have skin in the game if the price continues to run. Never limit your upside. Only limit the downside-the amount you can lose. 
Many traders and investors work hard to make things difficult. Keep things simple. If you follow these instructions, use alerts then only buy or sell when your system gives you official signals, you will start to see more dark green, instead of red in your bottom line.
Coming up, I wrap up my performance audit with sectors, looking for momentum and value plays-what readers are asking for. Don't miss it.
Plan your work, work your plan, and share your harvest!
DAVID O. ENGLAND is an investor/trader, financial analyst/educator/lecturer and Associate Professor Emeritus of Finance. This column is for educational purposes only and not intended as financial advice. Past performance does not dictate future returns. Questions? Send to thetraderseye@gmail.com. Full Disclosure: The author does not own any securities in this column.
The business news you need
With a weekly newsletter looking back at local history.