Last week, I audited the first-half performance of the three major market cap indexes, and identified ways to play both bull and bear moves.
Today, I wrap up this series and analyze very important sector performance, then identify ways to play bull moves using the very popular, low-expense Exchange Traded Funds.
So, w

hat are the sectors? Sectors refer to the different categories of stocks with our market. Look at the market as a giant pizza. Each slice is an individual sector. While there are 13 total sectors and multiple sub-sectors, because of space, I will focus on the top nine.
Why is sector analysis important? First, money is constantly moving from one sector to another. Second, since diversification is so important, trading or investing in sectors gives us more alternatives to consider. Third, as we will see today, when markets rally, not all sectors participate. Finally, by analyzing sectors, it gives insight on momentum (long) plays and short plays with the weakest sectors. 




To see how the sector indexes performed during the spring downturn, I designed a chart going back one year to view performance during panic selling, then the spectacular market rebound. The nine major sectors and the main ETF of the sector audited by performance are as follows: Technology-XLK (16.67%-gold line), Consumer Discretionary-XLY (7.42%-pink line), Health Care-XLV (3.23%, red line), Basic Materials-XLB (.13%, orange line), Consumer Staples-XLP (-1.52%-gray line), Utilities-XLU (-7.47%-brown line), Industrials-XLI (-11.32%-green line), Financials-XLF (-20.63%-purple line), and Energy-XLE (-36.34%-black line). The performance of the market, the SPX, was 43.56%-green area.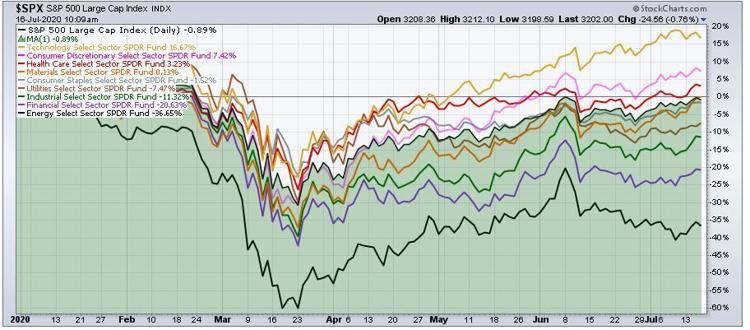 Here are the key points: When panic selling hit in February, although some sectors were hit less, it affected all nine sectors — a prime example of diversification works, until it doesn't. 


Next, I will show the importance of looking at multiple time frames when performing a proper analysis. To accomplish this goal, I designed a chart of the same sector ETFs, sorted by performance, to answer your question: When the selling stopped and buying came in, which ETFs were the strongest?





Here are the action points: During the selloff, while Energy was hit the hardest, it and the Basic Materials rallied the most. Only four sectors outperformed the market-SPX. The previous strongest sector Technology came in fourth with a 51.51% return. Interestingly, the two most conservative plays, Consumer Staples and Utilities came in last during the rebound.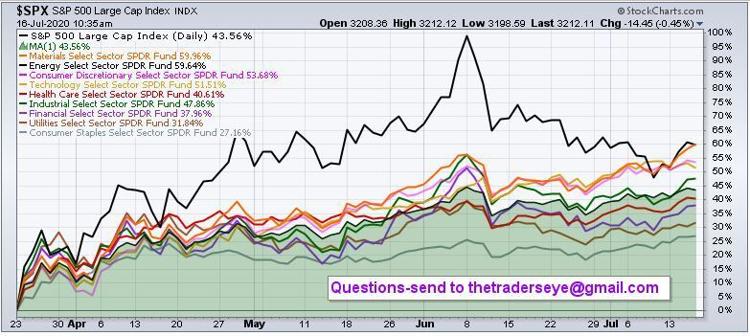 How do I play sectors? First, I identify the most popular sector ETFs, as I did here. Next, I set an alert to let me know when the price either goes up or down through the 
30-day, simple moving average. When I receive an alert, I use my Simple Simon system, to signal when it is time to buy or sell. See previous columns for details.
As with the index or market cap funds, if an official buy or sell signal develops, I only buy incrementally, and always implement protective stops, rarely used risk management techniques. Never limit your upside profits. Always limit the downside risk.

Some manage multiple accounts and use many securities in their portfolios. By properly using sector analysis and implementation, it is one strategy that many use to outperform the market. 


Later this year, I plan to show how to analyze sub-sectors along with how to discover which stock is driving returns in the sectors. This is like throwing gas on a fire to stock traders. It also helps to reduce wasting time chasing momentum stocks. For example, those trading Energy (sectors, sub-sectors and stocks) have enjoyed fantastic returns while the majority counted out this previous weakest sector.

The bottom line: Keep things simple. If you follow these instructions, use alerts then only buy or sell when your system gives you official signals, you will start to see more dark green, instead of red in your bottom line.
Coming up, I will introduce you to some exciting momentum and value plays.
Plan your work, work your plan, and share your harvest!
DAVID O. ENGLAND is an investor/trader, financial analyst/educator/lecturer and Associate Professor Emeritus of Finance. This column is for educational purposes only and not intended as financial advice. Past performance does not dictate future returns. Questions? Send to thetraderseye@gmail.com. Full Disclosure: The author does not own any securities in this column.
The business news you need
With a weekly newsletter looking back at local history.